This is a review of the best kettlebells for home gym.
Finding the best kettlebell for you is difficult since there are plenty to choose from.
Through trial and error, I tested all kinds of kettlebells to find the one that was best for the home fitness center.
After I finished testing all of them, I put together a list of the best ones for home setups.
Below you can find out which one will best suit your needs.
So without any delay, let's begin!
Top 3 Kettlebells for Home Gym
Editor's Choice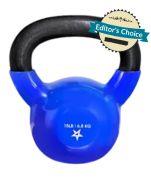 Yes4all Vinyl Coated Kettlebell
– Made from cast iron
– Flat bottom for stability
– Vinyl coated finish
#2nd Best Choice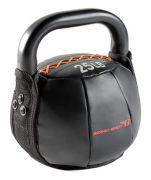 Bionic Body Soft Kettlebell
– Superior grip
– Two-year warranty
– Easy to transport
#3rd Best Choice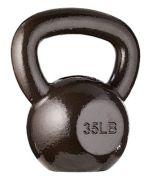 Amazon Basics Cast Iron Kettlebell
– Wide texture grip
– Painted surface
– Solid iron kettlebell
Our Top 10 Kettlebells for Home Gyms
After spending several hours on testing, here is the final list of our top picks for the best kettlebells for your indoor training facility.
The main factors that we took into account when evaluating bells include build quality, weight accuracy, and price.
Below you can see the best kettlebells that made our list.
Best Kettlebells for Home Gym 2023
1. Yes4all Vinyl Coated Kettlebell (Editor's Choice)
Rating
---
Durability: 5.0
Weight: 5.0
Price: 5.0
Features
---
– Made from cast iron
– Flat bottom for stability
– Vinyl coated finish
Yes4all vinyl-coated kettlebell is arguably the best kettlebell for anyone with small hands since it has many positive reviews regarding the size of the bell.
The build quality is worth mentioning because you get a cast iron kettlebell that is excellent for indoor and outdoor workouts.
Based on our experience, these possess a wide range of weights perfect for all people, from beginners to more experienced lifters.
Furthermore, the one thing people don't like about it is the handle that is not smooth and can cause a bit of slipping in your hands.
Pros
They don't take up much space
Very easy to hold
Well packaged
Good quality kettlebells
2. Bionic Body Soft Kettlebell 
Rating
---
Durability: 5.0
Weight: 5.0
Price: 4.9
Features
---
– Large handle for superior grip
– Two-year warranty
– Compact and easy to transport
The Bionic Body soft kettlebell is constructed of heavy-duty and soft materials, providing a safe workout experience.
With its large handle, this kettlebell offers a stable and secure grip.
Also, the Bionic body kettlebell has a 2-year manufacturer warranty making it a safe investment for your gym.
We have found from using this product that the handle is awkwardly shaped, which may bother some users.
Pros
Very easy on the hands
They are durable
These are great value
Cons
The handle is awkwardly shaped
3. Amazon Basics Cast Iron Kettlebell 
Rating
---
Durability: 5.0
Weight: 4.9
Price: 4.9
Features
---
– Wide texture grip
– Painted surface
– Solid cast iron kettlebell
AmazonBasics cast iron kettlebell has a similar performance and price to the Rogue kettlebell, but with this one, you get free shipping if you are a Prime member.
Our investigation demonstrated that this kettlebell is much more durable than the other because of the cast iron from which it is made out of.
This may be the best budget kettlebell since you get a wide range of different weights for an incredible price.
However, the biggest downside with this bell is that it is prone to rust and corrosion, and it is highly advised not to leave the kettlebell outside because of that.
Pros
Good value
Well-made kettlebell
Dimensions are ergonomic
Cons
The paint chipped off quickly
4. Sunny Health & Fitness Vinyl Coated Kettlebell 
Rating
---
Durability: 4.9
Weight: 4.8
Price: 4.9
Features
---
– Solid cast iron kettlebell
– Wide texture grip
– Supports a wide range of kettlebell exercises
The Sunny Health & Fitness vinyl-coated kettlebell has a wide handle with a high-quality texture that gives you a secure and comfortable grip for controlled movements.
Nonetheless, the kettlebell is vinyl coated, providing a durable and safe layer to prevent corrosion and noise while also protecting the floors.
The flat bottom ensures that you can easily store it upright and use it for all kinds of exercises where you might need a kettlebell.
Based on our first-hand experience, the biggest con is that it has a sharp seam in the handle.
Pros
Great budget kettlebell
Good build quality
Powder coating is nice
Cons
Very sharp seam in the handle
5. Kettlebell Kings Powder Coat Kettlebell 
Rating
---
Durability: 4.8
Weight: 4.7
Price: 4.9
Features
---
– Wide range of weights
– Rubber base
– Protective neoprene rubber sleeves
Kettlebell Kings powder coat has a 3mm neoprene sleeve which helps you protect the bell and keep it in excellent shape to last.
It is the best rubber-coated kettlebell, making it excellent at shock absorption, giving you a premium experience wherever you train.
Also, Kettlebell Kings comes with a velcro sleeve, helping you cover the bell and ensuring a secure fit while also helping avoid any damage.
After putting it to the test, the paint on a bell chipped pretty quickly.
Pros
Made of strong material
Comfortable grip
It helps reduce the impact on forearms
6. Apex Adjustable Heavy-Duty Exercise Kettlebell
Rating
---
Durability: 4.8
Weight: 4.7
Price: 4.7
Features
---
– Cast iron kettlebell
– Adjustable kettlebell
– 5 removable weight increments
The Apex adjustable kettlebell comes with a solid cast iron build and powder coating, making it a highly durable and long-lasting piece of equipment.
This adjustable kettlebell set features a 15-pound weighted handle with four removable spacer disks, providing a weight range of 20 to 50 pounds which is good for all fitness levels.
With it, you can remove space disks and use 2.5,5 or 10-pound weight increments, which is why this adjustable kettlebell offers a versatile workout experience.
Based on our first-hand experience, the main thing people don't like about this kettlebell is that it doesn't come with additional weights.
Pros
They feel like a traditional kettlebell
Space-saving kettlebell
The versatile is a game changer
Cons
It doesn't come with additional weights
7. Body Sport Cast Iron Vinyl Coated Kettlebells 
Rating
---
Durability: 4.8
Weight: 4.6
Price: 4.6
Features
---
– Several weight levels
– Bright-colored kettlebells
– Colorful-vinyl coated kettlebells
The Body Sport cast iron vinyl-coated kettlebells are made out of cast iron and feature a vibrant colored vinyl coating which makes them more durable and helps protect the floor.
It has a wide handle with a textured grip, allowing you to have a comfortable and secure grip.
We discovered from using this product that it has weights ranging from 5 to 50 pounds.
The biggest obstacle to buying this vibrant cast iron kettlebell is the price, which is a bit expensive per pound.
Pros
They come in different vibrant colors
Perfect size for different kettlebell exercises
Comfortable and secure grip
8. Marcy Hammertone Kettlebells 
Rating
---
Durability: 4.7
Weight: 4.6
Price: 4.6
Features
---
– Non-rust coating
– Various weights
– Sturdy handle
Marcy Hammertone kettlebells are durable and reliable because of the high-quality hammer-tone finish.
These kettlebells have a patented design made from recyclable cast iron, reinforced with a non-rust coating that gives you incredible metal protection.
They are available in various weight ranges, from 10 to 50 pounds, making them tailored to suit your fitness needs whether you are just starting or you are experienced.
Our findings show that this cast iron kettlebell can easily be damaged during shipment.
Pros
The finish is smooth
They seem durable
It has a comfortable grip
9. Balancefrom Wide Grip Kettlebell 
Rating
---
Durability: 4.7
Weight: 4.6
Price: 4.4
Features
---
– Set of 3
– Made of durable vinyl
– Ergonomic handle
BalanceFrom wide grip kettlebell comes in a set of 3 kettlebells weighing 5, 10, and 15 pounds which is great for beginners starting.
Based on our experience, the wide and comfortable grip on these kettlebells makes them easy to hold and ideal for maneuvering during kettlebell training.
Also, they are made of durable vinyl and are filled with cement, so you don't have to worry about rust.
Our main downside with these kettlebells is their size; they are huge compared to the other bells that weigh the same.
Pros
They are great for the glutes
Easy to handle
They can easily be stored
Cons
These bells are physically huge
10. Rbx Cement Kettlebell 
Rating
---
Durability: 4.7
Weight: 4.4
Price: 4.4
Features
---
– Different weight range options
– Shock-proof plastic body
– Target specific muscle groups
RBX cement kettlebell is an excellent option for endurance exercises, balance movements, and kettlebell training to target specific muscle groups.
The kettlebell features a shock-proof plastic body which comes in handy to prevent floor scratching and gives you added stability with its flat bottom.
It comes in a weight range of 10,15-20 pounds if you want different sizes.
Based on our experience, the shipping process usually damages the kettlebell so that it can come with some marks and scratches.
Pros
It is rust-proof
Very comfortable to use and safe balance
Good value for the price
Cons
They can easily be damaged during shipping
How We Tested the Kettlebells
Each kettlebell was evaluated based on 3 key factors: durability, weight, and price.
Every factor was measured on a scale from 1 to 5, with 1 being the worst and 5 being the best.
To ensure you get the best kettlebell, each one went through thorough testing that consisted of testing their actual weight to the labeled one, drop test for durability, and how easy it is to perform exercises like kettlebell swings, goblet squats, kettlebell snatches, etc.
Buyer's Guide
When you purchase a new kettlebell, you must ensure you got the right one for your needs.
To ensure this happens, I made a list of things you should consider before buying them.
What to Look For in a Kettlebell for Home Gym
Several factors should be considered to find the best kettlebells for the home gym.
To help you narrow down the options, here are some valuable tips to check before you purchase the best kettlebells for your needs.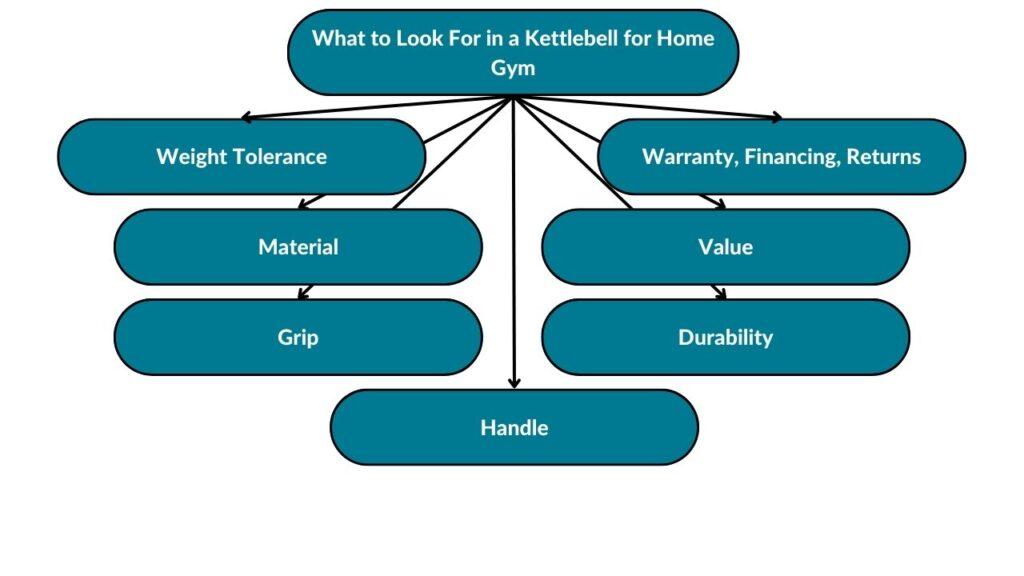 Weight Tolerance
How accurate is the advertised weight to the actual weight of a kettlebell?
Some kettlebells are advertised to have 25 pounds, but in reality, they may actually have 2-3 pounds less than they should.
Material
Most kettlebells are made out of cement or cast iron, while their outside appearance can vary a lot.
Floor-friendly kettlebells can be seen with rubber or vinyl coating.
However, the best adjustable kettlebell will likely have a plastic finish.
You need to consider where you will store your kettlebells to ensure their materials suit their storage.
It is not good to have cast iron kettlebells with no coating if you want to use them inside since they will most likely damage the floors.
Grip
To get the best experience with your kettlebell, you need to hold it properly.
You must pay attention to different kettlebell features like texture, handle shape, and size.
If you want your kettlebell to be as versatile as possible, try to purchase one that you can grip with both hands.
Textured handles are usually easier to hold than smooth ones. Flat, wide handles will give your hands more space than the smaller, rounder ones.
Handle
During kettlebell swings, it is relatively easy to get injured if the handle doesn't suit your grip.
Make sure that you have a solid grip on your kettlebells so you don't hurt yourself.
Durability
When it comes to durability, you don't want to pay for a kettlebell that is not durable.
You need to check the durability of specific kettlebells before you purchase them.
In addition, any form of coating is a bonus.
Value
Before you purchase anything, you will consider its value.
So, is the kettlebell you want to buy worth the price?
Warranty, Financing, Returns
Like with any other fitness equipment, the kettlebell must have some kind of warranty from the manufacturer.
If there is no warranty, you need at least some kind of other financing option so you can get back your money if you are not satisfied with the product.
How Much Should I Pay for a Kettlebell?
You should pay for a kettlebell from 3 to 7 dollars per kilogram of weight. Other factors that are considered in kettlebell's price are materials from which they are made, any additional features, and how much effort and energy, in general, went into making one.
Your kettlebell budget will depend on whether you want a machine-produced kettlebell or you want something that passed multiple quality assurance points.
Consider reading:
What to Consider Before Buying the Best Kettlebell for You
Before you choose the best kettlebell, several different factors should be considered.
Some of those are your fitness level, what type of kettlebell you want, and the exercises you intend to do with it.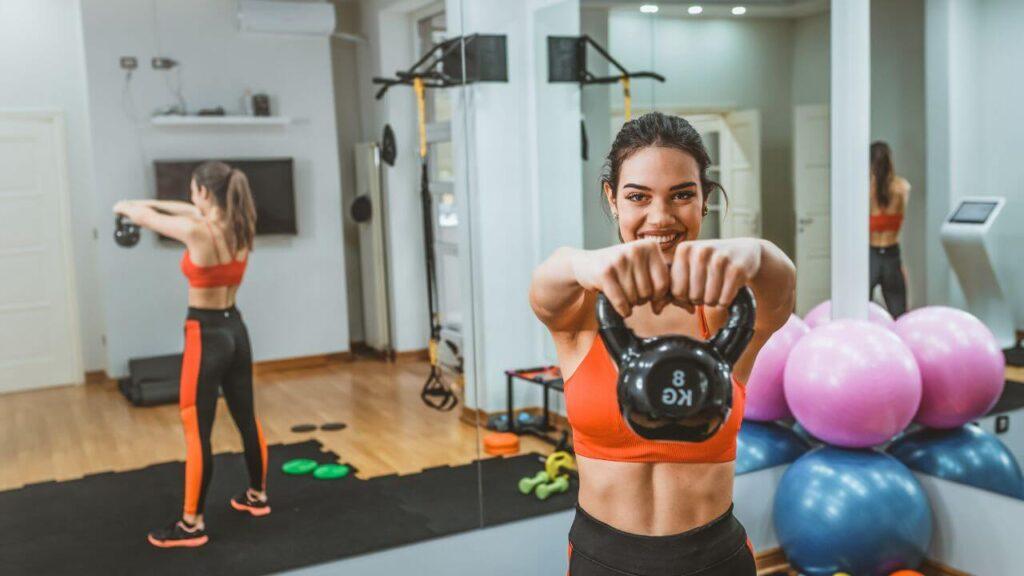 Types of Kettlebells
When it comes to the different types of kettlebells, two main types of standard kettlebells are:
Cast Iron Kettlebells
Cast iron kettlebells are the first kettlebells that will come to your mind when you imagine how they would look.
A handle is wider than the bell on these solid cast iron kettlebells. When it comes to coating, there are a couple of different variations.
You can find these kettlebells in most commercial gyms since they are great for beginners and any kind of recreational lifting or even if you need kettlebells for two-handed movements.
However, the handle and the kettlebell's diameter will usually increase when the weight goes up, which means that people with bigger hands will have a better grip than someone with smaller hands.
Competition Kettlebells
Competition kettlebells have a standardized 35mm handle that doesn't exceed the width of a bell.
This comes in handy since you will see a lot of one-handed movements in all different competitions.
Most of the people that are using these competition kettlebells are preparing with them for competition.
Click below if you want to learn about all types of kettlebells:
Type of Exercise
Kettlebell training can be a very versatile type of workout.
With it, you have a variety of different exercises that you can do, but most of them can be categorized into these two categories:
You have endless options for exercises, most of which will fall into one of two categories:
Ballistic lifts: These lifts include explosive movements like kettlebell snatches, cleans, and swings are just a few examples of these exercises.
Grind lifts: These include more strength and skill-based exercises, like deadlifts, overhead presses, and Turkish get-ups.
You need to consider which type of equipment you will get.
Other factors like the weight you need for your lift, the material from which the kettlebell is made, and the ergonomics of a bell need to be taken into account.
Kettlebells vs. Dumbbells
If you want to buy fitness equipment, but you have limited space and budget, there are two options which are kettlebells and dumbbells.
These two are both excellent additions to your gym, but there are still some differences between them two:
Kettlebells will engage more of your stabilizer muscles during a lift because of their non-balanced weight distribution.
Most kettlebell movements are ballistic, meaning they are made for power, coordination, strength, and conditioning all at the same time.
Kettlebells don't demand you a lot of room, and just one kettlebell can be used for all sorts of movements and training goals.
Most of the cardio kettlebell lifts are low-impact, meaning that you can load heavy weights without hurting your joints too much.
In the end, you can't go wrong with either of them.
Both are great for any home gym, but it only depends on what your wants and needs are at the moment.
Benefits of Kettlebell Training
A kettlebell is one of the best all-in-one fitness equipment for conditioning.
Furthermore, it consists of a flat bottom and curved bell for uneven distribution of weight, which is perfect for cardio weight training exercises.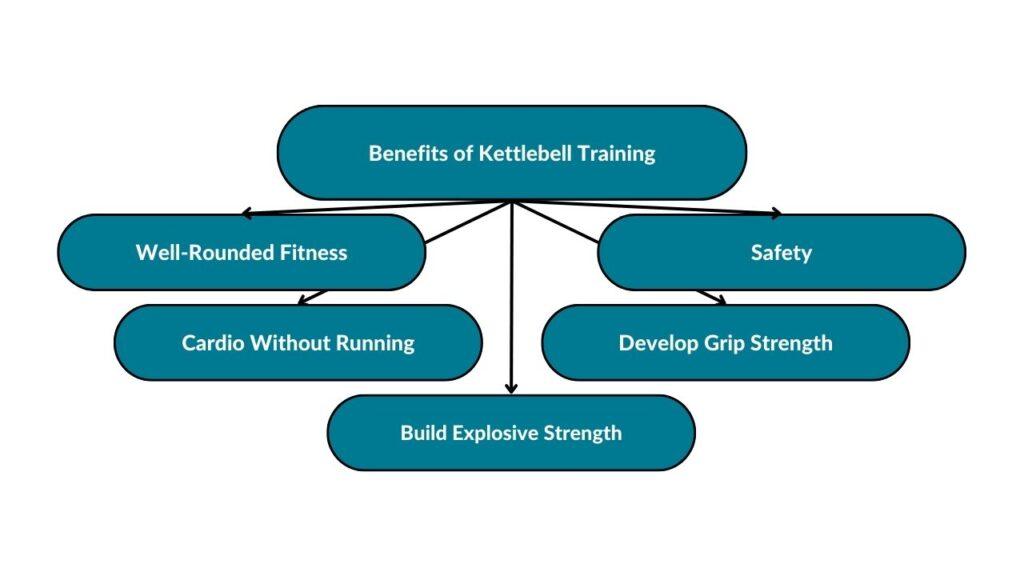 You can see below the benefits of using them for kettlebell training:
Well-Rounded Fitness
You train your strength, flexibility, balance, and endurance during kettlebell exercises.
That means you get a lot of variety just from using a kettlebell.
Before investing in any equipment, finding the one that offers the most versatility is essential.
Kettlebell exercises improve your stability, core, glutes, and lower and upper body strength.
Cardio Without Running
Some of you may not like cardio training, but you just want to get your heart rate up with some kind of weight.
Kettlebells are excellent for cardio training that are highly intense but also the high rep, low-weight workouts.
Build Explosive Strength
Runners, weightlifters, and others use kettlebells for explosive strength and resistance training.
Kettlebell swings are the best exercises since they engage your hips and posterior chain in creating power.
This is the kind of energy that can be created by movements like jumping, weightlifting, and even sprinting.
Develop Grip Strength
If you want to improve your grip, exercising with kettlebells is a great way of achieving that.
Usually, the center of gravity in a kettlebell is 6-8 inches away from your palm, so the weight is not in balance in your hands.
This will make your wrists and forearms work much harder while you do any exercises imaginable with a kettlebell.
There are also exercises like farmer's carries that are made so you develop grip strength.
Safety
I don't like to use words like dangerous with any sort of strength training exercises.
But, anything that you do has some risk involved. The kettlebell exercises don't seem that risky compared to squatting 250 pounds.
Lifting weights might be daunting for people that are just starting.
Kettlebell training is for you if you want something more convenient and easier.
For the best experience possible, consult any certified personal trainer to avoid risk.
Related articles:
The Best Kettlebell Exercises
We cannot say that one kettlebell exercise is superior to the others, but several different excellent ones exist.
Probably the most popular and best kettlebell exercise is the kettlebell swing.
This exercise requires an intermediate fitness level to be performed correctly, and it will target your core and lower body.
Also, a popular exercise that can be done with kettlebells is the Romanian deadlift which can strengthen your lower body and abs.
Other than these, some other great additions to your fitness regimen are the goblet squat, the kettlebell snatch, and cleanses.
How Much Do Kettlebells Cost?
Kettlebells cost around 30-50 dollars. A premium kettlebell can even cost up to a couple hundred dollars, depending on the specs and weight range.
If you are just starting out and want to purchase several different-weight kettlebells, you will most likely have to spend $ 200 to 300$ on them.
When you feel satisfied with your first purchase of kettlebells, you can couple more so you have the best weight range possible for your kettlebell workout.
The Right Way to Hold a Kettlebell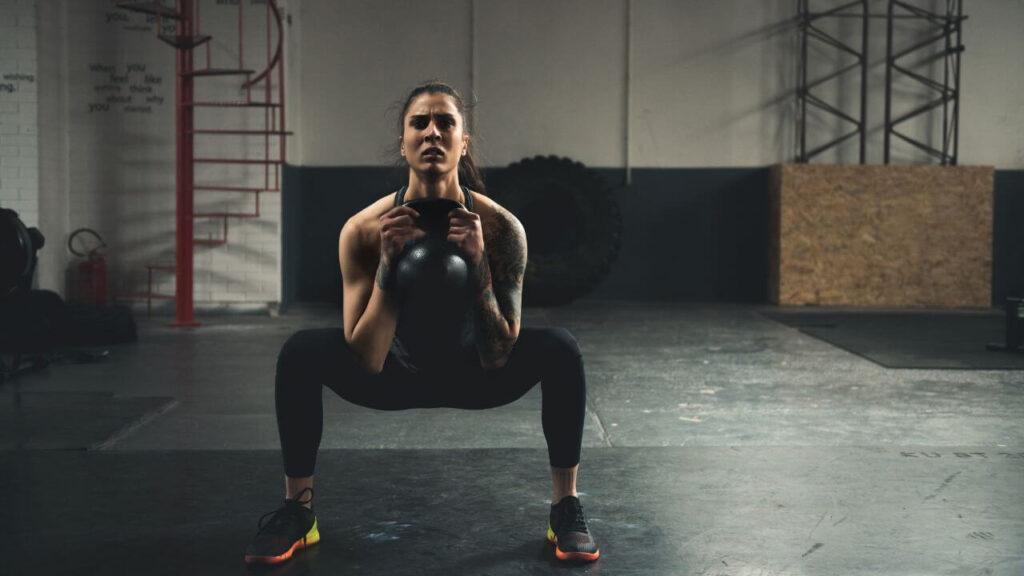 For many kettlebell lifts, you will grip it similarly to gripping the dumbbell- in the middle of the handle.
However, you need to keep your fingers light around it, especially when you perform some kind of explosive movements like kettlebell swings.
It might feel unusual and scary initially not to choke the handle.
Still, it will be much better for your wrist health and, ultimately, the quality of your movement to practice loosening your grip during kettlebell movements like swings.
You want to use an offset grip for more complex lifts like snatches, Turkish get-ups and cleanses.
With this grip, don't grab it right in the center to avoid any painful flopping on your forearm or wrist.
Instead, tuck the pad between your thumb and index finger against the handle's curve.
Furthermore, if you use the right hand, you would be snug against the left side of the handle, and vice versa for the other side.
There are other more versatile and creative ways to hold a kettlebell differently to stabilize your muscles and strengthen your grip.
To lift heavier loads, use a bottom-up grip so it targets your wrists, fingers, forearms, and shoulders.
While performing a goblet squat, you can hold a bell around the body so it targets your shoulders better.
Also, holding a kettlebell like this can give you different angles while doing floor and overhead presses.
Who Should Buy Kettlebells for a Home Gym?
Everybody that has enough space should buy kettlebells for a home gym. Traditional kettlebells are an excellent addition to your gym since they are easy, even for newcomers that are just starting out.
Other than that, using kettlebells can help you with chronic pain, and it is a great way to use them for more of a functional approach in training.
Who Shouldn't Buy Kettlebells for a Home Gym?
Beginners shouldn't buy kettlebells for a home gym. Besides newcomers, people with limited space might not need to purchase them.
If you don't have a budget to buy them or store them, it might be best for you to do bodyweight exercises, and after you save up some money, kettlebells are probably the next best investment for you.
Related Articles:
FAQs
Are Kettlebells Good for Home Gym?
Yes, kettlebells are good for a home gym. Kettlebells are an excellent addition to your routine and one of the best gym equipment.
What Kettlebells Do I Need in Home Gym?
You need kettlebells weighing 18-26 pounds in your home gym. These can be different, like adjustable kettlebells, cast iron kettlebells, etc.
What Is the Best Kettlebell Weight for Home Workout?
The best kettlebell weight for a home workout is 8 to 26 pounds. With this weight range, you can do all sorts of exercises.
What Kettlebell to Buy First?
First, buy kettlebells with a weight range of 8 to 32 kg. These weights are enough to practice your form and still gain muscles.
Is It Ok to Use Kettlebells Everyday?
Yes, it is ok to use kettlebells everyday. Using kettlebells daily will depend on how intense your workouts are, your current fitness level, and how quickly you can recover from training.
What Is the Best Kettlebell for a Home Gym?
The best kettlebell for a home gym is Yes4all vinyl-coated kettlebell.
It has a cast iron construction, a great weight range, and a compact size which is perfect for all fitness enthusiasts.
While it may not have the smoothest handle, this minor drawback is easily outweighed by this kettlebell's many benefits.
Please let me know which one is the best kettlebell for your needs.
Rating
---
Durability: 5.0
Weight: 5.0
Price: 5.0
Features
---
– Made from cast iron
– Flat bottom for stability
– Vinyl coated finish