Kettlebells are a simple type of weight that can serve you in various ways. Although you first get the impression that there is only one type of kettlebell and that you cannot go wrong when buying this equipment for the gym, you are mistaken.
Different types of kettlebells have other purposes and use, from kettlebells made of iron and steel to weaker ones made of plastic.
But don't worry. In this article, I will explain what types of kettlebells there are, what their key differences are, and what you should pay attention to when buying them.
Quick Summary
The difference in kettlebells is created by the material from which they are made, coating, handle differences, and bottom finishes.
There are five types of kettlebells, of which the best and most commonly used are traditional cast iron kettlebells.
Depending on what exercises you want to do, you should also choose the type of kettlebell. Traditional cast iron kettlebells are universal and are best for performing a large number of exercises.
Construction Differences Worth Noting
Construction differences are worth noting because even slight differences can seriously affect the quality and durability of your kettlebells.
Countless factors come into play when building kettlebells, but I've singled out the three that make the most significant difference for you. These are a type of material and coating, handle Differences, and bottom finish.
Now I will explain each of these parameters in more detail.
Type of Material and Coating
The type of material and coating make a big difference in kettlebells because these factors affect the lifespan of your kettlebells.
Kettlebells are often made of iron, steel, and similar hard materials that guarantee the durability and longevity of your weights.
However, not all irons or steels are the same. For example, single-cast iron kettlebells are more complex than those made by mixing different types of this material.
Also, it is essential to mention the coating of your kettlebell itself. Any coating options, such as iron, powdered coating, rubber, and similar forms, are suitable for your weights. Depending on that, the endurance of your weights and the comfort of training will also vary. Any coating made of rubber, iron, and other more rigid materials is a good option for your weights.
It is essential to point out that kettlebells made of hard materials are far more durable and last longer than kettlebells made of, for example, plastic, but they are also significantly more expensive.
Handle Differences
Handle differences can significantly affect the choice of kettlebells you want to use during training.
An inappropriate handle can make your training uncomfortable and even lead to specific injuries. The hand diameter must be the appropriate size, which is between 35 and 38 millimeters.
If you choose a thinner one, you may feel extra space when holding it, and the weight may fall out. If it is too thick, you will not be able to place your hand correctly, and your training will be uncomfortable.
Also, the finish of the handle is an essential factor. If you put chalk on your hands during training, it is important to pay attention to this and choose materials that will not cause your hands to slip, such as iron and rubber, to prevent potential injuries.
Bottom Finish
The bottom finish is important because if it is flat, it allows the kettlebells to stand upright during various exercises.
In essence, a flat bottom finish means that the weight is of high quality because the flatness
the bottom is achieved by using machines that make it precisely balanced.
A flat bottom will allow the weight to stand upright when performing various exercises, especially those that require turning and similar.
5 Types of Kettlebells
The five types of kettlebells are powder coat kettlebells, traditional cast iron kettlebells, steel or competition ones, rubber coats kettlebells, and plastic kettlebells.
What differentiates them are the different types of coatings that provide them with a specific kind of protection and durability, as well as the other materials they are made of. Finally, they differ depending on what they are used for, whether for regular training or competitions.
Now I will tell you in more detail about each type of kettlebell.
1. Powder Coat Kettlebells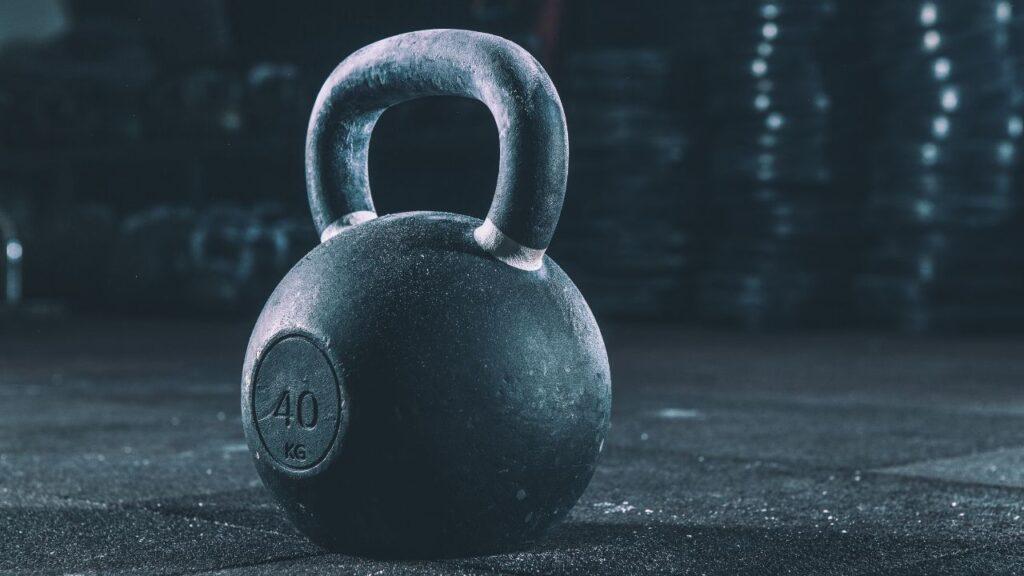 Powder coat kettlebells are most often found in the fitness world. These iron-cast kettlebells contain powder coating, making them long-lasting and durable.
Powder coating will ensure that your weights look like you just bought them. It will protect them from any damage and other negative influences.
This coating is also an excellent coating for the handle. It adheres best to the hand and will not lead to sliding of the weights and possible injuries.
When buying this type of weight, ensure you get a lifetime warranty. This type of kettlebell belongs to the group of high-quality and more expensive weights.
2. Traditional Cast Iron Kettlebells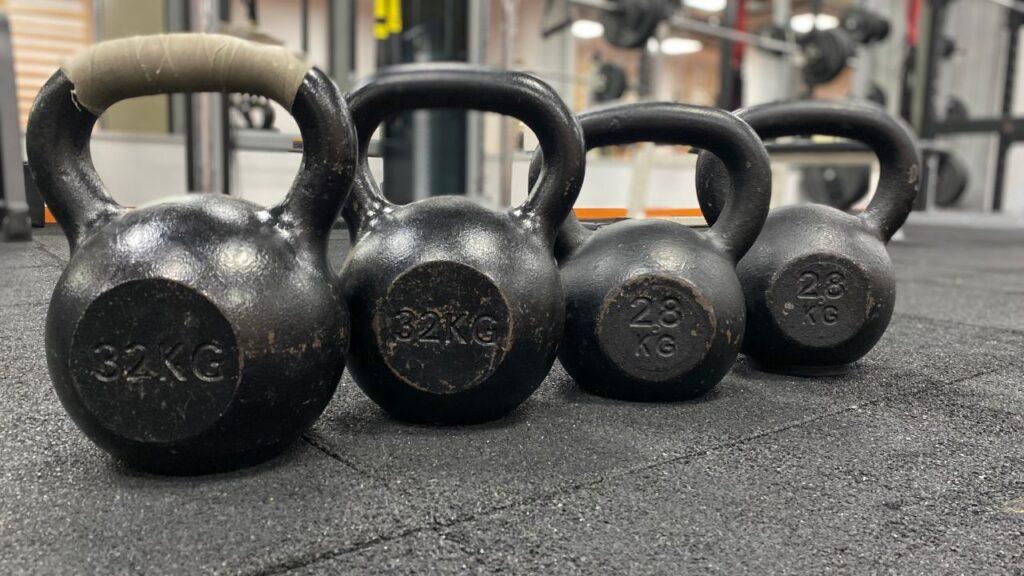 Traditional cast iron kettlebells can be called the most popular type of weights of this type due to their appearance, durability, and distribution.
They are made from one piece of cast iron, which makes them durable and robust. The handle is made of the same material and will provide you with ease during training.
They are easy to find on the market and recommended for those who have just entered the world of training with kettlebells. For less money, you can provide a quality weight that will serve you for a long time.
3. Steel(Competition) Kettlebells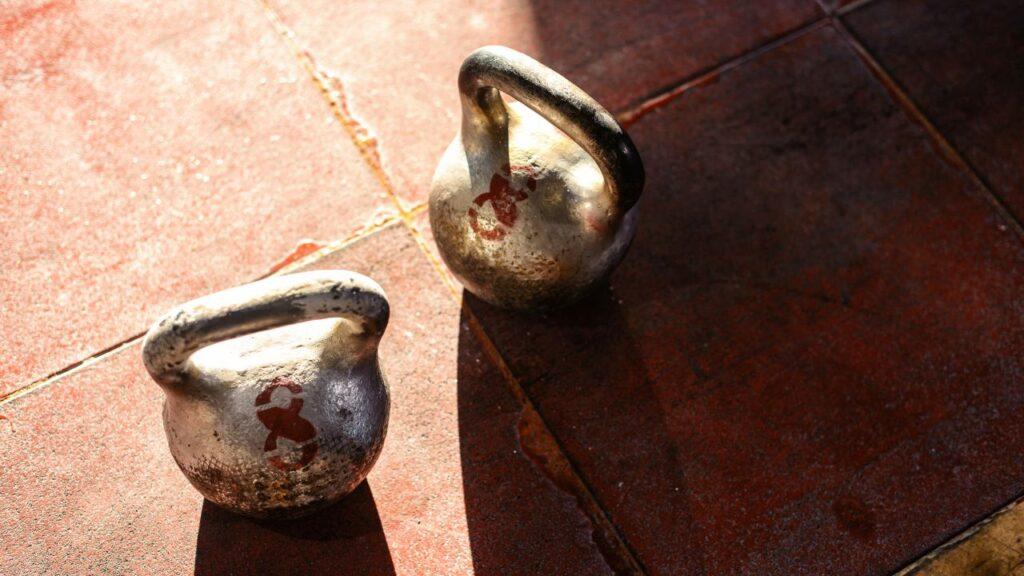 Steel or competition kettlebells have recently gained popularity because they are the same size but also quite durable and long-lasting.
Steel weights have recently started to be used more often as a substitute for iron weights. Steel is more complex than iron and provides excellent safety and durability.
What makes them famous is that steel kettlebells are used for competitions. Regardless of the weight, they all look the same and are the same size, irrespective of the manufacturer.
They are of equal size because equality is achieved in performing exercises. It doesn't matter what weight you use, and nothing changes in the performance of the activity except that you lift a heavier weight.
4. Rubber Coat Kettlebells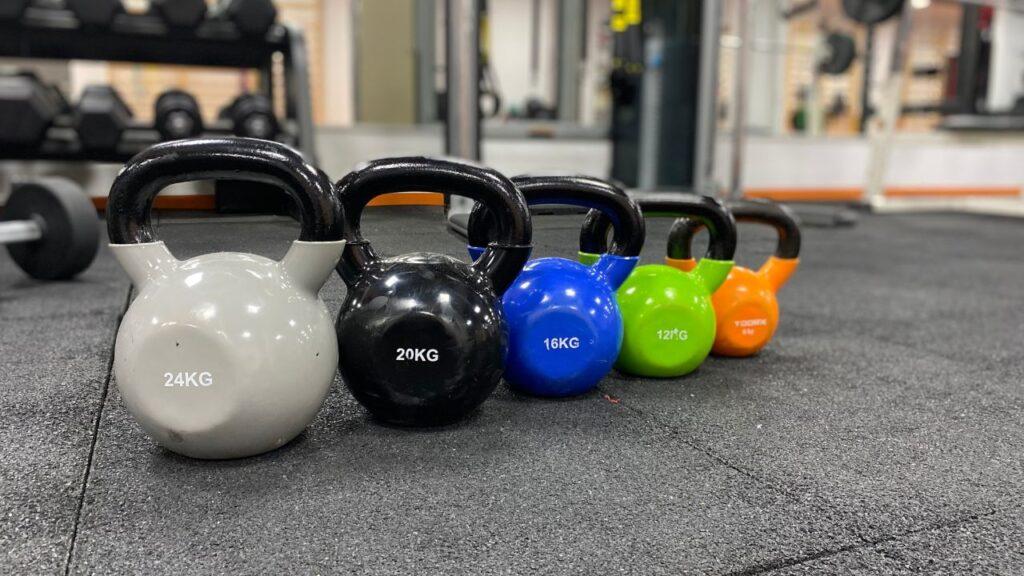 Rubber Coat Kettlebells are excellent for the home gym because they are durable and long-lasting but also protect the surface on which the exercise is done.
The rubber coating around the iron kettlebell achieves safety during exercise and protection of the surface you use during training, but also a better grip because the rubber protects you from slipping and potential injury.
They are excellent for home conditions because they are cheaper and provide durability, safety, and protection of the space where you train.
5. Plastic Kettlebells
Plastic kettlebells are an excellent option for those who are just entering the world of this type of training.
The fact is that they are made of plastic and are not long-lasting and durable, but that makes them an excellent option for those who are just starting to exercise with kettlebells.
They are perfect for some initial exercises until you gain confidence and knowledge, but also interest in this type of training. Then you can get some more expensive, durable, and longer-lasting weights.
Check our guide on functional fitness equipment if you believe kettlebells may not be for you.
Different Kettlebells for Different Lifts
Different kettlebells for different lifts because they differ in sizes, handles, and other parameters. This means that for some exercises, one type of kettlebell will be better than another.
It is not the same when you lift a competition kettlebell of 16 kilograms and a traditional iron cast kettlebell of the same kilogram because they are completely different sizes.
Now I will explain to you which are the best kettlebells for the following three types of exercises:
Swings – when you learn to perform this exercise, it is essential that you have a curved handle that will allow you to grip the weight more quickly. The traditional cast iron kettlebell is most often used for this exercise because it has the best hold and a flat bottom that maintains stability and is the easiest to find.
Squats – the best choice for this type of exercise is the traditional iron cast kettlebell. For this exercise, you must hold the weight steadily, which is the easiest thing to achieve with this type of weight.
Cleans – you should be especially careful here. Beginners often use lighter weights, which can lead to double cleaning problems. When you use more delicate types of kettlebells, when lifting weights or lowering them between your legs, the lighter types may collide and move, which is not good because it can lead to injury. That is why it is better to use more complex and heavier forms, such as cast iron or steel weights, for this exercise.
Related Articles:
FAQs
What Is Competition KB vs Regular?
Competition kettlebells are uniformly designed independently of the manufacturer and are made of steel, while regular kettlebells come in different sizes and are made of various materials, most often iron.
Does the Shape of the Kettlebell Matter?
Yes, the shape of the kettlebell matters because it directly affects the quality of your training. The kettlebell must have a flat bottom and a handle of suitable diameter, and the shape corresponds to the exercise you want to perform.
What Is the Difference Between Cast Iron and Competition Kettlebells?
The difference between cast iron and competition kettlebells are weight, size, handle diameter, design, and price. Competition kettlebells are made of steel, always the same size, weight, and design, and they are generally much more expensive than cast iron weights, which are made in different sizes and weights and have handle diameters that vary.
What Is the Best Type of Kettlebell to Start With?
The best type of kettlebell to start with is a traditional cast iron kettlebell. In essence, this type of kettlebell is excellent for those who are experienced but especially for those who are just entering the world of fitness.
If you are not ready to spend a little more money because you are unsure if the kettlebells will suit you, you can also buy a plastic option, which is much cheaper but does not provide durability and durability.
Read our guide on the best kettlebells for a home gym to purchase the one according to your personal and fitness goals.
In the comments below, you can tell us which type of kettlebells you decided to buy and why.