This is a review of the 10 best adjustable dumbbells.
Working out at home can be challenging and expensive since you will most likely have to buy more than just one piece of equipment, but with a dumbbell purchase, you can cut the cost to a minimum while having more space in your home gym.
I undertook 15 hours of research and tested more than 30 adjustable dumbbells to find the best ones for the home gym. After I completed all the testing, I singled out the 10 best adjustable dumbbells based on certain ranking criteria.
Keep reading below if you want to uncover the best adjustable dumbbells for your home gym and some essential tips for the buying process.
Let's begin!
Top 3 Adjustable Dumbbells
Best Overall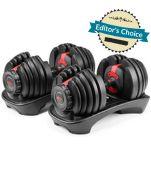 Bowflex SelectTech 552
– 1-year JRNY Membership
– 105 pounds of weight
– Motion Tracking
Best Premium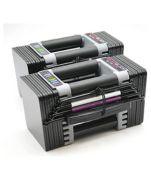 PowerBlock Elite EXP
– Expansion weight kits
– Long-lasting set
– 2.5 pounds increments
Best Budget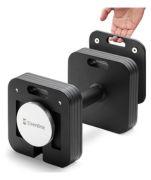 Eisenlink Adjustable Dumbbells
– Alloy Steel
– 50 Pounds
– No plastic or fragile parts
10 Best Adjustable Dumbbells 2023
After more than 10 hours of research, I finally came up with a list of the best adjustable dumbbells.
The 3 main factors we considered while reviewing the dumbbells are price, weight, and durability.
Below you can find the 10 best adjustable dumbbells of 2023 according to our selection criteria.
Best Adjustable Dumbbells 2023
Rating
---
Durability: 5.0
Weight: 5.0
Price: 4.9
Features
---
– 1-year JRNY Membership
– 105 pounds of weight
– Motion Tracking technology
Bowflex SelectTech 552 adjustable dumbbells were a fan favorite during the pandemic's peak.
Based on our firsthand experience, these came well-packaged and were easy to set up. The dumbbells were adequately secured, so there was no change of damage during shipping.
Bowflex allows you to buy a bench and a dumbbell stand individually, but this won't be necessary if you have a small home gym.
The Bowflex has an elegant black and red design.
Dumbbells are circular and made out of nylon, steel, thermoplastic rubber, and ABS plastic(generally used for 3D printing).
Round dumbbells are more durable because of the materials they are made from.
This set can replace 15 sets of weights ranging from 5 to 52.5 pounds. To change to the desired weight, twist the dials on the opposite sides of each dumbbell.
They perfected the process of adjusting the weights and making it effortless.
These dumbbells have a rubber grip on a steel handle, making them excellent to grip for extended periods. One of the most common complaints about these dumbbells is that they are bulky.
Exercises like overhead presses and deadlifts are, therefore, harder to execute. Almost every adjustable dumbbell has the same pattern of being oversized.
Dumbbells could feel a bit bulky for some exercises like those mentioned above, but this could not be the case for others like bicep curls or squats.
A great addition to the purchase is 1-year long JRNY membership for people that want to get the most out of their investment.
Bowflex SelectTech 552 Adjustable Dumbbells are for people that want to buy a proven, good, and reliable set of dumbbells.
Read our Bowflex SelectTech 552 review to get more thorough information about the product to make the right purchasing decision.
Pros
Easy to operate right out of the box
The weight range is phenomenal
The handles are great and comfortable
The knobs easily turn and give a distinct/solid "click"
Cons
Max weight is 52.5 pounds, which may limit some heavy lifters
Rating
---
Durability: 4.9
Weight: 5.0
Price: 4.9
Features
---
– Expansion weight kits
– Long-lasting set
– 2.5 pounds increments
The best price-to-performance adjustable dumbbell set is a Powerblock elite series.
Powerblock has been one of the best companies when it comes down to its products over the years.
Three main reasons why they are considered one of the best adjustable dumbbells are:
They possess a wide range of weights.
More durable than many adjustable dumbbells but also some fixed ones.
They are quick and easy to change weights.
These dumbbells don't have the same look as a normal dumbbell, but still, nonetheless, use one of these that has the capacity of 16 different weights.
They have a square-shaped look, which indicates that they can be stored much easier than round ones without using up much space.
Powerblock dumbbells can reach 90 pounds of maximum weight with added accessories. They are quickly changed to 2-5.-5 pounds increments. Price is highly competitive to other brands, but they are worth it.
Their base is 50 pounds, but if you want to get up to 70-90 pounds, you must pay for extra accessories.
Regarding durability, most people are delighted with the quality of Powerblock dumbbells. Lastly, the PowerBlock Elite Set's value is among the best on the market.
Powerblock dumbbells are one of a couple dumbbells made in the USA. That said, They are much cheaper than their rivals on the market.
Our investigation demonstrated that the biggest problem with PowerBlock is their shape. They are rectangular, which is not common on the market.
This can annoy some people, mainly those who haven't used them excessively. However, thanks to the caged handle, your wrist can touch the posts on the bell.
Although the posts are comfortable because of the foam that covers them, it differs from what many are accustomed to.
Pros
The dumbbell is easy to use and allows for easy switching between different weights quickly.
They are easy to store because of their compact design.
Completely flat on the ends, making it a lot more comfortable.
Rating
---
Durability: 4.9
Weight: 4.9
Price: 4.8
Features
---
– Alloy Steel
– 50 Pounds
– No plastic or fragile parts
The Eisenlink adjustable dumbbells are a versatile and efficient addition to any home gym.
With the ability to adjust from 10 to 50 pounds in 5-pound increments, these dumbbells cater to a wide range of fitness levels and exercises.
The quick-lock feature and ergonomically designed square shape make adjusting weights a breeze, taking less than 10 seconds.
Our tests indicate that the anti-slip steel handle ensures a secure grip, enhancing safety and performance. Additionally, the compact design eliminates the need for a separate base, making storage easy and convenient.
Pros
Ideal for various exercises and fitness levels
Saves time and hassle during workouts
Ensures a comfortable and secure grip
Cons
Only one dumbbell per purchase, which may require buying a second for certain exercises
Rating
---
Durability: 4.8
Weight: 4.8
Price: 4.7
Features
---
– Individually sold
– Gym Army's 1-year warranty
– Weight range from 5-50 pounds
When it comes down to space-saving, our findings show that the Nuobell adjustable dumbbells are one of the best on the market.
They have one of the fastest results if you want to change weights. You can change from 5 to 80 pounds in just a few seconds.
Some may hesitate to purchase them because of all the plastic they have. Plastic is a massive concern for the durability of a dumbbell.
However, despite all the doubt, Nuobell dumbbells are well-built and have an appealing design. What sets them apart from their competitors is their flat plate design.
This gives them more of a natural feeling than other competitors.
Noubells have a typical feeling when using their dumbbells. Another great feature of their dumbbells is that they quickly change weight. If you closed your eyes, you would even notice that you use adjustable dumbbells due to the uncaged handle design and metal plates.
This may appeal to someone who doesn't want to use square-shaped dumbbells like the ones PowerBlock or Bowflex SelectTech have.
Noubell has a barbell-type handle with a knurled finish, which is uncommon because most adjustable dumbbell sets use foam or rubber handles.
Those who often do barbell exercises may find this type of handle more appealing because it is similar to what they are used to.
Many people prefer contoured handles with some knurling initially, but straight handles will grow on you when using them after some time.
This is not the set of adjustable dumbbells you want to drop because of their plastic build. The max weight on the dumbbells is 80 pounds, and it cannot go any further.
For someone, this may be a dealbreaker.
But these are a great option if you don't plan to lift more than 80 pounds with a single dumbbell.
Pros
You get what you pay in terms of quality
Well-manufactured and engineered
Knurled handle that sits well in hands
Cons
Dumbbells are fragile and cannot sustain massive drops
Rating
---
Durability: 4.8
Weight: 4.7
Price: 4.7
Features
---
– Total weight of 52.5 pounds per dumbbell
– Compact and easy to storage
– Star lock collars for safety
Consider the Yes4All adjustable cast iron dumbbells if you don't care about taking more time between exercises.
These traditional dumbbells use weight plates, a bar, and a threaded collar, so everything is in place.
Based on our observations, the problem with this is the time needed to change the weights because you first have to remove the collar, then put or remove extra plates and re-screw the collar back.
Yes4All adjustable cast iron dumbbells come with eight 5-pound plates, two 2.5-pound plates, two 1.25-pound plates, and a 4-pound bar.
While trying to change the weight, the fastest time was around 25 seconds. This means you should expect around a minute rest between exercises.
Because of the huge rest time, you will be tempted to make your next move with the same weight and not change it.
You could be stuck on the same weight for a couple of reps and not make it challenging enough.
The odd thing about these bars and the holes in the weight plates is that they are 1.15 inches.
As a result, you cannot put weight on other sets because standard holes are just 1 inch.
If more relaxed and conventional training is something you want, and you don't mind the time it takes to change the weight, then this may be an excellent option for smaller budgets.
Pros
No gloves are needed when using a dumbbell
A package that is well-put together
Rubber gaskets, so weights don't rattle around
Cons
Loose weights on the bar during reps
Rating
---
Star lock collars for safety
Weight: 4.7
Price: 4.7
Features
---
– Made out of steel and hardened plastic
– Trained-led weight training
– Same value as 10 pairs of dumbbells
We determined through our tests that the ProForm weight dumbbells are perfect for those who want to get in shape without spending much money on home gym equipment.
First of all, the ProForm weight dumbbells have an excellent design. They have a sleek appearance that makes them look great.
The dumbbells have a lock mechanism that allows you to change weights quickly, making them an ideal set of adjustable dumbbells not to waste any time during a workout.
Also, a thing worth nothing about them is the weight range they have. They can be adjusted from 2.5 to 12. pounds, an excellent range for intermediate and beginner lifters.
Weight adjustment is as straightforward as it gets with clearly marked weights. They can be easily kept in the storage trey if you are not using them.
The durability of the ProForm weight dumbbells is worth mentioning.
They are made out of high-quality materials built to last, and the grip is comfortable, ensuring a secure hold even during highly intensive workouts.
When it comes to the price, the ProForm weight dumbbells are reasonably priced when compared to other adjustable dumbbells.
They give a lot of value for the price, especially considering their quality and versatility.
The ProForm weight dumbbells are an excellent option for people who want to achieve their fitness goals at home.
These dumbbells are a fantastic investment for anybody wanting to stay in shape without going to the gym.
Pros
Incredibly easy to adjust the weights
They are compact and not too wide
A very durable set of dumbells
Cons
The adjuster may get stuck sometimes
Rating
---
Durability: 4.7
Weight: 4.6
Price: 4.7
Features
---
– 5 weight sizes in each dumbbell
– Easy to adjust the weights
– Designed to save space
The great thing about the LifePro adjustable dumbbells is that they don't have that much plastic in their design like most adjustable dumbbells.
Plastic is used for every fast adjustable set.
Even the premium sets like Bowflex 552s have some plastic in their design.
LifePro dumbbells still have some plastic; they are not having a plastic casing around the plates.
Our analysis of this product revealed that this is good because the plastic case first cracks when a dumbbell is dropped.
Casing crack makes the dumbbells unusable.
It is unusual to find 25-pound dumbbells that feel good on the hands like LifePro does. There is no plate movement, which is fantastic.
You want them to feel just like fixed-weight dumbbells. The adjustment system works well by fully locking the weight plates in place.
Increasing weight is one of the keys to progress. It doesn't matter which exercise you are doing or what gym equipment you use.
Ideally, you would want 2.5 or 5-pound weight increments for adjustable dumbbells.
Many cheaper and heavier sets use 10-pound increments. This may be even too big of a gym for experienced lifters, especially for exercises that isolate the muscle.
The LifePro PowerFlows are durable and cheap adjustable dumbbells. Like with all the cheap 25-pound dumbbells, you will get a fixed-length handle.
That means the handle doesn't change in length, no matter which weights you lift. It is the same length handle for 5 or 25 pounds.
If you are a beginner at lifting weights, 25 pounds might sound like a lot to you right now. As you progress and get stronger, you will be surprised how fast you will pass that weight.
No weight expansion packs are available for this set, so once you reach that 25lb max per dumbbell, you'll have to purchase a new set of dumbbells to continue.
Pros
Incredibly versatile that allows performing a wide range of upper and lower body exercises
Overall construction and quality is top notch
An interesting mechanic that is easy to use
Cons
Not much room for grip as the plates are close together
Rating
---
Durability: 4.6
Weight: 4.6
Price: 4.5
Features
---
– Adjustable 3 in 1 set
– 6-months warranty
– Total weight of 88 pounds
We have found from using this product that the best thing about the Leadnovo adjustable dumbbell set is the ease of adjustment.
Unlike traditional dumbbells, they have a dial system that allows you to change the weight with a simple wrist twist.
This means you can adjust the weight quickly without interrupting your training or fiddling with weights.
You can adjust the weights from 5 to 25 pounds, so you can start progressively adding more and more weights as you get stronger.
The design of the dumbbells also means that you can easily store them away when not using them, making them ideal for small spaces like flats and home gyms.
When you learn to adjust the weights, you can use them for various exercises like curls, lunges, squats, and shoulder presses.
You can implement them in cardio workouts like step-ups and weighted jumping jacks, making them an adaptable piece of equipment for any training.
They provide a lot of value for the price, primarily considering their build quality.
The Leandovo adjustable weights dumbbells are excellent for anyone who wants to stay fit and healthy in their home.
Their easy adjustment, compact design, and versatility make them a perfect fit for most people.
Pros
Easily adjustable weights
New look so they don't roll away
Excellent set for the beginner
Cons
Plate bolts don't hold very well, and they loosen easily
Rating
---
Durability: 4.5
Weight: 4.5
Price: 4.5
Features
---
– 4 in 1 dumbbell set
– Made out of durable materials
– 4 safety nuts
The Feierdun adjustable weights dumbbell set is an adaptable and convenient solution for people who want to work out at home.
They come with two dumbbells each that can be adjusted from 5 to 25 pounds each, making them perfect for various exercises and levels of experience.
The design of these dumbbells is exceptional. You can adjust weight easily and quickly, which is a significant benefit over regular dumbbells.
After trying out this product, the mechanism for adjusting weight is smooth and straightforward, and the dumbbells are clearly marked to see the weight you selected.
Dumbbell on this grip is secure even when you are sweating during the workout.
The durability of these dumbbells is very exceptional. Weight plates are made out of quality materials resistant to wear and tear, making them last a long time.
To keep the dumbbells organized when not in use, they come with a storage tray that is sturdy and convenient.
These adjustable dumbbells can be used for a variety of exercises.
They can be used in traditional strength exercises like biceps curls and bench presses or can be incorporated into squats and lunges.
You can switch up the routine easily because of the adjustable weights and target different muscle groups.
These adjustable dumbbells are reasonably priced.
Compared with the other dumbbells on the market, the Feierdun adjustable weights dumbbells sets are moderately priced.
With this set, you will get your money's worth, especially considering its versatility and convenience.
Pros
Easy to assemble when getting them
Perfect weight for most home workouts
Switching between a bar, dumbbells, or free weights is impressive
Cons
They clap to keep the weights in place
Rating
---
Durability: 4.4
Weight: 4.4
Price: 4.5
Features
---
– Quickly adjustable weight
– Black plastic storage
– Adjustable weight of 38 pound
If you miss a pair of adjustable dumbbells for your home gym and don't want to spend a huge amount of money, AmazonBasic adjustable dumbbell set could be a solution for you.
They are getting increasingly popular for the reason that not everyone has enough space to store a complete set of standard dumbbells in their home gym.
A massive benefit of these adjustable dumbbells is their price. They are one of the least expensive dumbbells that I've tested, which is why they are in such increased demand.
Our investigation demonstrated that the all-metal construction of these dumbbells feels extremely robust after you add weight plates and tighten the collars.
The AmazonBasics Adjustable Weight Set comes with four 5-pound plates, four 2.5-pound plates, two 3-pound bars, and four 0.5-pound collars- weighing a total of 38 pounds per pair.
You can spread the weight between the pair, so each is 19 pounds.
Max loaded weight on one dumbbell is 35 pounds, allowing you to adjust the dumbbell for whatever weight training you have in mind.
AmazonBasic isn't holding back with these dumbbells; it is a perfect example of getting precisely what you pay for.
If you want a basic set of dumbbells, you will get this with the AmazonBasic adjustable weight set.
Additionally, you can buy 2 sets at a lower price to increase their value.
Pros
This one does the job if you don't need very heavy dumbbells
Good starter set
There's enough space on each dumbbell to load 6 plates safely
Cons
The grips are incredibly sharp and rough
Other Adjustable Dumbbells We Have Tested
This is the list of tested dumbbells that didn't make the list of 10 best adjustable dumbbells. If you want even more alternatives to the ones listed before, here you can find some solid picks.
The Yes4All 105-pound adjustable dumbbell weight set has 28 different weights but is not easily adjustable. If you want a heavier dumbbell, this one goes up to 100 pounds.
The Nordic track select-a-weight 55 Lb dumbbell set is expensive but goes up to 55 pounds and can replace 15 dumbbells.
The Ativafit adjustable dumbbells are great for beginners since it has a small weight range. The downside is that it comes as a single dumbbell, not in a pair.
The Deiris travel weights are perfect for people who travel a lot and need a set that they can bring on a trip.
How We Tested Adjustable Dumbbells
I had to test a lot of adjustable dumbbells to assemble the list of the 10 best ones.
To see how they perform, I tested them in main fields, like setup and unboxing, durability, usability, sturdiness, adaptability, storage, and overall worth.
This took more than 15 hours to test each and every single one to give you the list of the best ones.
Buyer's Guide
When it comes down to buying dumbbells, there are a lot of factors to consider.
I will try and help you with choosing the right dumbbell for you. Below are things to think about before deciding to purchase a dumbbell.
What to Look For in an Adjustable Dumbbell?
The things to look for in an adjustable dumbbell are listed below.
Weight
Price
Material
Efficiency
Unit Size
Warranty
Weight indicator readout
Balance in hand
Durability
Look for your preferred weight in an adjustable dumbbell. When buying adjustable dumbbells, you should also consider materials, price, design, etc.
Here is the list of the main things to consider before purchasing a dumbbell.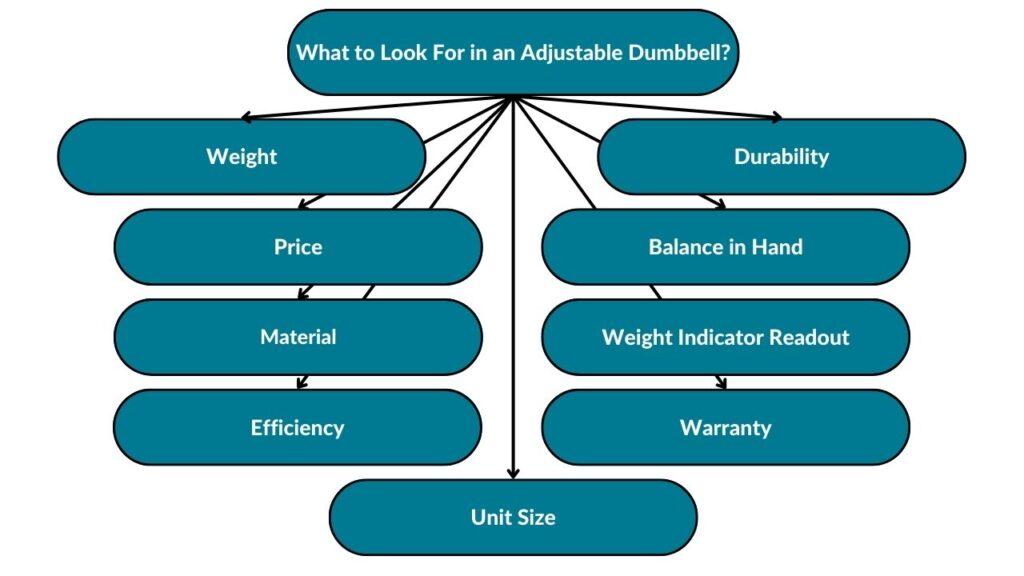 Weight
Any time you go to buy any gym equipment, weight is a massive factor. Consider your skill level and experience but make sure you buy heavier weights than what you can lift now.
There are different set ranges from light( 2 to 11 pounds per dumbbell), heavy (11 to 70 pounds per dumbbell), and a wide range (4 to 100 pounds per dumbbell).
Look for a set that increases in smaller increments so you can control your training more.
You might want to check our guide on what dumbbell weight to choose:
Price
Adjustable dumbbells are essential when building a home gym.
Despite all the gym equipment, if you want the best value for the money spent, look no further than adjustable dumbbells.
Best adjustable dumbbells are usually between $500 to $700 depending on the features like weight capacity and others.
If you choose to buy a cheaper option, they are much more likely to be damaged when dropped because of their lower-quality material.
Material
Regarding the materials, there are durable ones like nylon and metal and cheaper alternatives like plastic.
Durable materials are superior for the safety and longevity of a trainee. If you recklessly drop the dumbbell, you would want a dumbbell to be made out of heavy-duty material instead of plastic.
As you would imagine, metal weights are far more durable than the cheaper options.
Efficiency
How many standard dumbbell sets can an adjustable one replace?
Adjustable dumbbell sets can replace between 4 to 15 dumbbell sets and, sometimes, even more, depending on their weight range and increment size.
Unit Size
You can buy adjustable dumbbells in a pair, or you can buy them as singles.
Keep this information in your mind when comparing prices, considering weights, and in the end, purchasing a set of dumbbells.
Before buying, you should check in the product description if it's a full set or a single dumbbell. It would be disappointing to buy a 20-pound set, believing you bought two 20-pound dumbbells.
You would be disappointed if you got one dumbbell, thinking it's a complete set.
Warranty
Gym equipment will inevitably be damaged after some time.
Bumper plates will fold, kettlebell handles detached from the bell, barbells bent, and like all of this, adjustable dumbbells are also prone to this.
Usually, if the warranty period is longer, they are more likely to be forgiving and give you another dumbbell.
If the warranty is good, that means the company is the same.
A new company and an unestablished company give you a lifetime warranty, and you have to factor in the possibility of the decline of a business.
That is why it is advised to consider the company's lifecycle in making the dumbbells.
Weight Indicator Readout
Can you easily see which weight you are using?
Checking it requires you to calculate the weights, which will inevitably slow down the intensity of your workout.
Check this on a tag before making a purchase. There are some dials that are marked 1-10, so you have to calculate how much you lift.
Some other dumbbells are clearly labeled.
Balance in Hand
For some people who go to a commercial gym with a wide range of dumbbells, switching to an adjustable one can feel awkward.
This is the chase only for specific dumbbells. After some sessions, the uncomfortable feeling from an adjustable dumbbell will disappear.
Super important is to have balance in the hands so that the user focuses on the lift rather than their safety
Durability
When it comes to durability, adjustable dumbbells should not be dropped.
Nonetheless, putting away dumbbells without dropping them is challenging when you hit the end of a rep or do a max weight lift.
You should consider the sturdiness of an adjustable dumbbell before purchasing one. I suggest doing some tests before the final decision.
Who Should Buy Adjustable Dumbbells?
You should buy adjustable dumbbells because they help change weights quickly. When you do drop sets, using a dial can increase or decrease the weight in just a matter of seconds.
This is essential when it comes down to progressive overload.
Who Shouldn't Buy Adjustable Dumbbells?
You shouldn't buy adjustable dumbbells because they are expensive. Adjustable dumbbells can be a significant investment for beginners if you build your home gym.
Another thing to consider is that you will need time to learn how to adjust the weight. They can feel bulky while doing certain exercises.
Related Articles:
FAQs
Is It Worth Buying Adjustable Dumbbells?
Yes, it is worth buying adjustable dumbbells. The benefits of adjustable dumbbells are convenient and have a weight range that will satisfy most lifters.
Who Makes the Best Adjustable Dumbbell?
Bowflex makes the best adjustable dumbbells. Their most famous adjustable dumbbell set is the Bowflex SelectTech 552.
What Are the Cons of Adjustable Dumbbells?
Cons of the adjustable dumbbells are lower maximum weight than the fixed ones and much less durable than the fixed ones. Every time you want to change weight will kill the intensity of your workout.
Do Adjustable Dumbbells Break Easily?
Yes, adjustable dumbbells break easily. They are built with lock mechanisms and pins that will break when dropped.
Why Do Adjustable Dumbbells Feel Heavier?
Adjustable dumbbells feel heavier because of their ergonomic build; therefore easier to lift and more comfortable. Another reason could be physiological.
Our Best Adjustable Dumbbell
In my opinion, the Bowflex SelectTech 552 adjustable dumbbells are top performing for any workout.
They are very adjustable and easy to use with their weight range, standard dumbbell shape, and ease of adjustment.
The good thing about them is that they are portable and have a 2-year warranty.
They are still an excellent investment for people who want to progress their training and acquire better results.
I highly recommend the Bowflex SelectTech 552 Adjustable Dumbbells for anyone aiming for adaptable and efficient strength workout equipment.
Let me know your favorite adjustable dumbbell from the list above.
Rating
---
Durability: 5.0
Weight: 5.0
Price: 4.9
Features
---
– 1-year JRNY Membership
– 105 pounds of weight
– Motion Tracking technology