This is a review of the best battle ropes.
Finding a good battle rope is not easy since a dozen different ones are on the market.
Through our practical knowledge, I picked several different ones and tested all of them to find the best battle ropes for anyone that wants to implement them in training.
After finishing the tests, I included the 10 best battle ropes in this list.
So without any more delay, let's begin.
Top 3 Battle Ropes
Editor's Choice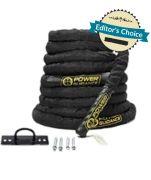 Power Guidance Battle Rope
– Convenient setup
– 3 strand design
– Double-layer protection
#2nd Best Choice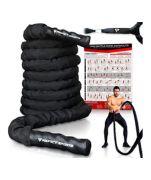 Pro Battle Ropes
– DuraMax protective sleeve
– 30-50 foot length
– Quick to setup
#3rd Best Choice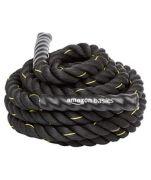 Amazon Basics Battle Rope
– Poly dacron ropes
– Wear-resistant
– Heat shrink caps
Our Top Picks
After spending over a dozen hours on testing, this is the final list of our top picks for the battle ropes.
Three main elements that determined the rankings are weight, price, and build quality.
Below you can see the 10 best battle ropes that are on the list.
1. Best Overall Battle Ropes: Power Guidance Battle Rope (Editor's Choice)
Rating
---
Durability: 5.0
Weight: 5.0
Price: 5.0
Features
---
– Convenient setup
– 3 strand design
– Double-layer protection
The Power guidance battle rope features a double-layer nylon protective cover, which will greatly enhance the durability, expand the life expectancy, and will protect against any wear or tear.
Since its polyester construction further increases its durability, it is stronger and heavier than other ropes and therefore is great for outdoor and indoor usage.
The 7-5 inch heat-shrinkable handle provides a comfortable grip and will help you build muscle endurance without risking any injury or straining your hands.
We have found from using this product that this is a lengthy battle rope that is not the best choice if you have a compact and small home gym.
Pros
Perfect battle rope for strength training
They have a perfect and secure grip
The protective sleeve is well-constructed
Great battle rope for the price
Cons
Not easy to use in a home gym
2. Best All-In-One Battle Rope: Pro Battle Ropes
Rating
---
Durability: 5.0
Weight: 4.9
Price: 5.0
Features
---
– DuraMax protective sleeve
– Rope length 30-50 foot
– Quick to setup
The Pro Battle rope set is made out of ultra-durable construction that guarantees the longevity of a product, even after extensive use in the home gym as well as outside on concrete surfaces.
Also, this battle rope set includes everything that is needed so you can have a fantastic training experience, with features like DuraMax protective sleeve, stainless steel carabiner, heavy-duty anchor straps, foldable exercise poster with top 30 exercises, and heavy-duty coated handles.
Since it is backed by a lifetime guarantee, making this Pro battle rope set built to last, and the company is committed to providing you with top-notch quality products and customer service.
Based on our observation, the biggest drawback regarding this product is that anchors are not included in the package, unlike most other battle ropes.
Pros
Awesome gym equipment
Very durable ropes
A great addition to any home gym
Cons
The anchors didn't come with the package
3. Best Budget Battle Rope: Amazon Basics Battle Rope
Rating
---
Durability: 4.9
Weight: 4.9
Price: 5.0
Features
---
– Poly dacron ropes
– Wear-resistant and durable
– Heat shrink caps on the ends
The AmazonBasics battle rope is made out of 100% poly dacron, making it durable and wear, and also the strong 3-strand twisted construction ensures the rope will last you a lot.
In addition, this rope has an orange/yellow tracking line that adds convenience for maintenance, while the Oxford waterproof sleeve protects it from fray and friction.
Based on our experience, this is a highly versatile resistance tool that will engage several muscle groups like your shoulders, back, core, and legs.
We have found from using this product that the ropes may unravel after not extensive usage.
Pros
Very sturdy battle rope
They are great for core exercises and burning calories
The quality is good, and the fibers are solid
Cons
The battle ropes strand unraveled after a month of use
4. Best Durable Battle Rope: Perantlb Poly Battle Rope
Rating
---
Durability: 4.9
Weight: 4.9
Price: 4.8
Features
---
– Non-slip long handle
– Versatile for many battle rope exercises
– Durable protective sleeve
The Perantlb poly battle rope comes in different lengths (30, 40, and 50 feet) and has two options for the diameter ( 1.5 and 2 inches).
Because of this, users can easily customize the exercise intensity according to their fitness goals and preferences, whether amateur or professional.
Furthermore, the upgraded durable protection sleeve enhances the rope's longevity and protects it from friction and fray while ensuring it withstands years of usage.
Through our trial and error, we discovered that the setup may be tricky and not as convenient as it should be.
Pros
The perfect battle ropes for home gym
It has rubberized grips on the handle
The amount of battle rope exercises you can do is insane
Cons
The battle ropes setup is tricky
5. Best Space-Saving Battle Rope: Perantlb Nylon Battle Rope
Rating
---
Durability: 4.8
Weight: 4.9
Price: 4.8
Features
---
– Protective nylon sleeve
– 3 different rope length sizes
– Effective and versatile
The Perantlb nylon battle rope has an upgraded, durable protective nylon sleeve that is an additional layer, so the rope will last longer and withstand any wear and tear while ensuring it stays for years to come.
Based on our first-hand experience, the manufacturer is committed to satisfying its customers and guarantees that you will be satisfied with the rope while providing detailed instructions for an easy installation.
This rope is made from heavy-duty poly dacron material, making it highly wear-resistant and easy to maintain, while the heat-shrink caps keep the rope tight so you can have a secure grip.
Our team discovered through using this product that the handles are slippery and should be made from a different material.
Pros
Can't beat it for the price
Great for cardio or strength training
They come with the carrying bag
Cons
The handles should be made from different material
6. Best Beginner Battle Rope: Brobantle Battle Rope
Rating
---
Durability: 4.8
Weight: 4.7
Price: 4.8
Features
---
– Non-slip gloves as a gift
– Durable battle rope
– Exercise rope is easy to use
The Brobantle battle rope is an excellent choice for both professionals and newcomers due to its high-quality material with an added protective cover layer that makes sure it withstands intensive use.
Our investigation demonstrated that the notable feature of this rope is that the seat head towel and gloves are included in a package as a gift.
The Brobantle battle rope gives you different options to use and secure it, from binding it to the fixed pillar in your home to railings and trees outdoors.
After putting it to the test, we could see that sometimes the anchors were not included in the packaging.
Pros
A great addition to the home gym
Excellent quality battle ropes
These are extremely comfortable and well-built
Cons
Some haven't received anchor stable and anchor bolts
7. Best Grip Battle Rope: Yes4all Battle Exercise Training Rope
Rating
---
Durability: 4.8
Weight: 4.7
Price: 4.6
Features
---
– Premium quality construction
– Tactical removable sleeve
– Firm grip handle
The Yes4all battle rope is a piece of premium quality equipment made from 3-strand twisted poly dacron material, making it highly durable.
This is the best battle rope when regarding the added features that it has, which is a tactical protective sleeve, which makes it perfect for outdoor conditions as well as indoors.
The handles are made from heat-shrink materials in these battle ropes and will offer a secure grip with excellent protection during intense workout sessions.
After conducting experiments with it, the ropes frayed after some time.
Pros
Good price for a heavy battle rope
Great outdoor battle ropes
Perfect for performing any full-body workout
Cons
The rope frayed after some time
8. Best Professional Battle Ropes: Hokyzam Battle Rope
Rating
---
Durability: 4.6
Weight: 4.7
Price: 4.6
Features
---
– Professional battle ropes
– The rope is covered with an Oxford sleeve
– Free bonuses are a headband, battle gloves, 4 anchor straps, 4 anchor bolts, a stable anchor, and a carabiner
The Hokyzam battle rope set comes with 4 anchor straps, 4 anchor bolts, a carabiner, and a stable anchor for easy setup and support.
In addition, the package includes a headband to keep the sweat away from dripping in your eyes and professional fighting gloves to protect your hands from blisters.
This rope has a 45-day money-back guarantee and a 1-year warranty, assuring you that you can get your money's worth back if something happens.
Based on our observations, some free gifts were not included in the package.
Pros
They are not fancy, but you will see the results with them
Great for all types of battle rope workouts
The price is reasonable, and the quality is exceptional
Cons
Some of the free gifts were not included
9. Best Advanced Battle Rope: Topitop Battle Ropes
Rating
---
Durability: 4.7
Weight: 4.5
Price: 4.6
Features
---
– Perfect for full-body workouts
– Men and women can use it safely to perform strength training
– Heavy-duty stainless steel anchor kit
The Topitop battle rope set is made from poly dacron material, which makes it great for cardio conditioning exercises that will burn fat.
With a diameter of 1.5 inches and a length of 30 feet, and weighing 16 pounds, these ropes are just perfect for intermediate to advanced fitness enthusiasts.
What makes this battle rope different from others on the market is its versatility since you can simultaneously target every part of your body, including abs, core, shoulders, arms, and legs.
Our analysis of this product revealed that the instruction was not included.
Pros
Great for upper-body exercises
The battle ropes grip is perfect for men and women
Both ends of the rope have grips, so you do not need gloves
Cons
It doesn't come with the instructions
10. Best Outdoor Battle Rope: 4ACTIVEU Battle Rope
Rating
---
Durability: 4.7
Weight: 4.5
Price: 4.4
Features
---
– Easy to setup indoor and outdoor
– Protective nylon sleeve
– Extra coated handles
The 4ACTIVEU battle ropes are made out of premium, heavy-duty materials, which makes them built to last.
After trying out this product, we could see that the polyester sleeve gives it an extra layer of protection for durability.
This battle rope comes with extra-coated handles, which ensures a secure and comfortable grip during your training, while reinforced nylon straps add convince due to the easy setup.
Based on our observations, the 40 feet option is non-existent.
Pros
Good for full-body workouts
Garage fit battle rope
These battle ropes are easy to use
Cons
There is no 40-foot battle rope option
What Is the Best Type of Rope for Battle Rope Workouts?
The best type of rope for battle rope workouts is around 10 feet long and 1.5 inches thick. When you progress and get stronger, move to the lengthier options.
After some time, try the ones that are 2-30 feet and with a 2-inch rope diameter.
Buyer's Guide
Before choosing a new battle rope, you must ensure you get the right one for your needs.
To make sure this happens, below is the list of things you should be aware of before purchasing.
How to Choose the Best Battle Ropes for You
We did plenty of research to find the best battle ropes for you.
Some of the factors that play a big role in rankings are length, material, price, and many more.
Below are all of the factors that affected the decision to pick the best battle ropes.
Length: Shorter or Longer Workout Ropes?
The ropes can come in all different sizes and can vary from 18.5 inches all the way up to 50 inches in length.
Selecting the perfect rope length will depend on your goals, fitness level, and space available.
Shorter ropes are better for beginners since they are usually lighter. They are also a more portable option.
Longer ropes are heavier and require more space, but they will offer you a more fluid motion.
Width: Do I Need Thicker Ropes?
Most ropes have a 1.5-inch or 2-inch diameter.
Starting with a 1.5-diameter rope is advised if you are just starting out.
Some ropes have a bigger 2.5- inch diameter, which can create an even bigger challenge during training.
Weight: Heavier or Lighter Ropes?
Most battle ropes weigh from 15 to around 50 pounds.
Usually, the thicker and the longer the rope is, it will weigh more.
Cost
The price of the battle ropes can vary depending on the build quality and the included features.
Also, battle ropes can be purchased sometimes for less than 50 $, but some will cost you upwards of a couple of hundred dollars.
Usually, the longer and thicker the rope, the higher the price.
Grip
Battle ropes don't just vary in their length but also in thickness.
Therefore, the thicker ropes are usually heavier, tougher, and sturdier and will last longer.
If you are just starting out, looking into the thinner battle rope is advised.
Furthermore, keep in mind that the long, textured handles will make your battle rope easier to grip.
Anchor Point
You will need to have an anchor to secure your battle rope so you can safely workout unless you have some kind of sturdy pole in your home gym that you can loop around or some kind of heavy kettlebell to tie it that way.
Some of the battle ropes include metal bracket anchors that can be bolted to a wall.
Others come with strap anchors that will give you a bit more flexibility regarding the location, and some battle ropes require you to buy anchors for them separately.
Rope Material
If you want a battle rope that will last you and withstand wear and tear, consider ropes made out of high-quality poly dacron.
Poly dacron is a surprisingly strong, sturdy material and won't shed as traditional battle ropes made out of manila.
Therefore, if you want to extend the life expectancy of your battle rope even more, consider the ones with a protective sleeve over the poly dacron braid for an additional layer of protection.
Rope Design
You can see that most of the battle ropes have a classic three-strand twist design.
Those are the most common ones and will work well, but if you find one with a braided design, they could potentially last a bit longer.
Goal: Strength Training or Cardio
Depending on what kind of goals you want to achieve, there are different choices to pick from.
If you want to perform cardio or strength training, you should pick ropes based on that.
Who Should Buy Battle Ropes?
People that want to gain muscle mass, tone their muscles, or lose weight should buy battle ropes. They can be utilized the best if you implement them into your existing strength training.
Apart from them, personal coaches could greatly benefit from having them in their gym.
Since they are highly versatile, they can be used in group or one-on-one sessions to help clients achieve their goals.
Who Shouldn't Buy Battle Ropes?
People that don't have a lot of space in their home gym shouldn't buy battle ropes. Most battle ropes are anywhere from 30 to 50 feet, which means that you need a lot of room to store and use them.
If you do not have that much workout space, you should look into some more space-compact alternatives.
Why You Should Use a Battle Rope
So, why should you ever consider using battle ropes since there is plenty of other gym equipment out there?
To help you get the answer to this question, here are some of the benefits of using battle ropes.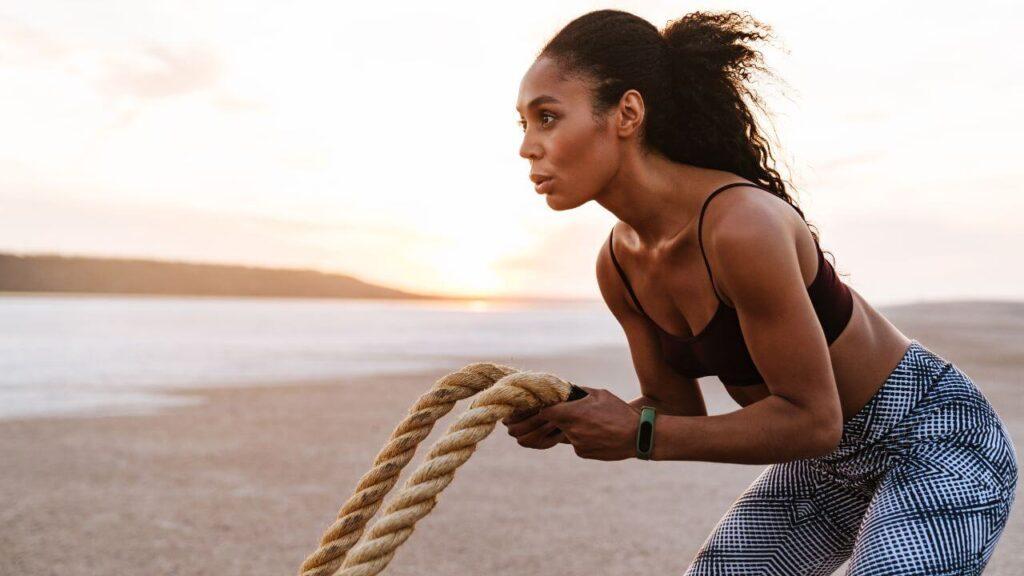 Improved Strength-Endurance
A study that was conducted in 2022 evaluated the effect of using battling ropes over a 6-week time period among 33 men and women [1].
After just three weeks, there was an increase in upper-body muscle strength.
Even if you increase the weight of a battler rope by 10 pounds, that will lead to an 8-10% increase in trunk performance.
That is why you should use battle ropes if you want to build your muscle strength.
Battle Rope Training Is Low-Impact
Most people know that ellipticals are one of the best low-impact activities you can do, but nobody wants to do only that and limit yourself to one exercise.
So to keep you motivated and focused to keep working out, you need to switch up the workouts sometimes.
To your pleasant surprise, battle ropes are the choice you desperately need.
They will allow you to keep your feet planted on the floor so you don't stress your lower body.
Furthermore, you can use them when sitting on the ground.
As long as you don't lift your feet off the floor and jump around, these will give your joints grace.
Enhanced Athletic Performance
In a study that was done in 2018, 30 collegiate basketball players took their part in battle rope or aerobic training over the span of eight weeks [2].
The research was done to bring the results, find out if one form of training was better than others, and see their overall performance.
After finishing the eight weeks, basketball players who did the battle ropes had become significantly better with core endurance, shooting accuracy, jump height, and speed of their chest pass than the other group.
The players participating in aerobic training saw an improvement in upper-body strength and aerobic capacity, but for the most part, the battle ropes benefits were unmatched.
Battle Rope Exercises Enhance Cardiorespiratory Fitness
Cardiorespiratory fitness is the capacity of your circulatory and respiratory systems to get oxygen during an intense workout.
It is a great indicator to see how your body uses oxygen.
The better the results are, the less likely you will have any problems with coronary heart disease, high blood pressure, and others.
If you ever did any battle rope exercises, then you know how intense it is to swing the ropes.
You don't need a lot of time to see your heart rate go up, and soon you will be panting to breathe.
Since it is that hard, it builds your cardiorespiratory endurance.
The study from 2022 noted that after only 3 weeks, participants could see an increase in their cardiorespiratory fitness [3].
Battle Ropes vs Other Gym Equipment
When it comes to equipping your home gym, there is a wide range of fitness equipment to choose from.
Battle ropes are popular among all the different options due to their intense and dynamic workouts.
However, if you don't want to buy them, here are three options to replace ropes.
Dumbbells
Dumbbells are versatile pieces of fitness equipment that will help you target specific muscle groups.
Unlike battle ropes, dumbbells mainly focus on isolated movements and strength training.
Battle ropes provide you with a dynamic full-body workout with cardio benefits, while dumbbells give you more of a strength training approach.
Related Articles:
Kettlebells
Kettlebells are another choice that is functional and versatile. They will provide you with a combination of cardiovascular conditioning, strength training, and mobility exercises.
Kettlebell workouts involve a lot of lifting, swinging, and pressing movements, which are very similar to battle ropes workouts.
While battle ropes mainly focus on upper body strength, kettlebells provide a more holistic approach, targeting core stability, posterior chain, and dynamic movements like Turkish get-ups, kettlebell swings, and snatches.
Related Articles:
Medicine Balls
Medicine balls are weighted balls primarily used for explosive exercises, functional movements, and power and strength training.
With medicine balls, you can do exercises like throws, squats, slams, and many more.
While battle ropes are more cardio-intensive, medicine balls focus mainly on power development and explosive movements.
They are very valuable for athletes, functional fitness enthusiasts, and those who want to improve their athleticism overall.
Related Articles:
FAQs
Is a Battle Rope Worth It?
Yes, a battle rope is worth it. The battle ropes are useful if you want to gain muscle mass, lose weight, tone your existing muscles, or train endurance and imbalance.
How Heavy Should a Battle Rope Be?
Battle ropes are heavier if they are thicker. A 1.5-inch 30-foot battle rope weighs around 16-18 pounds, a 1.5-inch 40-foot battle rope weighs approximately 22-24 pounds, and a 1.5-inch 50-foot battle rope weighs about 27-29 pounds.
How Long Should Battle Ropes Be?
Battle ropes should be 50 feet long. If you are struggling to find the space for this size, 40 and 30-foot battle ropes are an alternative.
How Do Beginners Use Battle Ropes?
Beginners can use battle ropes to do simple exercises like waves. It is advised for newcomers to get the battle rope that has a 1-5 inch rope so you can grip it more easily.
Do Battle Ropes Burn Belly Fat?
Yes, battle ropes burn belly fat. Battle rope exercises tighten your chest and are great for belly cutting and getting visible abs.
How Do You Anchor Battle Ropes?
You anchor battle ropes by finding an immobile object and using an anchoring kit and loop it around an object. After that, use an anchoring hook to nail your anchor in the wall to make it secure.
What Muscles Do Battle Ropes Work?
Battle ropes work almost all of your muscles. You can target your abdominals, back, shoulders, upper and lower back, and lower body with battle ropes.
How Long Should a Battle Rope Workout Be?
A battle rope workout should be 10 to 30 minutes. You should aim to perform around 8 different exercises that last 30 seconds, and in-between, have a 1-minute break.
What Is the Strongest of All Ropes?
The strongest of all ropes are nylon ropes. Nylon ropes are the strongest out of all the common rope types because of their synthetic material, which allows them to lift extremely heavy weights.
What Is the Best Battle Exercise Training Rope?
The best battle exercise training rope is the Power guidance battle rope.
In addition, the double-layer nylon protective cover adds to the lifespan and durability and ensures that it can withstand rigorous use.
Also, the polyester construction adds strength, making it great for outdoor and indoor workouts.
Furthermore, the 7.5-inch heat-shrinkable handle provides a secure and comfortable grip while minimizing the risk of injuries occurring and allowing for extended muscle endurance training.
Please let me know which battle rope will be your next purchase.
Rating
---
Durability: 5.0
Weight: 5.0
Price: 5.0
Features
---
– Convenient setup
– 3 strand design
– Double-layer protection
References:
https://pubmed.ncbi.nlm.nih.gov/32091465/
https://pubmed.ncbi.nlm.nih.gov/29847529/
https://pubmed.ncbi.nlm.nih.gov/32091465/