This is a review of the best vibration plate options on the market.
Suppose you are looking for an efficient way to complete a full-body workout in a fraction of the time it would take using conventional methods and still experience numerous therapeutic effects.
In that case, the vibration plates are for you. Vibration plates have rapidly gained popularity due to their numerous potential health and fitness benefits.
As a Faculty of Sport and Physical Education student with first-hand experience using vibration plates, I singled out the best vibration plates for different goals.
It took me around 30 hours to thoroughly research vibration plates and consider the most important factors when selecting the perfect option for different types of people, necessities, and experiences.
The article will discuss the best vibration plates on the market, things to look out for when buying a vibration plate, how to use it, its benefits, and many other things.
So, if that interests you, keep reading below.
Editor's Choice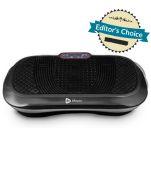 Lifepro Waver
– Speed settings from 1 to 99
– Free professional online training videos
– Lifetime warranty
#2nd Best Choice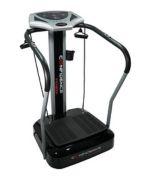 Confidence
– 50 speed settings
– 1-year manufacturer warranty
– Vibration frequency ranges from 50-60 Hz
#3rd Best Choice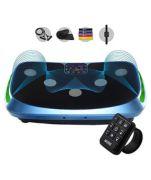 Lifepro Rumblex
– Lifetime warranty
– Made from plastic
– 7 different vibration training modes and 60 levels of vibration intensity
Rating
---
Size: 5.0
Weight Capacity: 5.0
Price: 5.0
Features
---
– Speed settings from 1 to 99
– Free professional online training videos
– Lifetime warranty
The LifePro Waver is a revolution in fitness equipment, presenting an exceptional blend of technology, materials, and design.
Crafted from sturdy plastic and measuring 27.3 x 15.3 x 5.9 inches, this compact body vibration plate can comfortably handle weights up to 330 pounds.
Our findings show that the Waver isn't merely a tool for burning fat – it's a comprehensive fitness solution. Its oscillation technology facilitates full-body vibrations, leading to efficient muscle contractions and activation and, thus, a total body workout.
This ingenious power plate has the potential to improve muscle strength, boost metabolism, and increase bone density while also promoting better circulation and reducing joint stress.
This exercise machine is not only functional but also highly convenient. With a speed range from 1 to 99, it offers customized workouts for all fitness levels.
The inclusion of wheels, remote control, and an easy-read display add to its user-friendly appeal.
Moreover, its easy-to-read screen ensures you have complete control over your workout parameters.
Pros
Comprehensive full-body workout solution
High level of customization with a wide range of speeds
Durable and can handle high-weight capacities
Added conveniences such as wheels and remote control
Exceptional customer support and additional resources like online fitness videos
Cons
Some users might find the difference between speed increments less pronounced
Rating
---
Size: 4.8
Weight Capacity: 4.7
Price: 4.8
Features
---
– 50 speed settings
– 1-year manufacturer warranty
– Vibration frequency ranges from 50-60 Hz
The Confidence Fitness Slim Full Body Vibration Platform is your go-to solution for improved lymphatic drainage, ensuring healthier, more effective workouts.
This unique body vibration plate, made from a durable blend of materials, weighs 66 pounds and can support users up to 300 pounds.
We have found from using this product that this power plate is more than a fitness machine – it's a holistic health solution. It is designed to increase muscle strength, enhance circulation, improve overall fitness and blood flow, and increase bone density.
Remarkably, it even combats cellulite. Its user-friendly display console and easy-to-navigate menu make it accessible to everyone, regardless of their fitness experience.
The most notable feature is the platform's ability to stimulate and amplify normal fitness activities, taking your workouts to a whole new level.
The high-frequency vibration triggers a stretch reflex in your body, causing involuntary muscle contractions – you get all the benefits of a conventional workout without the typical exertion.
Pros
Excellent for lymphatic drainage, enhancing overall health
Versatile workout options with yoga straps for upper body and arms
User-friendly console and navigation
Compact vibration plate design suitable for home use
Amplifies the effects of regular exercise without additional effort
Cons
It may not be suitable for individuals with certain health conditions like joint problems, heart conditions, or those using a pacemaker
Rating
---
Size: 4.9
Weight Capacity: 4.7
Price: 4.8
Features
---
– Lifetime warranty
– Vibration plate exercise machine made from plastic
– 7 different vibration training modes and 60 levels of vibration intensity
LifePro Rumblex 4D Vibration Plate is the premier choice for those pursuing weight loss goals.
Made from robust plastic, it measures 31.1 x 18.11 x 7.28 inches and can comfortably support users up to 330 pounds.
Our research indicates that it is a comprehensive solution offering in-home vibration therapy to improve bone density, blood circulation, and the ability to lose weight effortlessly.
Its unique 4D workout effect significantly increases workout intensity and scope, offering a deeper level of muscle engagement.
The Rumblex 4D provides an impressive array of seven training modes and 60-speed settings, ensuring an ultimate workout and rehabilitation experience that's customizable to every individual's needs.
This body vibration plate also supports the body's natural ability to regenerate cells and recover, promoting wellness and vitality.
Pros
Enhanced workout effectiveness with the 4D effect
Multiple training modes and speed settings for personalized workouts
Contributes to body repair and pain relief
Excellent for weight loss, boosting metabolism, and toning the body
Reliable customer support for any product malfunctions
Cons
Some users might find the differences between speed increments less pronounced
4. Best Vibration Plate for Osteoporosis: Hypervibe G17 Pro V2
Rating
---
Size: 4.7
Weight Capacity: 4.6
Price: 4.9
Features
---
– Two upper body straps
– 9-inch colored display
– Strong steel platform
Presenting the Hypervibe G17 Pro V2, the ultimate vibration plate exercise machine for individuals managing osteoporosis.
This intelligent machine, with dimensions of 28.15 x 32.2 x 53.35 inches and a maximum weight recommendation of 310 pounds, offers a personal gym experience right at your home.
The Hypervibe G17 Pro V2 stands out with its G-force technology. It operates on the principles of hypergravity, providing a unique form of accelerated resistance exercise that stimulates and strengthens bones.
This is especially beneficial for those with osteoporosis, as consistent use can help improve bone density.
This vibration plate exercise machine doesn't only offer a comprehensive workout; it also aims to enhance the overall quality of life.
After trying out this product, we concluded that Its advanced features allow you to track your fitness progress effortlessly, maintaining the motivation to meet your health goals.
Along with a wide range of personalized training programs, it truly creates a personal gym experience.
Pros
Unique G-force technology beneficial for osteoporosis patients
Comprehensive intelligent features for easy progress tracking
Personalized training programs for tailored workouts
High-quality build ensures long-term usage
Exemplary customer support and community
Cons
It might be slightly heavy, challenging mobility
Rating
---
Size: 4.8
Weight Capacity: 5.0
Price: 4.9
Features
---
– Lifetime warranty
– A vibrating plate made out of plastic
– Resistance bands
The Lifepro Rhythm Vibration Plate Machine is undoubtedly one of the best vibration plates designed for home use.
Its specifications of 29 x 27 x 48 inches and a maximum weight recommendation of 330 kilograms make it an ideal home gym equipment for users of various fitness levels.
Based on our observations, the Lifepro Rhythm is tailored for gentle, therapeutic recovery. Its vibration technology revitalizes muscle tone and balance, enhancing flexibility and comfort.
Its vibrations improve circulation and oxygen delivery to muscles, encouraging the body's natural cell regeneration and repair processes.
Specially designed for those experiencing chronic or acute pain, the Lifepro Rhythm Vibration Plate Machine provides a natural and effective way to relieve pain and accelerate recovery from injuries.
With long-term use, it promises increased limb flexibility and freedom of movement, enhancing its appeal for home use.
The machine offers live support and free access to Lifepro's online video library.
This shows Lifepro's commitment to ensuring users have the guidance they need to use the machine effectively.
Also, a 100% lifetime warranty underlines the brand's faith in the product's power and efficacy.
Pros
Therapeutic vibrations beneficial for recovery and pain relief
User-friendly, perfect for home use
Excellent support and access to a video library for guidance
A lifetime warranty adds to the product's value
Cons
It may not be suitable for those seeking a highly intense workout
Rating
---
Size: 4.9
Weight Capacity: 5.0
Price: 4.8
Features
---
– 5 built-in programs
– 3D mode
– Remote control
The Bluefin Fitness Dual Motor Vibration Plate is the optimal choice for enhancing bone density. Its convenience and unparalleled performance are unparalleled, making it an excellent investment for your health and well-being.
The unique dual motor design sets this vibration plate apart. These motors work together to deliver an intensive 3D vibration workout.
This comprehensive vibration exercise not only helps combat fat and toning muscles but also significantly increases bone density, an essential aspect of overall fitness and health.
The machine features a large anti-slip surface, ensuring ample space for effective and safe exercise. Our analysis of this product revealed that it is thoughtfully designed with touch button controls for ease of use, providing a smooth and enjoyable workout experience.
The Bluefin Fitness Vibration Plate is more than just a fitness device; it's a complete home fitness package. With built-in Bluetooth speakers, you can enjoy your favorite music while you work out.
Additionally, it includes diet and nutrition guides created by vibration fitness experts, bonus resistance cables for full-body workout options, and a sweat-resistant ergonomic remote control.
One striking feature is the range of fitness options provided by the machine. With 180 levels and five programs, you can customize your workout to meet your fitness needs and goals.
You can choose from Vibration or oscillation independently or combine them for 3D motion!
Despite its comprehensive feature set, the machine is exceptionally user-friendly.
You can easily control your workout remotely, and the bright LCD display lets you track your time and intensity level while exercising.
Pros
Dual motor design for an intensive 3D vibration workout
Comprehensive fitness package with Bluetooth speakers and diet guides
Wide range of workout options with 180 levels and five programs
User-friendly with remote control and a bright LCD display
Cons
The high intensity of the workout may not suit everyone
Rating
---
Size: 4.7
Weight Capacity: 4.8
Price: 4.6
Features
---
– ABS shell for durability and stability
– 99 vibration frequencies
– Ultra-thin body vibration platform
The Pinty Fitness Vibration Platform is a fantastic tool for those managing neuropathy. Its high-frequency, low-amplitude vibrations relieve nerve discomfort and improve motor function.
You can customize the machine with adjustable vibration speed to meet your needs.
This platform promotes comprehensive health benefits alongside neuropathy relief, supporting weight loss, and enhancing blood circulation.
Through our trial and error, we discovered that an exceptional feature is its ability to decompress the spine, relieving chronic backache.
The platform is user-friendly, with a clear LED display, making it easy to track your progress. Its sleek design and various color options allow it to blend seamlessly with any decor.
Despite these benefits, a few drawbacks are worth mentioning.
The platform's durability may not be on par with some competitors, and although it has wheels, its weight can make movement a bit challenging.
Nonetheless, the Pinty Fitness Vibration Platform is a comprehensive solution for managing neuropathy and improving overall health.
Pros
Neuropathy relief
Customizable vibration speed
Overall health benefits
Spine decompression feature
User-friendly
Sleek design
Cons
Possible durability concerns
Slightly difficult to move due to the weight
Rating
---
Size: 4.7
Weight Capacity: 5.0
Price: 4.8
Features
---
– Remote control
– Resistance bands
– Promotes full-body wellness
The Lifepro 3D Vibration Plate distinguishes itself as an outstanding choice for those seeking relief from back pain.
The device offers an innovative solution that combines two motors to deliver 3D pulsating motion, specifically designed to alleviate chronic pain.
As indicated by our tests this ingenious feature makes the Lifepro Turbo stand out from the crowd.
Not only does it help in pain relief, but this whole body shaker also provides a comprehensive fitness regimen, aiding in muscle toning and improving bone density.
The Lifepro Turbo is extremely user-friendly, with 99 adjustable speed settings and a remote for convenient access.
The anti-slip rubber top and stabilizing suction at the bottom ensure safety, while its handle and wheel facilitate easy storage. However, this power plate is slightly bulkier than other vibration plates in the market.
Pros
Immediate and effective relief for back pain
Versatile fitness solution for muscle toning and increased bone density
Highly adjustable with 99-speed settings for customized workouts
Safe and convenient design with anti-slip rubber and stabilizing suction
Cons
Slightly bulkier compared to some other vibration plates in the market
Rating
---
Size: 4.8
Weight Capacity: 4.7
Price: 4.9
Features
---
– Vibration platform made from ABS
– Detachable resistance bands
– Manufacturer Warranty
The Hurtle Fitness Vibration Platform is the optimal vibration plate for seniors, combining user-friendly design with effective full-body training.
This machine employs dynamic oscillating motion technology and a robust 200-Watt vibration motor that generates over 2300+ RPM.
Our team discovered through using this product that this innovative technology promotes muscle stimulation, reduces fatigue, and enhances balance and mobility – all crucial areas for seniors.
Coupled with its ability to aid weight loss, burn fat, and boost metabolism, it provides a comprehensive fitness regimen without leaving home.
Adding detachable handheld resistance bands brings versatility, targeting the upper body and core exercises.
Pros
User-friendly, perfect for at-home workouts for seniors
Provides full-body workout with a focus on improving balance and mobility
The high-powered motor ensures efficient muscle stimulation and strength building
Versatile workout options with detachable handheld resistance bands
Cons
Maximum session time of only 10 minutes might limit intense workouts
Rating
---
Size: 4.5
Weight Capacity: 4.9
Price: 4.8
Features
---
– Large, easy-to-read display
– Sturdy 100 pounds vibration plate exercise machine
– Includes updated resistance bands, branded exercise mats, exercise poster, and embroidered towel
After putting it to the test, the Nitrofit Deluxe Plus is the standout vibration plate for managing lipedema, combining a sturdy build with advanced technology.
With its new 2 HP DC motor and commercial bearings, the device provides stable and comfortable workouts, essential for those with lipedema.
The machine's oversized platform, covered in rubber for added grip, ensures ample space and stability during exercises.
The vibration machine stands out with its user-friendly multi-read display, showing time, speed, and program all on one screen, making it easier to monitor workout progress.
Notably, the Nitrofit Deluxe Plus offers five preset workout programs and a 10-minute programmable timer, allowing users to customize workouts according to their needs.
Pros
A new 2 HP DC motor ensures stable and efficient workouts
The spacious platform offers comfort and safety during exercises
User-friendly display provides easy monitoring of workout progress
A variety of preset programs and accessories offer a comprehensive workout routine
Cons
Large size may make it challenging to fit in smaller spaces
11. Best Vibration Plate for Circulation: Ravs Vibration Plate
Rating
---
Size: 4.7
Weight Capacity: 4.9
Price: 4.8
Features
---
– 999 adjustable speeds and 10 set modes
– Anti-slip sucking disks
– 110V and 180W
Based on our firsthand experience the Ravs Vibration Plate is a standout device for boosting circulation, delivering powerful, safe vibrations in a compact package.
Designed by professional physical therapists, the plate's performance is rooted in medical insight and expertise, making it ideal for circulation issues.
It incorporates silent operation and sturdy construction, ensuring you enjoy effective vibration exercises in a tranquil environment.
The plate offers 999 adjustable speed levels and 10 preset modes, accommodating various exercise needs.
This customizable setup allows users to replicate the benefits of outdoor activities and potentially exceed them.
A clear LED screen and wireless remote control make operations seamless and straightforward.
Pros
Powerful and sturdy design supports up to 330lbs, ensuring reliability
Customizable settings with 999-speed levels and 10 preset modes for varied workouts
The silent operation allows for a peaceful exercise environment
Comes with an easy-to-use remote control and LED screen for convenience
Cons
Despite its compact design, it might not fit well in confined spaces
What to Look For in a Vibration Plate?
The factors you should look for in a vibration plate are listed below.
Vibration type
Amplitude and frequency settings
Power and stability
Size and weight capacity
Quality and durability
Budget
Safety features
Additional features
Warranty and customer support
Let's cover all these factors below a little bit more in-depth.
Vibration Type
Different types of vibration plates work uniquely, affecting your body and muscles differently. The best vibration plates offer oscillation, linear, or tri-planar movements. Choose the type that best suits your fitness goals, like losing weight or increasing blood flow.
Amplitude and Frequency Settings
Amplitude and frequency settings allow you to adjust the intensity of your workout. Higher amplitude and frequency settings will result in more intense exercise, which benefits those wanting to lose weight and increase muscle tone.
Power and Stability
Power and stability are vital when considering the best vibration plates. A powerful and stable vibration platform machine will deliver better vibrations, enhancing upper body workouts, lower body exercises, and overall body vibration plate exercises.
Size and Weight Capacity
The size of the vibration plate machines should fit your available space, and the weight capacity should accommodate the user. Most vibration plates can handle a substantial amount of weight, but it's always wise to check before purchasing.
Quality and Durability
The quality and durability of body vibration plates are crucial to ensure they withstand time. A durable plate can handle intense workouts and resist wear and tear.
Budget
The best vibration plates offer excellent value for the money. Although quality often comes at a higher price, balancing your budget with the features and benefits the plate provides is important.
Safety Features
Look for features like non-slip surfaces and handles to ensure safe workouts. Safety is paramount, especially when doing exercises that increase blood flow and stimulate muscles.
Additional Features
Extra features like remote controls, built-in speakers, or resistance bands can enhance your workout. Features such as these add versatility to your vibration plate exercises.
Warranty and Customer Support
A solid warranty and responsive customer support are indicators of reliable vibration platform machines. These aspects provide peace of mind for your investment in a vibration plate.
What Is a Vibration Plate?
A vibration plate is an exercise machine used for whole body vibration (WBV), a type of physical activity performed on the vibration plate machine.
It has been proven that whole-body vibration increases muscle mass and bone density and improves blood circulation.
In addition, whole-body vibration is also used for weight loss, relieving back pain, raising your energy levels, and speeding up recovery from injuries.
How to Use a Vibration Plate?
To use a vibration plate, stand on the exercise platform, separate your feet at equal distances, pull the straps so your lower hips form a 90-degree elbow with the upper arms of your elbows, and pull your shoulder plates back.
Adjust the frequency of the vibration plate to 22-28 Hz and hold that position for 30 seconds.
What Does the Vibration Plate Do?
The vibration plate stimulates your muscles. When you stand or perform exercises on the vibrating platform, your body experiences rapid vibrations.
This causes your muscles to contract and relax dozens of times each second, promoting muscle growth, improving circulation, enhancing flexibility, and potentially aiding weight loss.
The vibrations can also stimulate the production of bone-building cells, helping to improve bone density.
In essence, the vibration plate amplifies the effects of regular exercises, making it a great tool for both active fitness enthusiasts and those looking to kickstart their fitness journey.
What Is the Best Speed on Vibration Plate for Weight Loss?
The best speed on a vibration plate for weight loss typically falls into a medium to high range, but it can vary based on the individual's fitness level and the specific machine.
A common recommendation is to start at a lower speed (around 10-12 Hz for beginners) and gradually increase as you become more comfortable and your body adapts to the vibrations.
Higher frequencies (between 20-30 Hz) are usually more effective for weight loss as they provide a more intense workout, causing your muscles to contract more frequently, which in turn burns more calories.
However, it's important to maintain proper form and control while performing the exercises at higher speeds to prevent injuries.
How to Use a Vibration Plate for Lymphatic Drainage?
Vibration plates can be beneficial for lymphatic drainage as they help stimulate the flow of lymph fluid throughout the body, removing waste and toxins.
Here's how to use one for this purpose:
Start Slowly – Begin with a low frequency and gradually increase as you feel comfortable. You should be able to feel a tingling sensation as the vibration stimulates your lymphatic system, but it should not be uncomfortable or painful.
Basic Stance – Stand on the vibration plate with your knees slightly bent. This stance helps ensure that the vibrations are effectively transmitted through your body.
Add Movement – While static positions help, movements like squats, lunges, or heel-to-toe weight shifting can further stimulate lymphatic flow.
Upper Body – Don't forget your upper body. Use resistance bands for arm exercises while standing on the plate, or place your hands on it in a plank position.
Consistency is Key – Regular sessions of around 10-15 minutes each can be beneficial. As with any form of exercise, consistency is important.
Always consult a healthcare professional before starting a new exercise regimen, especially if you have specific health conditions or concerns.
What Is the Best Vibration Plate for Bone Density?
The best vibration plate for bone density is the Bluefin Fitness Dual Motor Vibration Plate.
This is because its comprehensive vibration exercise drastically helps to increase bone density.
In addition, it will help tone your muscles while listening to your favorite music while working out.
10 Minutes on Vibration Plate Equals How Many Steps?
Ten minutes on a vibration plate equals close to 12000 steps. However, these numbers should be taken with reserve since the time spent on a vibration plate, and the number of steps taken isn't straightforward.
This equivalence, though, is often based on calorie burn rates, and the exact number can vary greatly depending on many factors, including the intensity of the vibration plate workout, your body composition, metabolic rate, and the specific settings used on the machine.
How Often Should You Use a Vibration Plate?
You should use a vibration plate for 10 minutes, 2 to 3 times weekly. This is an optimal volume for beginners, and as you get more accustomed to it, you can increase this to daily sessions of 15 to 30 minutes.
The frequency and duration of your vibration plate workouts will also depend on your fitness goals and overall health.
How Many Calories Does a Vibration Plate Burn?
On average, a vibration plate burns around 200-500 calories per hour. However, this number significantly varies on intensity, time, fitness, and many other factors.
What Is the Best Time of Day to Use a Vibration Plate?
The best time of the day to use a vibration plate is right before or after the workout session. In addition, the vibration plate is excellent for post-workout stretching since it will help you relax muscles easily and spend more time in stretched positions.
What Are the Vibration Plate Benefits?
The vibration plate benefits are listed below.
Increased muscle strength
Improved bone density
Enhanced circulation
Increased flexibility and range of motion
Enhanced relaxation and stress reduction
Let's cover all these benefits below a little more in-depth.
Increased Muscle Strength
One of the best vibration plate benefits is enhancing muscle strength [1]. The vibration plate exercises contract and relax your muscles multiple times per second, stimulating muscle growth and increasing overall strength. It's an effective way to work major and minor muscle groups, including those often overlooked in traditional workouts.
Improved Bone Density
Regular use of a vibration plate can contribute to improved bone density [2]. The high-frequency vibrations stimulate osteoblasts, the cells responsible for bone growth, making it a beneficial tool for preventing conditions like osteoporosis, especially in seniors.
Enhanced Circulation
Body vibration plates encourage blood flow throughout the body, improving circulation [3]. This boost in blood flow helps deliver oxygen and nutrients to your muscles and tissues more efficiently, promoting quicker recovery and better overall health.
Increased Flexibility and Range of Motion
The vibrations from the plate increase the temperature of your muscles, making them more pliable and resulting in increased flexibility and range of motion [4]. This can be particularly beneficial in pre-workout warm-ups or aiding recovery post-workout.
Enhanced Relaxation and Stress Reduction
The rhythmic pulsations of the vibration plate not only tone and strengthen but also have a massaging effect that aids in relaxation and stress reduction [5]. Furthermore, regular exercise with the vibration plate can stimulate the release of endorphins, the body's natural mood enhancers, contributing to a sense of well-being.
Why Do I Itch After Using Vibration Plate?
You itch after using a vibration plate due to increased blood flow and circulation in the body. As the vibration plate stimulates muscle contractions, it also boosts your circulation.
The capillaries, small blood vessels near your skin's surface, expand to allow more blood to flow.
This can stimulate nerve endings in the skin, leading to an itching sensation. It's similar to how your skin may itch when it "wakes up" after being numb.
Which Vibration Plate Is Best for Osteoporosis?
The best vibration plate for osteoporosis is the Hypervibe G17 Pro V2.
This is because it provides a unique form of accelerated resistance exercise that stimulates and strengthens bones.
FAQs
What Is a Whole Body Vibration Machine?
A whole-body vibration machine is a fitness tool that uses vibrations to stimulate muscle contractions throughout your entire body. It will improve your muscle strength, enhance flexibility, and promote better circulation, making it a popular selection for people that seek convenient and efficient exercise choices.
What Is the Best Vibration Plate for Fitness?
The best vibration plate for fitness is a Lifepro Waver Vibration Plate. Lifepro Waver Vibration Plate is the best overall vibration plate exercise machine due to its value for money, potential benefits on your health, and many other things.
What Is the Best Compact Vibration Plate?
The best compact vibration plate is the Lifepro Waver Vibration Plate. It is crafted from sturdy plastic and measures 27.3 x 15.3 x 5.9 inches, ideal for home gym use.
Do Vibration Plates Really Work?
Yes, vibration plates really work. Vibration plates offer benefits such as increased muscle strength, improved bone density, enhanced circulation, increased flexibility and range of motion, enhanced relaxation, and stress reduction.
Are 3D Vibration Plates Better?
Yes, 3D vibration plates are better than 1D or 2D models. This is due to their ability to target multiple muscle groups simultaneously, thereby optimizing your exercise efficiency.
What Is the Best Hz for a Vibration Plate?
The best Hz (Hertz, which measures frequency) for a vibration plate depends on your personal fitness goals and comfort level. However, most research and user reports suggest that a frequency between 20-30 Hz offers significant health and fitness benefits.
Can I Use a Vibration Plate Every Day?
Yes, you can use a vibration plate every day. However, you should limit your daily use of the vibration plate machine to 30 minutes.
Can Too Much Vibration Cause Damage?
Yes, too much vibration causes damage. Vibration plates are generally safe and beneficial when used appropriately, but overuse can lead to a condition known as Hand-Arm Vibration Syndrome (HAVS) or Whole-Body Vibration Syndrome.
How Long Should I Vibrate For?
You should vibrate for 10 to 15 minutes, 2 to 3 times weekly. However, the duration of a session on a vibration plate can vary depending on the individual's fitness level, the specific goals of the exercise, and the intensity of the vibration settings.
What Is the Best Vibration Plate?
The best vibration plate is the LifePro Waver Vibration Plate.
The LifePro Waver Vibration Plate is considered the best vibration plate on the market for several reasons:
Versatility – It offers a wide range of speed settings (up to 99), allowing users to tailor their workouts to their fitness levels and goals.
Full-Body Fitness – Its multi-directional vibration ensures a full-body workout, targeting multiple muscle groups simultaneously.
Durability and Stability – It's made of durable and high-quality materials, ensuring a long-lasting device. Its suction pads at the base provide excellent stability, reducing the risk of falls or injuries.
Extras – It comes with resistance bands for upper body workouts and a remote control for easy adjustments during the workout. It also provides access to online professional trainer support and a user-friendly manual, making it great for beginners and advanced users.
Portable – Its compact design makes it easy to move and store, making it ideal for home use.
These features and positive user feedback make the LifePro Waver a top choice among vibration plates.
Let me know in the comments below your favorite vibration plate and why.
Rating
---
Size: 5.0
Weight Capacity: 5.0
Price: 5.0
Features
---
– Speed settings from 1 to 99
– Free professional online training videos
– Lifetime warranty
References:
https://www.ncbi.nlm.nih.gov/pmc/articles/PMC8226869/
https://theros.org.uk/media/uvsdna2v/vibration-therapy-fact-sheet-august-2017.pdf
https://pubmed.ncbi.nlm.nih.gov/17261985/
https://www.frontiersin.org/articles/10.3389/fspor.2023.1090119/full
https://www.ncbi.nlm.nih.gov/pmc/articles/PMC4616108/