If you have had enough of ruining perfectly new over-ear headphones for working out simply because the manufacturer lied about the sweatproof feature and non-slipping material, then this article is for you.
Based on my experience with having multiple wireless workout headphones over the years and 30 hours of extensive research, I managed to single out the 15 best over-ear headphones for working out that won't keep slipping and stop working after 3 heavy deadlift sessions.
Jokes aside, these bad boys will effectively cancel background noise and offer long battery life so you can crush your PRs and build the dream-like superhero body you deserve.
We will cover all the important features such as awareness mode, touch controls, use cases, pricing, and companion app so you can pick the best pair of Bluetooth headphones with wireless Bluetooth connectivity.
These are not your everyday headphones, so I promise until the end of this article, you will find the perfect wireless headphones for your workouts.
Let's review 15 of the best over ear headphones for working out in 2023.
Editor's Choice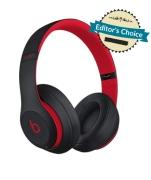 Beats
– Android and iOS compatible
– Pure ANC
– 22-hour battery life
#2nd Best Choice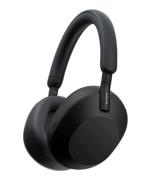 Sony
– 8 ANC microphones
– Processor V1
– 30-hour battery life
#3rd Best Choice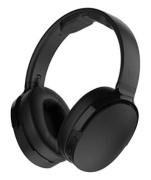 Skullcandy
– Collapsible design
– Full set of features
– 22-hour battery life
Best Over-Ear Headphones for Working Out
Rating
---
Sound Quality: 5.0
Battery Life: 4.9
Price: 5.0
Features
---
– Compatible with iOS and Android devices
– Pure adaptive noise cancellation (pure ANC)
– 22 hours of battery life
– 10-minute charge gives 3 hours of play
Beats Studio 3 wireless over-ear headphones are the most popular over-ear workout headphones on the market, and there are various reasons for it.
First, they provide incredible and immersive sound compared to previous Bluetooth Studio line models such as Studio 1 and Studio 2. The Studio 1 model completely failed to compete with Bose and Sony models regarding noise cancellation, but the Studio 3 model has drastically improved.
Also, their unique design remains unchanged compared to the previous models. Studio 3 headphones support spatial audio and provide a more robust, immersive, and high-end sound than all workout headphones at the same price.
Compared to the Sony XM5 model, Studio 3 wireless headphones are much tighter and firmly grip your head. This is why they are the best workout headphones, perfect for gym and running since they will never slip or fall off your head.
For example, this wasn't the case with Bose QC45m, and they would fall off in the middle of running because the fit is much looser than the Beats Studio 3.
On top of that, these sport headphones are designed with a USB charging case to keep you going all day long.
Also, they offer fast charging capabilities and 22 hours of battery life, which is enough for a whole week of workouts.
The one thing that caught my eye was a flimsy micro USB slot that can break easily if you fail to take care of it.
However, these headphones will change how you hear sound and allow you to stay motivated for longer during those hard workouts.
Pros
Extremely comfortable to wear
Never falls off your head
22 hours battery life
Easily connected to a TV
Spatial audio compatible
Well synchronized
Connects well within 3 seconds once selected
Preferred by many celebrities
Cons
The bass isn't as good on Android as it is on iPhone
It isn't water resistant
Comes with an average microphone
Rating
---
Sound Quality: 5.0
Battery Life: 5.0
Price: 4.9
Features
---
– 8 microphones for noise cancellation
– Integrated Processor V1
– 30-hour battery life
– 4 beamforming microphones
The Sony WH-1000XM5 has a minimal, sharp, but premium, clean-looking design in both dark and light versions.
Sony is known for its excellent sound quality, and this XM5 model is no different. It has slightly bigger and wider ear cups than previous XM4 and XM3 models.
The new vegan leather material is softer compared to previous models, making ear cushions mellow and much more comfortable to wear in the gym.
The Sony WH-1000XM5 model is lightweight and comfortable for longer periods, making it perfect for extensive cardio training, such as jogging, elliptical, and low-intensity rowing.
The touch-sensitive panel on the right side ear cup for skipping and pausing feels great between the sets, and you can easily reach and use it without sacrificing additional energy.
The sliding headband design feels like Bose 700s and the AirPods Max, but this model has twice as many microphone slots around the sides (4 on each side, 8 in total).
The noise cancellation and reduced ambient sound feels just great on these on ear headphones. Compared to the previous Mark 4 and Mark 5 models, canceling ambient noise has been improved quite significantly.
The minor downside is the case looks more like a small backpack since this Sony model isn't foldable like the last ones, making it inefficient for traveling and compact solutions.
Lastly, the new 30-millimeter carbon fiber driver offers better sound quality for this Sony model, improving your gym experience and allowing you to crush those PRs.
Pros
Sound very good for Bluetooth headphones with EQ
Lot of customizability in the app
Active noise cancellation
ANC headphones works well in standalone mode
Exceptionally long battery life
Optional pause with take-off and resume
Comfortable over ear headphones made from vegan leather
Cons
They can't be folded
They aren't water resistant
Rating
---
Sound Quality: 4.8
Battery Life: 4.8
Price: 5.0
Features
---
– Collapsible design
– Microphone, call, track, and volume control
– 22 hours of battery life
Skullcandy Hesh 3 are the best value-for-money headphones costing just over a hundred bucks but crushing in terms of sound quality and comfort.
Skullcandy Hesh 3 workout headphones come with a simple and plain design.
My favorite part is the Punisher-looking skull head that will turn you into a ruthless American Marine suffering from nightmares related to his dead family and ghosts of the past.
Jokes aside, these minimalist headphones only have three buttons. Still, they have everything you need to go to the gym, work out and quickly get out.
When assessing this headphone model's comfort, they shine and won't bail you by slipping off during those heavy lifts or high-intensity interval sessions.
They are easily foldable, making them portable and great for small bags, flights, and exercising on the go.
Also, these headphones may not come with active canceling, but they are decent at eliminating the ambient sound and making you more focused on your workouts.
The sound is decent, and the bass is also solid. You can easily use a cable and turn them into wired headphones for watching movies and listening to music on laptop, PC, or TV.
There is nothing more to add besides the fact these are my favorite on the list regarding the value of money and budgeting options.
Pros
They turn you into Frank Castle, the Punisher
Foldable and easily stored
The best bang for the buck
They never slip from your head
Cons
The price comes at the sacrifice of exceptional sound quality
Rating
---
Sound Quality: 5.0
Battery Life: 4.8
Price: 4.9
Features
---
– The TriPort acoustic architecture
– Bluetooth range-up to 9 m (30 feet)
– 22 hours of battery life
Bose QuietComfort 45 has the same design as the QC35, the previous excellent noise-cancellation wireless headphone model.
However, the biggest update from the previous QC35 model is the USB-C port instead of the micro USB port.
Also, the fourth microphone was added for voice pick-up, making the whole headset more efficient and modern in terms of technology compared to other competitors on the market.
It is worth mentioning that these wireless workout headphones are extremely comfortable to wear since there was a slight material update, making the whole headband section much smoother.
Also, one more thing I like about this model is the physical buttons on the sides, which isn't the case for the previous QC 35 model. This is important for us gym goers since we are highly unpredictable and might get these touch options not working fast.
The electronics package that powers the new ANC system better muffles unwanted sounds, allowing you to completely isolate yourself from the noisy crowd in the gym.
One of the slight downsides I noticed when testing these headphones is you can't quite tweak the sound in the Bose Music app since there are no equalizer settings.
However, I bet Bose is going to add these features in the future.
Pros
The gold standard for listening to music, podcasts, or working out
Excellent noise reduction during calls
True multipoint Bluetooth pairing
They do not budge regardless of how much you run
The over-ear part is butter soft
Cons
In case of malfunction, it takes up to 4 weeks for the replacement to arrive
Rating
---
Sound Quality: 4.9
Battery Life: 5.0
Price: 4.7
Features
---
– Smart active noise cancellation
– 8 built-in microphones
– 38 hours of battery
Jabra Elite 85h are premium wireless headphones with ANC noise canceling that cost more than the average ambient canceling over-ear headphones.
The manufacturer clearly states that the Bluetooth range for these over-ear wireless headphones is 33 feet. However, based on our testing, we could reach upwards of 50 feet in radius.
This feature makes these wireless headphones much better for big gyms where you need to walk more than usual to reach the desired weight or machine.
I must say the ANC background noise-canceling feature was a little disappointing at first. However, this was because the leather ear cuffs and soft ear cushions do a fantastic job of naturally canceling external sounds.
The battery life of Jabra Elite, as the manufacturer claims, is impressive at 36 hours on average. However, our tests showed upwards of 38 hours of battery life with ANC on. With ANC turned off, you can get upwards of 42 hours of battery life, which is outstanding.
Also, these are the best smart workout headphones for a reason, and the primary reason is the Jabra Elite mobile app, which is as good as the JBL headphones app. The basic modes that this app offers are Active Noise Cancellation and HearThrough.
However, the advanced smart sound feature uses the headphones' microphone to listen to the background noise around you. Then it applies ANC noise isolation mode on and off automatically for you.
It uses an AI system to perform this task.
Pros
Great sound quality
Extremely comfortable to wear
Great battery life and quick recharge time
Not fragile
Cons
They don't offer the best bass
Rating
---
Sound Quality: 4.6
Battery Life: 5.0
Price: 4.9
Features
---
– 40mm drive units
– Bluetooth V4.1
– 95 hours of battery life (on average, but goes as low as 45h based on device)
Edifier W830BT is a nice update to the Edifier W800BT, weighing just over 270 grams without cables, which is basically not important since you will most likely use wireless options.
The headphones use Bluetooth 4.1 technology, and you can pair them with your phone through the regular Bluetooth option or through a faster NFC pairing feature that is much slicker.
One thing I like about these headphones is the metal headband covered with comfortable material, wrapping perfectly around your head with sufficient pressure not to fall off.
I tried shaking my head aggressively with these headphones for working out, and they wouldn't fall off.
The ear cups are also thicker and fluffier than the previous version, so they can be worn for prolonged periods.
When testing these headphones with iPhone 6 (don't dare to judge), we used the third-level option for volume and played some music.
They lasted for 117 hours and 35 minutes, which is insane. I didn't name these headphones the best battery life because the battery life differs from the mobile phone model (sometimes drastically).
However, these are definitely a go-to budget option if you are low on cash but still want to experience decent comfort and sound-quality.
Pros
These fit nicely around your ears
The battery life is just great
The headband pressure is just right for running similar activities
Cons
Definitely not the best quality of sound
Rating
---
Sound Quality: 4.6
Battery Life: 5.0
Price: 4.9
Features
---
– 40mm drivers
– Adaptive Noise Canceling
– Ambient Aware technology
– 50 hours of battery life (regardless of device type)
If you are looking for lightweight, compact, and noise-cancellation headphones for a low price, then JBL Live 460NC is for you.
These headphones come with a nice USBC cable, which is a plus.
The overall build quality is great since the metal hinges provide enough grip strength around your head and can't be easily damaged due to their thickness.
The cups feel comfortable on the ears but are definitely not the largest. They won't encapsulate the entirety of your ear.
I guess these are on-the-air headphones and not actually over-the-ear ones, but I still included them because the ANC is just enough to get you going in the gym.
Also, one thing I should mention is there is something called an "Ambient mode" with these headphones. This mode is perfect for jogging and riding a bike.
Regardless of your mobile phone model or manufacturer, these workout headphones will last around 50 hours, making them the best purchase battery life-wise.
The bass is ok, and the highs and lows are also decent.
Overall, these are excellent workout headphones for the price you pay.
Pros
Very good sound and noise canceling for the price
The battery life is quite impressive
The build quality is good
Cons
They aren't really over-ear headphones
Rating
---
Sound Quality: 4.8
Battery Life: 4.9
Price: 4.6
Features
---
– USB Type-C Cable
– Utility Case
– 45 hours of battery life
If you are a fan of The Rock and athletic and sport headphones, these Under Armor headphones are definitely for you.
The Project Rock headphones are purposefully made for bodybuilding purposes, and you can tell that just by looking at the headphones case.
The case (it's a nice-looking container) contains breathable holes, which is extremely useful since you will likely return your workout headphones covered in sweat.
Also, one more cool feature these headphones have is the ability to lower the music volume with the tap of an ear cup, which is useful when you stop for a brief conversation with your pal in the gym.
The headband material is made from nylon, and the whole piece is super thick. It is also stretchable, making them hard to break.
The earpads are removable and washable, which makes this way better than the rest of the headphones in terms of longevity.
This means you can take these bad boys off after a month or two of usage and hand or machine wash them.
It is definitely a nice over-ear hook design with a special option for washing the earpads, which will keep your ear canal much cleaner.
Pros
Longer battery life than expected
Balanced sound and a slight decrease in how you hear ambient noise
Washable ear pads will keep your personal hygiene high
Cons
Most of the time, these headphones are out of the stock
They are quite expensive
Rating
---
Sound Quality: 4.9
Battery Life: 4.8
Price: 4.8
Features
---
– Bluetooth 4.2 wireless technology
– NoiseGard adaptive noise cancellation
– 20-22 hours of battery life
Sennheiser PXC 550 were initially made for traveling purposes due to solid Active noise cancellation features and their lightweight and comfortable nature.
The right side ear cup comes with three microphones, and the way you turn them on and off isn't by clicking a button. You just need to turn them inward or outward, which serves as the power button for these bad boys.
If you are embarrassed by the music you listen to in the gym, these will be a great choice.
This is because when you put them down, the music automatically stops, preventing you from embarrassment due to kinky anime superhero tracks.
Jokes aside, they are awesome for not worrying about pausing your music, as this is automatically regulated.
The noise cancellation button is located on the side of the ear cup and has two levels.
Level one has two options in the app; the first is for wind canceling. This is especially useful if you prefer calisthenics or running outside.
One of the downsides of these wireless headphones is they come with a micro USB port, which is outdated due to newer and better USB-C ports.
Also, the headband is quite comfortable, and the pressure on your ears feels perfect.
Pros
The touchpad is really good for all of its controls
The option to turn off Bluetooth to use an audio cable is very nice
Soft ear cushions allow for long listening time in the gym
The carry case is very nice
Cons
It's not easy to switch connections to other devices
Rating
---
Sound Quality: 4.8
Battery Life: 4.9
Price: 4.9
Features
---
– T-Quiet Active Noise Canceling technology
– IPX4 water resistant & sweatproof
– 35 hours of battery life
TREBLAB Z2 Over ear workout headphones come with two 40-millimeter drivers, Bluetooth 5.0, and impressive Treblabs t-quite ANC technology.
These bad boys are also water resistant, just in case you are one of those people liking to run in the rain.
I like that Treblab kept things fairly simple with these headphones, making them as lightweight and comfortable as possible.
The headband cushion is made from soft material that wraps around your head seamlessly, and speaking from experience, you will likely forget you wear them during workouts.
Also, the clamping force is just right, making them secure enough to not slip off your head.
As far as ANC goes, they aren't as impressive as the first few headphones on the list. Still, the passive isolation created by ear cups is enough to reduce ambient noise in the gym or outside.
Sound quality-wise, these are great; just make sure not to crank up the volume over 85 to 90% since you will likely enter the waters of clear sound distortion.
Lastly, let's not forget the battery life of these wireless-charging headphones, which is an impressive 35 hours.
Pros
The battery life is extremely impressive
Features decent ANC
The sound quality is good
They are very comfortable and not excessively tight
Cons
If the ANC is On, it will drastically drain the battery life
Rating
---
Sound Quality: 5.0
Battery Life: 4.9
Price: 4.4
Features
---
– Ultra-high-resolution carbon drive unit
– Active noise cancellation
– 30 hours of battery life
Bowers & Wilkins Px8 definitely falls into the expensive consumer headphone bracket.
These headphones come with Bluetooth 5.2 technology and 4 active noise-canceling mics that are just outstanding.
The battery life averages about 30 hours, which is decent compared to the rest of the models.
Also, the ear cups are made from Napa leather, which is made from sheepskin or a lamb.
Sorry for all the vegans out there, as this might not be the best over-ear headphone choice for you.
The headband is made from premium cast aluminum, which adds to the headphones' durability and longevity.
The only real downside of these headphones is that only the power button is properly labeled, and you will need to guess for the rest three button options.
The sound and the bass are exceptional, and the ANC doesn't disappoint at all.
If you have extra money to spend on headphones, these are perfect for you.
Pros
The build quality on these headphones is superb
Vocals sound crystal clear
Advanced noise cancellation system
Cons
Some customers report having issues with the speed of headphone charging
Rating
---
Sound Quality: 4.5
Battery Life: 4.9
Price: 4.8
Features
---
– Water-resistant with IPX4 grade protection
– Active Noise Cancellation (ANC)
– 38 hours of battery
Raycon Everyday is the first attempt of the company with the same name to get into non-true wireless audio products, and they didn't disappoint at all.
These workout headphones are primarily for budget-conscious people who want to get most features for less money.
Also, they are great for casual gym goers since you don't need to use an app to get the over-ear headset to work right.
They are lightweight but, unfortunately, built from plastic, which sets off the durability factor.
However, they are comfortable and made from thick leatherette cushions made from sheepskin or lamb.
Sorry vegans, this model may not be right for you.
Due to their extremely comfortable ear pads, low price, and enough grip pressure, these headphones are the best for outdoor and cardio activities.
The pressure is just enough, so they don't slip off your head, even with people who wear glasses.
According to the manufacturer, they can last up to 38 hours, which is excellent for a headset in this price range.
Pros
They stay on and almost never slip
Noise canceling is pretty good
They don't feel cheap
Cons
You can't really place these on your neck if you have a thicker neck
The sound quality can be improved
Rating
---
Sound Quality: 4.6
Battery Life: 4.9
Price: 4.7
Features
---
– Separate vibrating motor for better bass quality
– Bluetooth 5.0 technology
– 40 hours of battery life
Suppose you are looking for the best Punisher alternative badass-looking headphones with outstanding bass for a reasonable price. In that case, the Skullcandy Crusher Evo is the one to consider.
Speaking from experience, these over-ear workout headphones deliver bone-rattling bass that will motivate you through those hard bench presses and dip repetitions.
Compared to the previous Skullcandy Crusher ANC model, these over-ear headphones are of better build quality, which is quite contradictory considering the price of the former.
These workout headphones come in a high-quality and lightweight carrying pouch, which looks like the ones you wore back in elementary school.
The headband is built from an amazingly comfortable, soft, and supple leatherette.
In addition, Skullcandy Crusher Evo has a similar clamping force to the previous models, but there is a catch.
Compared to the rest of the models on the list, these are quite heavy, standing at 310 g of weight.
However, you would pick these workout headphones over others mainly because of the bass quality.
These Punisher-looking headphones will rattle your skull, and you will likely see double bars, plates, and even your gym crush.
Skullcandy Crusher Evo has such good bass because of a separate vibrating motor that amps the overall bass intensity and volume you perceive.
So, if you are a bass freak, consider these bad boys for intense gym workouts.
Pros
Bone and skull-rattling bass
Outstanding battery life
Comfortable headband with just enough pressure
Cons
The ANC technology is missing
A little heavy compared to the rest of the workout headphones
Rating
---
Sound Quality: 4.7
Battery Life: 4.9
Price: 4.6
Features
---
– 60 ms low latency
– Custom-tuned 40mm drivers
– 30 to 40 hours of battery life
Razer Opus X is an updated version of the original Razer Opus model.
Razer Opus X is built for gaming purposes, so if you are a passionate gamer and a gym goer simultaneously, these are workout headphones to purchase.
These over-ear headphones come with a 60ms low latency mode and an active gaming mode which are great for gaming purposes, watching movies, and crushing workouts.
They are quite comfortable but nothing special compared to the other over-ear headphones on the list.
The ANC mode on these headphones cancels the ambient sound to a reasonable level, so you can enjoy your workouts and gaming without being bothered by other people.
When fully charged, Razer Opus X lasts up to 30 hours with ANC mode on and 40 hours without any mode turned on.
Pros
Excellent for gaming purposes
The ANC is good for canceling ambient noise in the gym
They last a decent amount of time
Cons
Not the best if you are solely looking for workout headphones
The latency mode may not be as important to the gym environment
Rating
---
Sound Quality: 4.5
Battery Life: 4.8
Price: 5.0
Features
---
– 8 microphones for noise cancellation
– Integrated Processor V1
– 30-hour battery life
– 4 beamforming microphones
I believe Soundcore Anker Life over-ear workout headphones come at the lowest price compared to other models.
I put these ones on the list because they are excellent if you like to work out while traveling.
They are super lightweight and foldable, so you can fit them anywhere when traveling.
However, they aren't built from the best durable materials, even though they are quite comfortable to wear for prolonged periods.
In addition, Soundcore Anker Life will reduce ambient noises by up to 90%, which is outstanding for the price you pay.
The bass is also solid, and the 40-hour battery life shouldn't be underestimated.
Pros
Great for traveling purposes and working out on the go
Excellent battery life for the price you pay
Decent ambient noise cancellation
Cons
Too much bass
Not the best build-quality
What Should I Consider Before Buying the Best Over Ear Headphones for Working Out?
The things you should consider before buying the best over-ear headphones for working out are listed below.
Workout intensity
Design and fit
Sweat resistance
Battery life
Sound quality
Situational awareness
Durability
Controls and features
Portability and storage
Price and brand
Reviews and recommendations
Workout Intensity
Workout intensity is important because you will need over-ear headphones with better sound, bass, and build quality for more intense workouts.
You ideally want to choose a metal or strong plastic headband that will wrap around your hand nicely with enough pressure so it doesn't fall off and get crushed by tons of weight.
Also, some people who participate in intense workouts enjoy louder music, meaning you will want something with higher quality sound and bass to motivate you to lift heavy or run extensively.
Design and Fit
The design and fit are important because you don't want to pick headphones you won't feel proud wearing in the gym.
Also, the fit is crucial because it will prevent over-ear headphones from falling off during workouts.
Ideally, you want a compromise between fit and design so you get both the functionality and aesthetics simultaneously.
Sweat Resistance
Your workout over-ear headphones will last much longer if they are water or sweat-resistant.
Sweat can be dangerous for the longevity of your ear cups and headband since it can decrease their overall lifespan by corroding the original material.
Battery Life
Battery life-wise, I wouldn't go below 20 hours of playing time since that is the lowest threshold I advise you to stick with to get the best experience for the whole week of working out.
Most of the batteries on the list last between 20 and 60 hours, and some even cross the 100 hour-mark, which is quite impressive.
The longer the battery life, the better, but I don't think this is the most important part when assessing the quality of workout headphones.
Sound Quality
The sound quality is one of the most important factors to boost the overall workout experience and bring you joy in those moments of misery.
Jokes aside, don't pick durable headphones with a long-battery life, but the sound quality is obnoxious.
Most models on the list above have a standard 40 mm driver, so you are good to go and won't worry much about the sound quality.
Situational Awareness
Suppose you are quite aware of the things happening around you. In that case, you are highly unlikely to drop your headphones or misplace them so they can get crushed by weights or accidentally by other people.
If you are not great with being aware of your surroundings, maybe you should pick more durable headphones that are budget too, so you don't get disappointed when you break them after the first day of working out.
Durability
The durability of ear cups and headbands is crucial for long-lasting and functional workout over-ear headsets.
You want to pick headphones built from high-quality metal or plastic that will last for a long time.
Remember that there are many types of metal, especially plastic, so be careful when evaluating the quality of those.
Controls and Features
When determining the quality of control and features, you are mostly looking to evaluate the ANC, in-app custom features, Bluetooth technology, and microphone quality.
You should focus mostly on the ambient noise cancellation feature since that is the most relevant to the gym environment.
Ideally, pick something that will work for you when working out in the gym so you don't get distracted by ambient sounds.
Portability and Storage
The lighter the workout headphones, the more easily you can carry them around and spend less energy.
However, the case in which you carry over-ear workout headphones also plays a major role.
You can choose between safety and portability since some cases are more robust and solid to offer safety, and some are just simple pouch bags you used to carry in elementary school days.
The devil is in the details, but I would mostly pick the pouch-looking cases since I am quite confident I won't misplace my headphones or throw them around so they get damaged.
Price and Brand
The more well-known the brand, the more expensive the over-ear headphones.
It's obvious why most people choose Beats, Sony, or Bose over other brands.
Those have simply proven their quality over time. However, you shouldn't underestimate some less-known brands because of their popularity or price.
Always evaluate with rationality before running for the most popular brand.
Reviews and Recommendations
Look for headphone reviews on popular marketplaces like Amazon to see what others say about the same over-ear model.
You can often find very good recommendations for other headphone models in the comment section below the actual product.
However, you must evaluate those comments to see if they are genuine or just placed there for a specific reason to drive a reader's action.
Read, evaluate, and move on.
Why Should I Buy Wireless Over Ear Headphones for Working Out?
You should buy wireless over-ear headphones for working out because they increase your motivation, allow for more joy during workouts, and help you get more focused for prolonged periods.
There isn't anything better than listening to your favorite songs while working out and crushing your personal records. Workout headphones are the perfect option for regular gym goers and fitness enthusiasts who enjoy listening to their favorite tracks while lifting or doing cardio.
Does Listening to Music Help My Workout?
Yes, listening to music helps your workout. Listening to music you like has been shown to modulate various physiological responses such as heart rate, catecholamines, and muscle activation.
According to the study "The Influence of Music Preference on Exercise Responses and Performance" by Samford University (Homewood, Alabama) and led by Ph.D. Christopher G. Ballmann the research concludes the following positive effects:
Psychological changes – well-being, cognitive, emotional, and behavioral domains.
Physiological changes – improved neural activation (brain activity and autonomic responses) and metabolic responses ( energy expenditure, improved lactate clearance, and hypothalamic-pituitary axis control)
However, the study also suggests that these benefits are mainly present with individuals listening to preferred music, not just random music.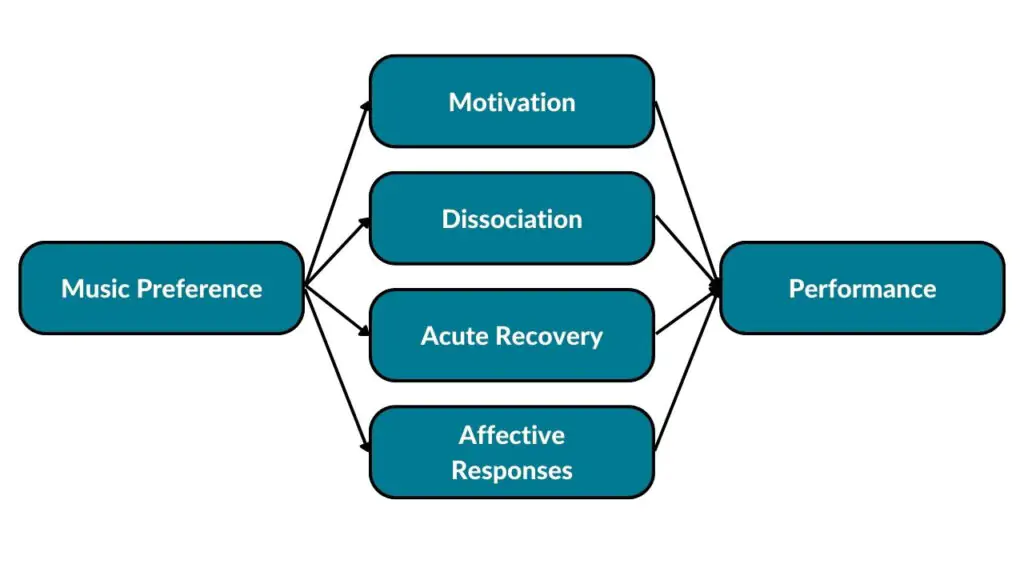 Since community music you are exposed to in the gyms isn't always the one you like and prefer, many gym goers prefer using a pair of headphones to listen to the music they love.
This is the main reason why having a pair of headphones or earphones and having control over the music you listen to will improve the factors mentioned above.
What Are the Benefits of Using Over-Ear Headphones While Working Out?
The benefits of using over-ear headphones while working out are listed below.
Improves focus and motivation
Helps to stay in the zone
Makes working out more enjoyable
Enhances performance
Reduces stress
Supports privacy and personal space
Supports multifunctional use
Improves Focus and Motivation
Listening to music has been shown to drastically improve your focus and motivation when working out and studying.
A study done by Karageorghis in the Journal of Sports Exercise Psychology suggests that motivational music and the music you like to listen to help exercises push through fatigue easier. In the same article published on the American Council on Exercise website, the author states that music increases endurance (both aerobic and anaerobic) during workouts by 15%.
Helps to Stay in the Zone
Listening to music through over-ear headphones will help you stay in the zone longer.
This is because over-ear workout headphones already have built-in passive noise isolation due to their over-ear design, which encapsulates your ears and prevents excessive noise from entering.
This effect is even more intensified if the over-ear headphones have ANC, which stands for Active Noise Cancellation. This feature further reduces ambient sounds and lets you stay in the zone.
Makes Working Out More Enjoyable
Using over-ear headphones while listening to music will make your workouts more enjoyable.
This is because listening to music you like has been proven to increase your motivation and decrease anxiety and depression levels.
Workout headphones will help you get through those hard workouts seamlessly by raising your motivation levels and hormones of happiness, such as dopamine and serotonin.
Enhances Performance
Using over-ear headphones and listening to the music you love will enhance your performance by up to 15% and allow you to lift more weights, run more distance, or endure different activities longer.
Listening to music has increased your resistance to the anaerobic threshold, which is the time in workouts when your body starts creating "oxygen debt."
This is due to excessive lactate formation in your blood.
Reduces Stress
Listening to music with in-ear or over-ear headphones will reduce your stress by lowering anxiety and depression levels.
This is due to listening to your preferred music, which brings another dimension to your workouts and enables you to focus and stay motivated longer.
Supports Privacy and Personal Space
Over-ear headphones support your privacy and personal space in commercial objects like gyms or workplaces.
This is due to passive and active cancellation features that most of these headphones on the list above already have built-in from the start.
Supports Multifunctional Use
You can use your over-ear headphones during workouts, on your job, to listen to music in your free time, or to watch movies and play video games.
Over-ear workout headphones offer all these multifunctional features and enable you to use them for multiple daily activities and occasions.
What Are the Downsides of Using Over-Ear Headphones While Working Out?
The downsides of using over-ear headphones while working out are listed below.
Moisture accumulation
Limited breathability
Potential interference with certain exercises
Moisture Accumulation
Over-ear headphones will likely accumulate a certain level of moisture due to sweating.
However, some over-ear headphone models allow ear cup material to be removed and washed to avoid moisture accumulation.
Also, certain over-ear workout headphones come with breathable cases, decreasing the amount of sweat accumulated during your workouts.
Limited Breathability
Over-ear headphones can reduce the airflow to your ears compared to other headphones.
This reduced ventilation can make your ears feel warmer and potentially contribute to discomfort during extended workout sessions.
If breathability concerns you, consider over-ear headphones with breathable or moisture-wicking materials.
Potential Interference With Certain Exercises
You may experience interference with certain exercises due to the size and shape of over-ear headphones.
For example, when you prefer one-arm overhead kettlebell presses, the upper sides of your arm may touch the headphones due to their placement and overall size.
However, this only happens rarely; you shouldn't worry as much about it. If that concerns you, pick an over-ear headphone model that isn't as big to interfere with specific lifting exercises.
Over-Ear Headphones vs. Wireless Earbuds for Working Out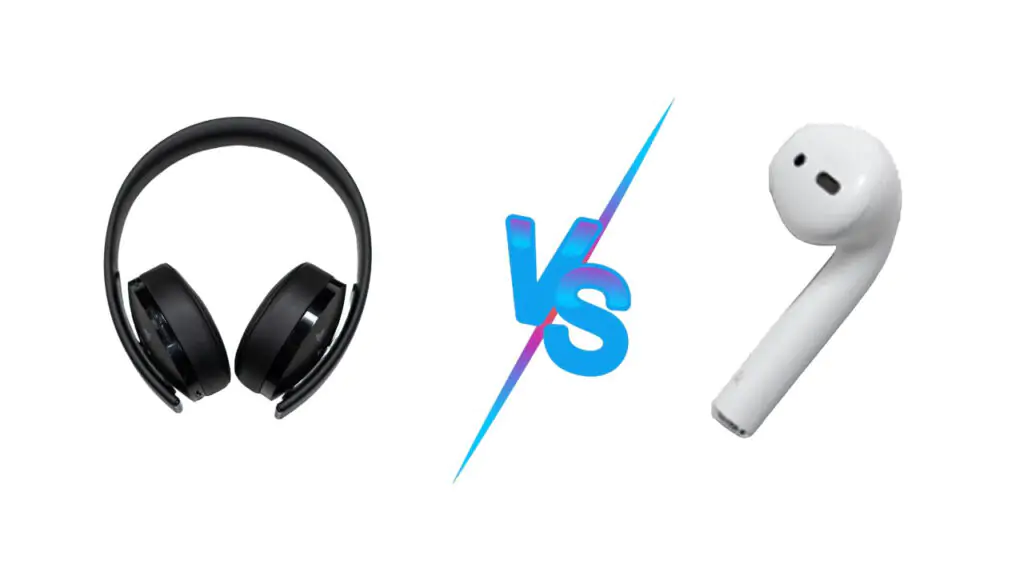 Both over-ear headphones and wireless earbuds are excellent for working out. However, earbuds are smaller and provide a more secure fit than bigger headphones.
This isn't always the case since many earbuds with bad grip and fit in your ears tend to fall off.
Over-ear headphones with good gripping strength and head pressure will do everything as wireless earbuds and even more.
However, if you prefer something smaller that enables you to listen to music while working out, you may choose true wireless earbuds.
FAQs
Are Over the Ear Headphones Good for Gym?
Yes, over-the-ear headphones are good for the gym. Over-the-ear headphones offer quality sound and reduce ambient noise, so you can work out in peace without being bothered by others.
Do Noise-Canceling Headphones Work in the Gym?
Yes, the noise-canceling headphones work in the gym. The noise-canceling headphones are great for intense workouts when you prefer to feel isolated so you can crush your PRs.
How Much Do Headphones for Working Out Cost?
The headphones for working out cost anywhere between 40 to 700 dollars. This price range offers different quality headphones and audio gear features, enabling you to enjoy your workouts more.
Does Sweat Ruin Over-Ear Headphones?
Sweat ruins over-ear headphones only if they are built from poor silicone material. The build quality and material of the ear cups can negate the sweat exposure effect and prolong the life of your over-ear headphones.
Do Over Ear Headphones Fall off When Running?
Some over-ear headphones fall off when running. The pressure of the headband plays a crucial role in preventing over-ear headphones from falling off when running.
How Long Should You Wear Over-Ear Headphones?
You should wear over-ear headphones for the time you feel comfortable wearing them. If your head or ears start aching, then put them off.
How Much Are Beats Headphones?
The Beats headphones cost between 200 and 400 dollars. However, some more expensive models cost more than 400 dollars but offer additional features that compensate for your price.
Can Sweat Ruin Earbuds / Headphone / Ear Pads?
Sweat can ruin earbuds, headphones, and ear pads if you are not super diligent and forget to wipe them off. In addition, lower-priced over-ear headphones usually get ruined by sweat much faster than more expensive models, but this isn't always the rule.
Is Sweat Bad for Leather?
Yes, sweat is bad for leather. You must take great care of your leather ear cups and headband to prevent them from getting ruined.
Are Over the Ear Headphones Better for Your Ears?
Yes, over-ear headphones are better for your ears since they are safer than in-ear headphones. This is due to over-ear headphones having more effective passive noise isolation or active noise canceling.
Can I Use Over Ear-Headphones When Running?
Yes, you can use over-ear headphones when running. Running headphones are specifically created over-ear headphones with excellent pressure on your head, provide a balanced sound, and never fall off your head while running.
What Are The Best Over Ear Headphones for Working Out?
The best over-ear headphones for working out are the Beats Studio3.
Beats Studio3 is extremely comfortable to wear, never falls off your head, and has a decent 22-hour battery life for the performance you get.
They offer spatial audio features and are preferred by many celebrities because of the quality of sound, built quality, and overall unique design.
The immersive sound you get with these workout headphones will change how you hear sound and allow you to stay more motivated and disciplined with your workout program.
I hope this guide was helpful and that you succeeded in choosing the best headphones for working out.
In the comments below, let me know which headphone model you chose and the main reason why.
Rating
---
Sound Quality: 5.0
Battery Life: 4.9
Price: 5.0
Features
---
– Compatible with iOS and Android devices
– Pure adaptive noise cancellation (pure ANC)
– 22 hours of battery life
– 10-minute charge gives 3 hours of play