This is a review of the 10 best dumbbells for small hands.
Choosing the best dumbbell for small hands can be tricky since there are plenty of them on the market.
It took me more than 16 hours to research and test to find the best dumbbells that are high-quality, durable, and functional.
After conducting experiments with it, I chose the 10 best dumbbells for small hands based on my specific ranking criteria.
Read below to discover the best dumbbells and other things you should consider before buying them.
Let's begin!
Top 3 Dumbbells for Small Hands 2023
Editor's Choice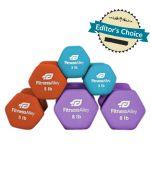 Fitness Alley Neoprene Dumbbell
– High-quality cast iron
– Designed for portability
– 3,5,8 pound dumbbells
#2nd Best Choice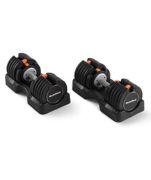 Nordictrack Dumbbells
– iFit membership
– Increments 10-55 pounds
– Smooth weight selection
#3rd Best Choice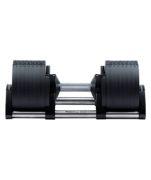 Bodytech X Nuobell Collaboration Product
– Operational design
– 9 different weights
– Alloy steel and plastic
10 Best Dumbbells for Small Hands in 2023
After more than 16 hours of research, I finally listed the best dumbbells for small hands in 2023.
Below are the 10 best dumbbells for small hands of 2023 in accordance with our specific selection criteria.
Best Dumbbells for Small Hands 2023
1. Fitness Alley Neoprene Dumbbell Set (Editor's Choice) 
Rating
---
Durability: 5.0
Weight: 5.0
Price: 5.0
Features
---
– Made from high-quality cast iron
– Designed for portability
– 3,5,8 pound dumbbells included
The Fitness Alley dumbbell set is made from tough cast iron, making it great for everyday use.
This dumbbell set is very colorful since it has a neoprene coating.
The coating gives you a smooth touch and ease of use.
It also prevents weights from slipping, which can be a common issue for small-handed people during a workout.
The set is highly portable and for carrying around with you, making it perfect for people who want to bring a compact set to do the work.
To prevent any accidents or dumbbells rolling away, the hex shape help with that.
The set features 3,5, and 8-pound pairs of dumbbells, giving you versatility when exercising.
Their vibrant colors are a nice addition, making them stand out from the usual dark-colored weights.
Fitness Alley gives you a 100% satisfaction guarantee, which further proves the point about their quality.
Pros
Comfortable grip even with sweaty hands
Reasonably priced
Well-made overall
Excellent rubber-coating
2. Nordictrack Dumbbells 
Rating
---
Durability: 5.0
Weight: 5.0
Price: 4.9
Features
---
– Full-access iFit membership
– Weight increments from 10 up to 55 pounds
– Smooth weight selection system
Adjustable dumbbells provide you with a whole set of different weights in one set without taking up much space.
Our analysis of this product revealed that the NordicTrack is one of the best adjustable dumbbells on the market.
These adjustable weight dumbbells can be adjusted in 5-pound increments from 5 to 25, which is enough for you to do all sorts of exercises and different workouts.
They come in a storage tray that has a place for each dumbbell in it, and that is why you can change the weights quickly by using a selection pin and choosing the weight increments you want.
Their design makes them look slick because the weight plates are slim.
This is one of the reasons why they are one of the best adjustable dumbbells on the market.
Pros
Durable and thick
Easy to change weights
Extremely convenient
Cons
Plates are not the sturdiest
3. Bodytech X Nuobell Collaboration Product 
Rating
---
Durability: 4.9
Weight: 5.0
Price: 5.0
Features
---
– One-hand operational design
– Easily change 9 different weights
– Made out of alloy steel and plastic
The Bodytech Nuobell is a great product that combines stylish and compact adjustable dumbbells.
As indicated by our tests, the standout feature of these dumbbells is a one-hand design which makes it easy to adjust the weights as efficiently as possible.
Nine different weight increments can be adjusted to 8.8 pounds, making them suitable for any fitness level.
Not only are they easy to use, but the Bodytech Nuobell is a well-known and trusted manufacturer of dumbbells worldwide.
Their compact design gives you the ability to easily store these adjustable dumbbells and save a ton of space in your home.
There are 50 and 80-pound options for men and women since the weight can be easily changed without the pain of removing weight plates.
Pros
Easy to rotate the handle
Plates are solid and durable
Super easy to change the weights
Cons
Come as an individual dumbbell
4. Fitness Republic Neoprene Weights Dumbbells Set 
Rating
---
Durability: 4.9
Weight: 4.9
Price: 4.9
Features
---
– Made from cast iron
– Hex design
– Neoprene coating
The Fitness Republic neoprene-coated dumbbell set is an excellent choice if you want to stay fit and healthy wherever you go.
They are made from quality cast iron and are coated with a smooth and soft neoprene that also gives you a comfortable grip.
Furthermore, they come in all different colors and sizes, making them a versatile addition to your workout plan.
Our research indicates that the biggest benefits of these fixed weights are their design, so that you can easily store them, and their portability, making them great to use when you aren't home.
They can be easily stacked, which makes them great to store under a bed or in a small box in the corner of the room.
The neoprene coating makes them comfortable to use even with small hands because you can get a solid grip on them.
They are perfect for doing squats, chest presses, lunges, dumbbell flies, and many others.
Also, they help in the prevention of joint and chronic back pain.
Pros
Easy and comfortable to hold
They won't roll away
A perfect range of weights
5. Amazon Basics Neoprene Workout Dumbbell
Rating
---
Durability: 4.9
Weight: 4.7
Price: 4.9
Features
---
– Neoprene coating
– Printed weights on each end
– Two 12-pound dumbbells
If you want to buy a durable and versatile set of dumbbells, this Amazon weight set is definitely worth considering.
These Amazon dumbbells weigh a total of 24 pounds, making each individual dumbbell 12 pounds.
That said, this makes it a perfect set for fitness enthusiasts who want to exercise and improve their home workouts.
These small hand weights have a neoprene coating which helps you get a comfortable and safe grip while also being easy on the floor, allowing you to use them indoors and outside as well.
It is easy to identify the weight of each dumbbell since the numbers are clearly marked on each end of a dumbbell.
Hex shape helps these Amazon dumbells from rolling away during rest between sets and makes them easy to store.
Pros
They have a secure grip
Incredibly easy for maintenance
Affordable price point
Cons
These Amazon weights are very tiny
6. Amazon Basics Adjustable Barbell Lifting Dumbbells Weight Set With Case 
Rating
---
Durability: 4.7
Weight: 4.7
Price: 4.7
Features
---
– Adjustable 38-pound weight lifting set
– Come with a durable black plastic storage case
– Made from alloy steel
The Amazon lifting set is perfect for daily workouts if you want to build your back, shoulders, and arms.
The set includes two 2.7-pound barbells, four 0.5-pound collars, and four 2.5-pound and 4 5-pound plates.
Plates are made from black-painted steel, making them long-lasting and very durable for use.
Based on our experience, what makes this set unique is its easy-to-use design.
The weight adjustment feature allows you to quickly change the weights by sliding plates on and off the barbell, secured with threaded collars.
This allows you to change the weights without slowing down and losing the intensity of your workout.
In addition to all this, these adjustable but round dumbbells also come with a black plastic storage tray, which makes them easy to transport and store.
Pros
Very easy to assemble
Impressive quality
Great value for the price
Cons
The case latches don't work
7. Nice C Womens Weights 
Rating
---
Durability: 4.7
Weight: 4.6
Price: 4.9
Features
---
– All-in-one dumbbell
– Non-slip safe design
– Customizable Weight
The Nice C adjustable dumbbells are a good investment for people that want to do versatile workouts in their homes.
Based on our experience, how you can adjust weight makes it easy to customize and find the perfect weight for each exercise.
These adjustable dumbbells are great for people that don't have a lot of space and want to have one set that can do everything.
The all-in-one Nice C adjustable dumbbell set is perfect for toning your muscles and building strength.
Not only can it do that, but it is a great set to use to lose weight and improve overall health.
The multi-weight feature on them allows you to adjust the weight, with each weight increment being 0.55 pounds.
Furthermore, the non-slip-safe design that they feature helps you be safe and confident during a workout.
The easy weight adjustment is one of their most remarkable features because it can be done quickly and efficiently with just a few simple steps.
Pros
Great after rehab
Versatile weights
Perfect for light workouts
Cons
Not easy to unscrew the caps
8. Amazon Basics Vinyl Coated Hand Weight 
Rating
---
Durability: 4.7
Weight: 4.5
Price: 4.7
Features
---
– Include two 12-pound dumbbells
– Hexagonal weight shape
– Non-slip vinyl coating
Based on our experience, the Amazon basic dumbbell set is an excellent choice if you want a versatile set of dumbbells.
The set comes with two 12-pound dumbbells, making it easy to do strength training from home.
A great thing about this set is the non-slip vinyl coating, providing a secure grip when lifting and preventing any damage to your floors.
Each dumbbell in this set is color coded and marked with its weight on each side, making it easy to choose the desired weight for the training.
They have a hexagonal shape design, preventing them from rolling away during training and making them easy to store.
The set is very durable since it has steel construction and a blue vinyl exterior, ensuring a secure grip.
Pros
They won't dig into your hands
Not slippery
Great weights for the price
9. East Mount Adjustable Dumbbell Set 
Rating
---
Durability: 4.6
Weight: 4.5
Price: 4.7
Features
---
– Four weight adjustments
– Compact dumbbells
– Easy to disassemble and assemble weights
The East Mount dumbbell is an excellent option for people with small hands to add to their collection.
These adjustable dumbbells feature 4 different weight options, making them versatile and suitable for many different workouts.
They have a key detachable design that allows you to change the weights quickly and adjust the weight suitable for your next exercise.
Additionally, their compact and adjustable design makes them incredibly easy to store and saves you a ton of space.
As indicated by our tests, they are a great option for people with small hands who want to exercise from home or in an office without needing to buy several different dumbbell sets and a dumbbell rack.
The handle is designed so it is comfortable for small hands to grasp without any problems. By buying this set, you can use them in different training modes.
You can do all sorts of upper body exercises with them to strengthen your arms, shoulders, back, and chest muscles.
Pros
They are compact and easy to store
Plates are removed with a button click
Great to use when traveling
Cons
The weight range is limited
10. Ritfit Soft Neoprene Hand Weights Set 
Rating
---
Durability: 4.5
Weight: 4.5
Price: 4.4
Features
---
– Reflective, anti-slip strap
– Ergonomic design
– Premium grip
The RitFIt hand walking weights are a great way to enhance your training routine, especially if you like jogging and running.
These weights are made from high-quality materials.
The grip is very comfortable and ergonomic, with the addition of a hand strap that will help weights stay in place.
They feature an anti-slip, reflective strap that makes them excellent even for outdoor use.
With their small and compact design, you can store them anywhere, making them great for traveling.
Using them as resistance in your workouts, you can increase your heart rate and calories burned without doing anything different than before without weights.
Limiting the hand and ankle weights to 1-3 pounds, you can benefit largely from it without causing any injuries.
If you want to improve your fitness level, buying RitFit hand walking weights is the way to go.
Pros
Perfect for older people
Great for walking and running
Available in different sizes
5 Best Dumbbells for Women With Small Hands
When it comes to picking 5 best dumbbells for small hands, here is my list:
Rubber-encased hex dumbbells
Cast iron dumbbells
Peloton cast iron dumbbells
Neoprene dumbbells
Adjustable dumbbells
Below, you can see what I like and don't like about these dumbbells.
1. Rubber Encased Hex Dumbbells
When I tested all sorts of dumbbells, I found that a handle diameter of 1.24″ (3.2 cm) is very appealing to small hands.
Rubber hex dumbbells feel extremely sturdy and solid and are built to last.
It doesn't matter if you hold rubber coated dumbbells from the ends or the handle; you know that they will last you years to come.
You can purchase rubber hex dumbbells and not spend much money on them.
You should think about wearing lifting gloves to prevent calluses.
My recommendation: Balancefrom Rubber Encased Hex Dumbbell in Pairs
2. Cast Iron Dumbbells
These fixed dumbbells are not the dumbbells that look the best on this list, but they are great for people with small hands to get a grip on them in a wide range of weights.
They have a slim and consistent handle on which you can put up to 45 pounds on them.
Also another great thing about cast iron fixed dumbbells is how smooth the bar texture is on them.
These dumbbells are made from cast iron and are built to last.
It is common to see that some people have had them for several years because of their insane built quality.
My recommendation: Yes4All Adjustable Cast Iron Dumbbell
3. Peloton Cast Iron Dumbbells
Peleoton cast iron fixed dumbbells have a great and unique design on the market.
The bar in between the two sides of the weight is exceptionally slim, so it makes it easy to lift weights above the head because of their build.
One thing I don't like about them is how prickly they are when you use them.
Other dumbbells on the market feel much smoother than these, so if you buy them, invest in a proper set of lifting gloves.
At 1.22″ (3.1 cm), the diameter of Peloton's dumbbell handles is slightly thinner than the hex dumbbells that are mentioned above.
My recommendation: Peloton Dumbbells
4. Neoprene Dumbbells
Neoprene dumbbells are fantastic for people that have small hands.
They feel less slippery and more comfortable than traditional dumbbells, especially when you start to sweat excessively during training.
I also find them more pleasant than other dumbbell styles.
Compared to the more traditional rubber-encased hex and cast iron dumbbells, their smooth texture feels much nicer.
Immediately when you start using them, you will see that they require a larger grip than hex dumbbells.
After conducting all the different tests, I found that neoprene dumbbells heavier than 15 pounds are uncomfortable for small-handed people.
If you feel like you don't need to lift more than 15 pounds, these are for you.
As I said before, neoprene weights are the most comfortable for small hands, and a bonus to them is their vibrant color palette.
They can be used no matter the fitness level you are.
My recommendation: Yes4All Neoprene Coated Dumbbell Hand Weight Sets of 2
5. Adjustable Dumbbells
There are plenty of lifters that don't like adjustable dumbbells at all.
The way they are built makes them not feel solid like the regular ones.
It is next to impossible to keep up the pace between exercises while adjusting the weights.
But not all of it is bad, and there are severe benefits of using adjustable dumbbells:
They save you a ton of space
You can do your workouts at your own pace
To choose the right weight for the desired exercise
If any of these benefits you feel could help you, then adjustable dumbbells could be a perfect fit for your needs.
They usually have a wide range of weights, so buying one set can be enough for a complete workout.
Read our guide on the 10 best adjustable dumbbells of 2023 to pick the one that will suit your needs the most.
My recommendation: Bowflex SelectTech 552 Adjustable Dumbbells
Also, maybe you should read our Bowflex SelectTech 552 review before you decide to purchase this great adjustable dumbbell set.
Buyer's Guide
Before choosing to buy dumbbells, here are some things you should consider.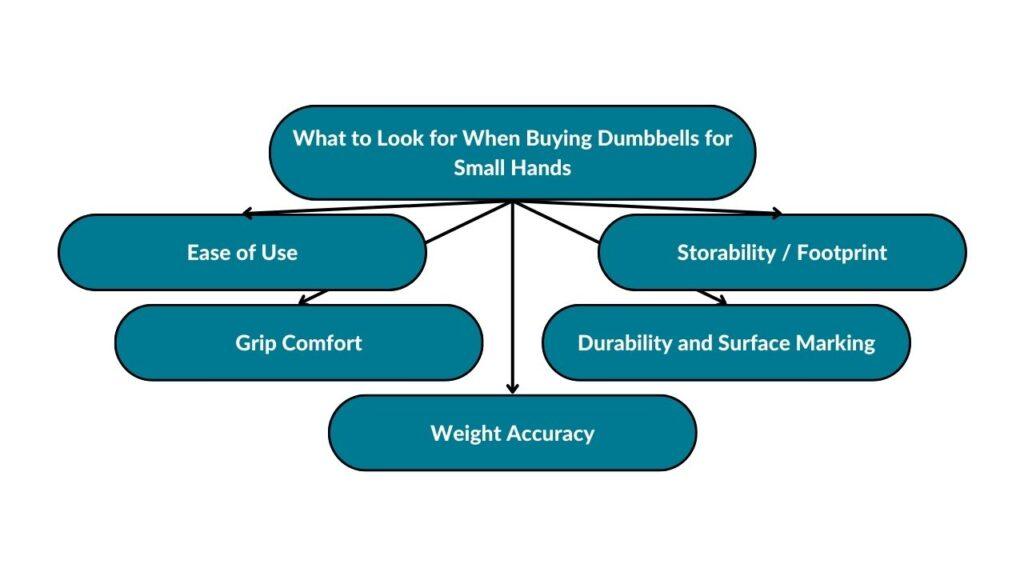 What to Look for When Buying Dumbbells for Small Hands
Some things you should consider before buying are listed below.
Keep reading to find out what are the main things you should take into account before choosing a dumbbell for you.
Ease of Use
We all know that working up the momentum to exercise can be highly challenging.
Nothing will faster kill the desire to train than poorly designed gym equipment that demands time and patience before use.
The best way to avoid this completely is to get the weights directly in your hands and start working out without the need for a setup.
With it, you can do all sorts of different workouts and exercises like a bicep curl, renegade row, lateral raise, single-arm dumbbell row, and many others.
I also noticed that being able to distinguish between different weights easily is essential.
Grip Comfort
A secure grip is critical for performing dumbbell exercises safely and confidently when lifting weights overhead and over the toes.
I measured every dumbbell's handle length and diameter to determine the fit and comfort for various hand sizes.
Not only that, but I had several different people with different hand sizes testing the dumbbells.
I also took into consideration whether the weight came clean and prepared for use or if they were coated in slick grease when I first opened the box.
Weight Accuracy
The accurate weight of each dumbbell might not have been the first thing on your list, but it is worth mentioning that this may be an indicator if the manufacturer pays attention to details.
Knowing that a 5-pound dumbbell weights precisely five pounds is also comforting.
To determine the overall weight accuracy, I had to weigh each weight manually and the combination each offers if it is an adjustable dumbbell.
For the sake of maintaining units, we weigh weights that are labeled in pounds in pounds and also vice versa for kilograms.
Surprisingly, not every dumbbell I tested was measured precisely according to its declared weight.
One of the best performers was the Nice C Adjustable dumbbell with a 0.08-pound disparity, which is impressive if you consider it a 5-in-1 adjustable dumbbell with several different weights.
The other adjustable weights showed lower exactness in their estimated weights.
Are you unsure what dumbbell weight you should use?
Durability and Surface Marking
I evaluated the overall durability and surface marking labeled with every weight, which is usually designed for indoor use.
Weight training in which you use dumbbells shouldn't damage your floors.
I used every weight on all different sorts of surfaces like carpet, tiled, pavement, and others, noting if each weight left some marks on each surface and if they had any tears.
After testing, I evaluated the condition of each dumbbell to see how they held up and if they had any scuffs, dust, chopping, or scratches on them.
The neoprene-coated dumbbells lived up to their status of being non-marking on all surfaces, although some colors were dirty or had more marks than others.
You may also consider rubber dumbbells since they have a similar impact on the floor.
Storability / Footprint
When you have limited space in your home, or you want your equipment portably so you can use them on the go, it is crucial to consider how much space your hand weights need.
By measuring each individual dumbbell size or a whole set, I determined if the dumbbells were suitable for transportation and how much space they needed.
I tested various storage options across my home while measuring the height, length, and width they need so they can be stored appropriately.
Also, I considered the variety of different weights that each dumbbell offers and calculated if the space was saved by putting several weights in one adjustable dumbbell.
You might want to read:
Who Should Buy Dumbbells for Small Hands?
People that have problems with grip should buy dumbbells for small hands. These dumbbells will provide a comfortable and secure grip so that you can work out without worries.
This includes mostly women, teenagers, and people with smaller frames.
The smaller size of the dumbbell makes it easier for people starting out not to feel intimidated by the weights.
Who Shouldn't Buy Dumbbells for Small Hands?
People that want to build significant muscle mass shouldn't buy dumbbells for small hands. Dumbbells for small hands are generally speaking not that heavy, and making considerable progress with them is not easy.
That is why it is advised to skip them if you are a bigger person with larger hands.
Related Articles:
FAQs
What Size Hand Weights Should a Woman Use?
Women should use 5-10 pound hand weights. These lighter weights are cheaper, so you won't break the bank to get them.
What Weight Dumbbells Should I Use to Tone My Arms Female?
Females should use 3-20 pound dumbbells to tone their arms. You can add the weight later, but this should be a perfect starting point for most women.
Is 5KG Dumbbells Good for Beginners Women?
Yes, 5kg dumbbells are good for women beginners. That is an excellent starting weight that lets you get used to the movements without putting too much stress on your body.
Is 2KG Dumbbells Good for Beginners?
Yes, 2kg dumbbells are good for beginners. Your muscles will get stronger and build more muscles by lifting 2kg dumbbells.
What Size Arm Weights Should I Buy?
You should buy 5-15 arm-sized weights. Add more weight when you can do 12 to 15 repetitions with little effort.
What Is the Best Dumbbell for Small Hands?
The best dumbbell for small hands is the Fitness Alleys set.
Our research indicates that people with small hands like the neoprene coating the most since it provides them with comfort, and the dumbbells won't slip.
The Fitness Alley dumbbell set is made from cast iron, making them a quality product.
This set's portability is extraordinary, making them perfect for any situation, indoors or outside.
It offers versatility because the set includes pairs of 3,5, and 8-pound dumbbells.
Let me know which of these dumbbells suits you best for you.
Rating
---
Durability: 5.0
Weight: 5.0
Price: 5.0
Features
---
– Made from high-quality cast iron
– Designed for portability
– 3,5,8 pound dumbbells included