This is a review of the best competition kettlebells.
Finding a proper competition kettlebell is not an easy task since there are a dozen different ones on the market.
Through our practical knowledge, I bought several different ones and tested all of them to find the best solution for anyone.
After I finished with the tests, I arranged them on a list and put the best performers on top of the list.
So without any more hesitation, let's begin.
Top 3 Competition Kettlebells
Editor's Choice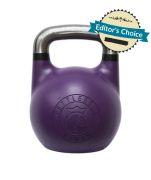 Kettlebell Kings High Repetition
– Lifetime warranty
– Cast as one solid piece
– 35mm handle
#2nd Best Choice
Yes4all Skull Competition Kettlebell
– High-quality cast iron
– Functional fitness equipment
– Easy to grip handle
#3rd Best Choice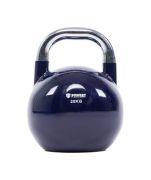 Powert Competition Kettlebell
– Long-lasting steel construction
– Ergonomic design
– Wide weight range
Our Top Competition Kettlebells
After spending more than 17 hours on testing, this is the final list of our top picks for the competition kettlebells.
Three main characteristics that determined the rankings are weight, price, and build quality.
Below you can see the best competition kettlebells that are on the list.
Best Competition Kettlebells 2023
1. Kettlebell Kings High Repetition (Editor's Choice)
Rating
---
Durability: 5.0
Weight: 5.0
Price: 5.0
Features
---
– Lifetime warranty
– Cast as one solid piece
– 35mm handle
Kettlebell Kings competition kettlebells are an exceptional piece of gym equipment since they have a smaller size and curvature, making them easier to insert during lifts.
In addition, the Kettlebell Kings competition kettlebells are of single-casting technology, ensuring greater overall durability.
As per our expertise, its hollow core construction ensures a better balance than other kettlebells with welded bottoms.
Our research indicates that the biggest drawback people have with this Kettlebell Kings product is that the handle is a bit closer than on other competition kettlebells.
Pros
They feel great from lift to grip
All competition kettlebells are the same size
They rest comfortably in the racked position
Excellent build quality
Cons
The handle is a bit closer than usual
2. Yes4all Skull Competition Kettlebell 
Rating
---
Durability: 4.9
Weight: 5.0
Price: 5.0
Features
---
– High-quality cast iron kettlebell
– Functional fitness equipment
– Easy to grip handle
The Yes4all Skull competition kettlebell is made of cast iron, which makes it last with no welds or weak spots, while its powder coating prevents any form of corrosion and gives you a secure grip with no slipping.
What makes this competition kettlebell great is that it has multiple weights, which are labeled in LB and also in KG, so there is no need to do the math, and it is easier to pick your desired weight.
The weight options on Yes4all Kettlebell are excellent since they go from 9 pounds to 88 pounds, so you can pick the proper weight for your workouts and your fitness level.
Through our trial and error, we discovered that some people might find the coating on the handle a bit unusual.
Pros
Great beginner competition kettlebell
Super well-packaged
Excellent casting
Cons
The coating on the handle is uncomfortable
3. Powert Competition Kettlebell 
Rating
---
Durability: 4.9
Weight: 5.0
Price: 4.9
Features
---
– Long-lasting steel construction
– Ergonomic design
– Wide weight range
The Powert competition kettlebell is high-quality since the shell is made of durable steel, and they come with a rust-resistant handle for an easy grip and to reduce fatigue.
Using these competition-style kettlebells will be excellent for you since you will get many benefits from it, like improvement in your endurance, strength, balance, and balance.
Powert competition kettlebells come in all different weight increments, from 44-62 pounds, and each weight has its own color, so you can easily see which one you are using.
As indicated by our tests, the handles on this competition-style kettlebell are wrongly shaped since they are not flat at the bottom.
Pros
Very well-made
The handles are very smooth on the hands
A high-quality competition kettlebell at a reasonable price
Cons
Handles are the wrong shape
4. Kettlebell Kings American Style 
Rating
---
Durability: 4.9
Weight: 4.8
Price: 4.8
Features
---
– Long-lasting steel kettlebells
– Color-coded design
– Premium quality competition kettlebell
The Kettlebell Kings American-style competition kettlebell is a premium product that features each weight cast in a single mold with no fillers, making it a long-lasting product.
Furthermore, the handles on this Kettlebell Kings competition weight are 35mm which is an international competition standard making them more comfortable when used.
These powder-coated kettlebells have an additional layer of protection and ensure a safe grip, perfect even if your hands sweat a lot.
After putting it to the test, some people felt like the handles were different sizes even though they should all be the same.
Pros
Very well made
The handles are nice and smooth on the hands
A great addition to any home gym
Cons
Handle sizes are different across weights
5. Adjustable Competition Kettlebell 
Rating
---
Durability: 4.7
Weight: 4.8
Price: 4.8
Features
---
– 35mm handle
– Cast iron kettlebells
– Adjustable competition kettlebell
Adjustable competition kettlebell has dozens of positive reviews all over the internet, making it the best adjustable kettlebell due to its weight range.
What also differentiates this one from other adjustable kettlebells is that it is easy to adjust the weight, and it comes with a comfortable grip.
It comes with three 2kg players, two 3 kg plates, and two 4 kg plates, so you can adjust it however you want for specific kettlebell movements, and a bonus is that it has a 3-year manufacturer warranty, proving the quality.
We have found out from using this product that the spanners and Allen wrench are unfortunately not included with these adjustable kettlebells.
Pros
Solid build quality
Takes about a minute to change the weights
Excellent for a kettlebell workout
Cons
They don't send the wrenches
6. Kettlebell Kings Comfort 
Rating
---
Durability: 4.8
Weight: 4.7
Price: 4.7
Features
---
– Color-coded
– No welding parts
– Hollow core
Kettlebell Kings comfort competition kettlebell has a high-quality build, which is why it is both comfortable and durable, making it an excellent choice for anyone who wants to improve their home gym setup. In fact, this can easily be your best kettlebell for home gym that won't break the bank.
This kettlebell differs from other competition kettlebells because it has a smaller size and curvature of the window and its hollow core, which creates balance and stability during use.
The 35mm handle provides you with a comfortable and secure grip for most, with no worries about paint stripping, even if you use it with chalk or without.
Through our trial and error, we discovered that they might be a bit overpriced for the features that they come with.
Pros
The packaging is superior
Great attention to details
The handle has a smooth and nice finish
Cons
Cheaply made for the price
7. Khto Competition Kettlebell 
Rating
---
Durability: 4.6
Weight: 4.7
Price: 4.7
Features
---
– Special ergonomic design
– Clear weight marks
– Flexible and portable
The Khto competition kettlebell is made out of durable materials like cement, sand, and iron and without any welds, making this kettlebell design to be extremely durable.
It features a high-temperature baking varnish that will add an extra layer of protection from rust and corrosion, which makes it perfect for any home gym.
What's more, it is worth mentioning that this competition kettlebell has a portable and compact design, so you can take it with you wherever you go without worrying about breaking your fitness routine.
We discovered that the handle on Khto kettlebells is a bit slippery from being polished, which may bother some fitness enthusiasts.
Pros
The weight is accurate
Great looking kettlebell
The balance on these is superb
Cons
The handle is too slippery
8. Cap Barbell Competition Kettlebell 
Rating
---
Durability: 4.5
Weight: 4.6
Price: 4.7
Features
---
– Made out of cast iron
– Secure handle for one-handed movements
– Versatile build for kettlebell training
The CAP barbell is an excellent cast-iron kettlebell that's engineered so it is safe, dependable, and durable for all fitness enthusiasts.
These are powder coat kettlebells which give them an additional layer of protection and make them endure more damage.
However, the unique feature of these competition kettlebells is their versatility since they can target specific muscles, or you can do a full-body workout with them.
After condoning experiments with it, we found out that it has a poor-quality finish which some people may not be satisfied with.
Pros
Good value for the price
Great grip shape and size
The coating is excellent
9. Rainforest Basics Competition Kettlebell 
Rating
---
Durability: 4.5
Weight: 4.6
Price: 4.5
Features
---
– Competition style kettlebell
– Different weights from 15 to 50 pounds
– Wide flat base
The Rainforest Basics competition kettlebell is made from high-quality materials, making it great, and features high-temperature baking varnish, making it sturdier and corrosion-resistant.
This competition kettlebell has a special ergonomic design with a durable and comfortable grip allowing you to reduce pressure on the joints and save wrists from discomfort and pain.
Furthermore, the collection of these kettlebells includes those weighing from 15 pounds as the lightest kettlebell to the maximum weight of 50 pounds, with weights clearly marked on each competition kettlebell so you know how hard you are training.
Our team discovered through using this product that even the lightest weight on these kettlebells could be too heavy for a lot of people, let alone a 25 lbs kettlebell, for instance.
Pros
Sturdy and durable kettlebell
The ergonomic design makes it comfortable
It very corrosion-resistant
Cons
Weight options are not the best
10. Nordic Lifting Kettlebell 
Rating
---
Durability: 4.5
Weight: 4.4
Price: 4.5
Features
---
– Single piece casting
– Cast iron design
– Powder coated kettlebells
The Nordic lifting kettlebell is a cast iron kettlebell that is built to last and can withstand intense workouts without damaging or breaking apart.
Our investigation demonstrates that powder-coat kettlebells protect them from any corrosion for many years to come.
It is also worth mentioning that the accurate weight options that are available guarantee you a weight tolerance of 2% which makes choosing the perfect weight for your workouts as easy as possible.
Based on our observation, this competition-style kettlebell doesn't have the best shipping and could come with some damage.
Pros
Secure grip
Powder coating is amazing
Smooth finish to not cause any discomfort
Buyer's Guide
Before you choose a new competition kettlebell, you must ensure you got the right one for your necessities.
To make sure this happens, below is the list of things you should pay close attention to.
What to Consider Before Purchasing a Competition Kettlebell?
You should consider your intended use before you purchase a competition kettlebell. Besides that, you have several different key factors to consider.
Below you can find the list of the most important ones you should consider.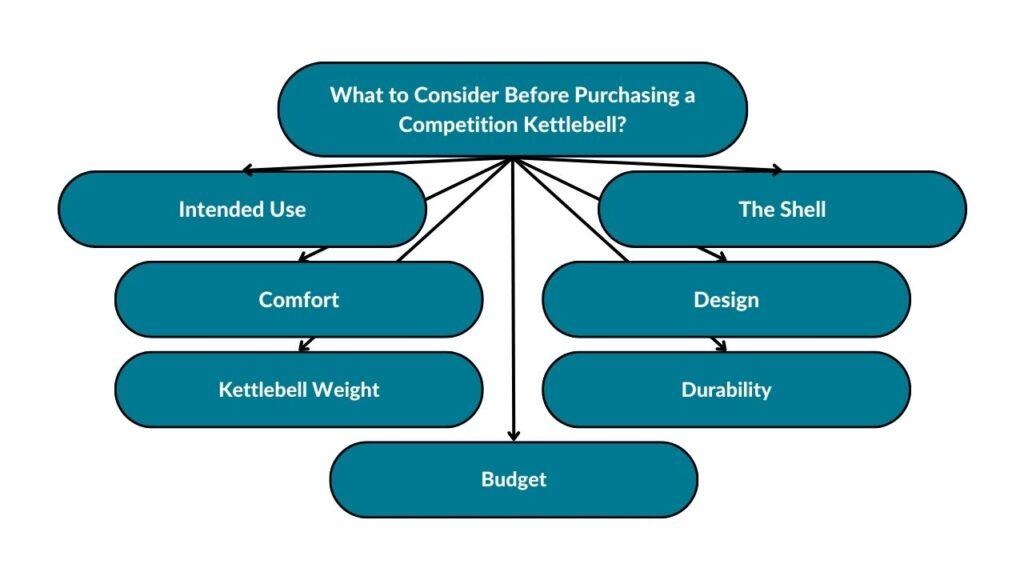 If you are still not familiar with the use of kettlebells, consider reading the following article:
Intended Use
Before you buy a competition kettlebell, you should look at what kind of movements or kettlebell exercises you want to do and how often.
Do you want to do cardio kettlebell training, or weight training?
Those are the things that will define what kind of kettlebell will suit you the best.
In addition, it is worth noting that the price will vary based on the style of a kettlebell you want for yourself.
Comfort
The comfort of a kettlebell largely depends on the design.
You can get certain kettlebells that have a square bottom, and that might be good for stability exercises but will feel uncomfortable in the rack position.
In addition, a key part of a kettlebell's comfort has a handle material.
Your hand position will be determined by the handle's design, whether it is narrow or wide.
Bear in mind that if the material is too sticky for your preferences, it may cause callouses.
Kettlebell Weight
Picking which weight you want to buy before you do the kettlebell shopping is important to decide.
You want to choose a weight that can be used for several movements and which will last you.
It is important to consider that to get the most value for the money spent.
Consider reading:
Budget
You need to consider how much you will spend to get a kettlebell.
The budget will be important so you can plan what kind of kettlebell style and weight you will be able to purchase.
Furthermore, some kettlebells will cost you more but are more cost-effective in the long run, but the question is if you are willing to pay those prices for a piece of fitness equipment.
Read our article on why kettlebells are so expensive to better understand what makes the cost so high.
Durability
The durability of a competition kettlebell will depend highly on the material from which they are made.
If you buy a cheaper plastic kettlebell that does not have the best build quality, don't be surprised when it breaks down sooner than you expect it to.
However, the sturdy kettlebell is made of cast iron or some high-quality steel which makes the kettlebell last an eternity.
Additionally, many competition kettlebells come with some form of a coating or other rust-preventing options.
Design
When deciding what kind of design you want your competition kettlebell to be, turn away from spherically shaped ones since they won't give you any stability for floor work exercises.
But, if you purchase a competition kettlebell that has too large of a base, that may cause problems when performing lateral movement exercises.
And once again, the handle on a kettlebell will determine how difficult it will be for you to do double-handed or one-handed movements.
The Shell
As you have already heard, most kettlebells, especially the competition-style ones, are made of cast iron or steel.
All of them can be put in a group called hard-shell kettlebells.
In contrast, you can decide to pick a soft kettlebell, which is usually vinyl-coated kettlebells and filled with sand.
If you want to choose a safer option for your floors, soft-shell kettlebells are gentler and less likely to cause damage.
But the drawback is that they are more prone to tearing, and that will cause the sand inside them to go all over your home gym.
Who Should Buy Competition Kettlebells?
People that do high-repetition kettlebell exercises should get competition kettlebells. They are a great way to ensure maximum focus on your technique while lifting weights.
Competition kettlebells are a must if you want to go to any fitness competition.
Who Shouldn't Buy Competition Kettlebells?
People who are beginners shouldn't buy competition kettlebells. Competition kettlebells have a larger handle than the normal kettlebell, and therefore it may feel weird for some.
Consider purchasing cast iron kettlebells if you prefer to build strength and power at a lower price point.
What Separates Competition Kettlebells From the Rest?
The main thing that separates competition kettlebells from the rest is their size. Unlike any other normal kettlebell that gets bigger as the weight gets heavier, with a competition-style kettlebell, that is not the case.
Besides that, there are other big differences between the competition kettlebell and normal ones. Here is a list of some important distinctions between these.
Read if you want to know about different types of kettlebells in case you aren't sure if competition ones are for you:
Kettlebell Size
A competition kettlebell is usually larger than a standard kettlebell.
Another important difference between the normal ones and a competition-style kettlebell is that they don't fluctuate in size, unlike the regular ones.
Furthermore, the standard kettlebell we are bigger with larger weights, but a competition one will always be the same size no matter the weight.
Handle Sizes
The handle differs greatly between the competition kettlebell and the standard ones.
A competition kettlebell has a more squared and smaller handle, helping you perform lateral movements while also preventing slipping.
However, the drawback of this handle is that it is harder to do two-hand movements with these kettlebells.
With a normal kettlebell, you are giving up the ability to do lateral movements. That is why the handle is much bigger, making you do two-handed exercises much more comfortably.
For a beginner, it might be better to have a regular kettlebell since it will provide you with more movement versatility so you can be safer and learn movements with both hands.
The Base of the Kettlebells
The difference between the standard and the competition-style kettlebells is that they have a larger base, making them more stable during some kettlebell exercises.
Conversely, a regular kettlebell will vary in its base size depending on the weight.
If the weight is larger, the bigger the kettlebell itself is.
If you are going to do floor work exercises, it will be a smart idea to test how stable your kettlebell really is.
What Are the Benefits of Kettlebells?
The benefits of kettlebells are that you can get a full-body workout and improve your grip strength. Your core will benefit greatly from doing kettlebell exercises.
1. Full Body Workout
Whether you use one kettlebell or two, you will likely involve a combination of your legs, hips, core, and arms when pressing or swinging the kettlebell.
It doesn't matter if you use one or two kettlebells; you will most likely involve your whole body when doing exercises like kettlebell swings, kettlebell snatches, goblet squats, or any other kettlebell exercises.
These functional strength training exercises will help you build strength throughout your body.
Unlike traditional exercises that limit your movement patterns, kettlebell movements help you do exercises that will translate to your day-to-day life.
2. Improved Core Strength
The core is a very important part of your body that should be properly trained.
Most fitness enthusiasts ignore the fact that they should train their core because of the lack of motivation after a long workout session since they put core training as the last exercise.
That is where using competition kettlebells can help you a lot.
Every kettlebell movement or exercise will force you to use your core, especially when you do one-handed movements since your core must balance two sides and remain upright.
And that is why you don't need specific exercises that target your core.
When you perform exercises like Turkish-get ups or one-arm kettlebell swings, you will flex your core as the other parts of your body get a workout.
3. Improved Grip Strength
For most fitness enthusiasts, the grip is the undeveloped part of a body.
Most people that are using straps in the gym do it because they don't have enough grip strength to lift their desired weights.
You need a firm and tight grip on a handlebar when you perform kettlebell exercises.
That will cause your grip to work during an entire movement.
Related Articles:
FAQs
What Kettlebells Are Used in Competition?
Competition kettlebells are used in competition. All competition kettlebells are the same size, no matter the weight, and have a 35mm handle.
Are Competition Kettlebells Worth It?
Yes, competition kettlebells are worth it. Competition kettlebells are excellent for high-repetition exercises and personal usage.
Why Are Competition Kettlebells Better?
Competition kettlebells are better since they are all the same size. Apart from that, they also all have the same handle size of 35mm.
How Many KG Are Competition Kettlebells?
Competition kettlebells are between 8-32kg. A wide weight range for competition kettlebells can weigh 8, 10, 14, 18, 22, 26, 30, and 32 kilograms.
What Is the Best Competition Kettlebell?
The best competition kettlebell is a Kettlebell Kings competition kettlebell.
It has many exceptional features, curvature and smaller size, hollow core construction, and single casting technology.
Based on our expertise, Kettlebell Kings made this weight an ideal choice for anyone who wants to purchase a competition kettlebell.
With thousands of positive reviews all over the internet, this Kettlebell Kings high repetition kettlebell is undoubtedly a must-have piece of fitness equipment for anyone who wants a top-notch product.
Please let me know which of these competition kettlebells is next on your bucket list.
Rating
---
Durability: 5.0
Weight: 5.0
Price: 5.0
Features
---
– Lifetime warranty
– Cast as one solid piece
– 35mm handle