This is a review of the 10 best budget adjustable dumbbells.
There are plenty of different adjustable dumbbells, but finding the right one for you can be tricky.
After running several experiments, I spent more than 15 hours of testing and research to find the best budget adjustable dumbbells.
After experimenting and trying all of them, I made a list of the 10 best adjustable dumbbells to buy if you are on a tight budget.
Keep reading the article below to find out which one is the best budget-adjustable dumbbell on the market.
Let's begin!
Top 3 Budget Adjustable Dumbbells
Editor's Choice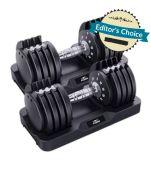 FLYBIRD Adjustable Dumbbells
– Rapid weight selector
– Fitted storage tray
– iFit membership trial
#2nd Best Choice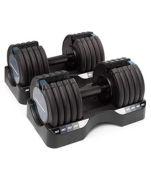 ProForm Weight Dumbbells
– Durable construction
– Fitted storage tray
– Excellent weight system
#3rd Best Choice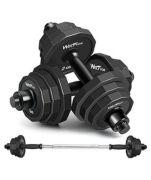 KISS GOLD Adjustable Dumbbell Set
– Total weight is 44 pounds
– Solid steel material
– Multi-purpose design
The Best Budget Adjustable Dumbbells – Our Top Picks
After more than 15 hours of testing, I came up with a list of the best budget adjustable dumbbells.
Some things we consider when looking for budget-friendly options include material quality, durability, and functionality.
There are plenty of options on the market, but the biggest difference between all budget adjustable dumbbells is material quality/durability and functionality.
Below are our top picks from the best budget adjustable dumbbells on the market.
Best Budget Adjustable Dumbbells 2023
1. FLYBIRD Adjustable Dumbbell (Editor's Choice)
Rating
---
Durability: 5.0
Weight: 5.0
Price: 5.0
Features
---
– Rapid weight selector
– Fitted storage tray
– Free iFit membership trial
The Flybird adjustable dumbbell set offers a 5-in-1 dumbbell experience which is great for people that want to save space.
It comes with weight increments from 5 to 25 pounds, which is perfect if you want to change the weights during lifts easily.
The one-handed design gives you that ability so you can safely adjust weights, increasing or decreasing however you want with only one hand while also saving time and being more efficient during training.
Our investigation demonstrates that you should pay close attention to your weight plates separate from a dumbbell.
Pros
Excellent pound-to-pound value
Very sturdy and reliable
Easy to adjust for desired weight
Cons
Weight plates easily separate from dumbbell
2. ProForm Weight Dumbbells 
Rating
---
Durability: 4.9
Weight: 5.0
Price: 5.0
Features
---
– Durable construction
– Fitted storage tray
– Rapid strike weight selection system
The ProForm weight dumbbells have a sleek design and a weight range from 2.5 -12 pounds, making them a perfect set for beginners.
We have found from this product that the ProForms lock mechanism allows you to change the weight as efficiently as possible quickly.
They are made out of high-quality materials, so they are more durable and provide you with a safe grip during an intense workout.
However, they may feel a bit awkward and unsafe, especially if you are a beginner just starting out.
Pros
Easy to use
Great value for the money
Easily adjustable weights
Cons
Dumbbells may feel unsafe when used
3. KISS GOLD Adjustable Dumbbell Set 
Rating
---
Durability: 4.9
Weight: 5.0
Price: 4.9
Features
---
– Total weight is 44 pounds
– Made from solid steel material
– Multi-purpose design
Kiss Gold adjustable dumbbell set can be customized to meet your needs, with weight ranging from 9.6 to 44 pounds.
The dumbbells are made from solid steel, which ensures their longevity and durability, making this set a great investment that will last years to come.
Nonetheless, the polygon-shaped weight plates will prevent dumbbells from rolling away while also making them great for storing.
After conducting experiments with this product, we discovered that the black caps on them are made from cheap plastic and prone to damage.
Pros
They are easy to assemble
Fair-priced adjustable dumbbell set
Great starter set
Cons
The black caps are made from cheap plastic
4. Bpulse 27.5lb/33lb/50lb Adjustable Dumbbell 
Rating
---
Durability: 4.9
Weight: 4.8
Price: 4.9
Features
---
– Non-slip handle
– Safe lock design
– Weight change by the handle
Bpulse adjustable dumbbell is excellent for people that are just starting out because of the different weight options ranging from 5.5 to 27.5 pounds.
The handle has a non-slip feature and a curved handlebar, providing you with a secure and comfortable grip during use to prevent any injuries.
Based on our observation, the Bpulse adjustable dumbbell comes with a safe lock design which should help you so your weights won't fall off during use.
The biggest downside of this adjustable dumbbell is the built quality which is not the best on the market.
Pros
The great weight range
Easy to use
Very easy to adjust one-handed
Cons
The build quality is not the best
5. Lifepro 15lb Adjustable Free Weights 
Rating
---
Durability: 4.9
Weight: 4.8
Price: 4.7
Features
---
– Lifetime warranty
– Adjustable dumbbell set of 2
– Maximum weight of 15 pounds
Lifepro adjustable weights include a pair of cleverly engineered dumbbells that are made to save you space.
The genius design of these adjustable dumbbells makes this set extremely simple and straightforward to remove or add weights by moving the slider to increase or decrease weights.
Based on our experience, this dumbbell set is great for upgrading your fitness levels with free weights that can help your whole body.
Through our trial and error, we discovered that the first thing that will break on these dumbbells is the handle which is made from plastic.
Pros
Compact and versatile adjustable dumbbell set
They take up minimal space
Easy to use
Cons
Handles are made from plastic
6. Nuobell Adjustable Dumbbells 
Rating
---
Durability: 4.7
Weight: 4.8
Price: 4.7
Features
---
– Replace up to 30 weights
– Weight range from 5 to 80 pounds
– 5-pound weight increments
Nuobell adjustable dumbbells are a great all-in-one solution for any home gym since it replaces up to 30 sets of traditional dumbbells with only this one pair.
Also, the weight can be easily adjusted with the weight range from 5 to 80 pounds, making it excellent for all sorts of exercises.
These dumbbells are made to be sturdy and quiet because of the durable rubber that is placed on each metal plate, protecting the floor from any damage or scratches.
Our investigation demonstrated that these dumbbells are more expensive than their peers.
Pros
Quick to adjust weights
The weight range is great
Super easy to twist the handle to select the weight
Cons
More expensive than other adjustable dumbbells
7. NordicTrack Dumbbells 
Rating
---
Durability: 5.0
Weight: 5.0
Price: 5.0
Features
---
– Smooth weight selection system
– Fitted storage tray
– Durable construction
The NordicTrack adjustable dumbbells are an excellent option for anybody because of the weight range from 10 to 55 pounds.
Weight increments on these are 2.5, 5, and 10 pounds, which is great for changing and customizing the desired weights during a workout.
This set comes with an iFit Family membership trial which can come in handy, giving you all kinds of classes to help you with your fitness progress.
Based on our experience, this set's biggest downside is that it doesn't have a warranty.
Pros
Switching between weights is super easy
Storage tray is durable and thick
Super convenient
Cons
They don't come with a warranty
8. ROBURFLEX Adjustable Dumbbell 
Rating
---
Durability: 4.7
Weight: 4.6
Price: 4.7
Features
---
– 1-year warranty
– 95% made from cast iron
– Smart design
Roburflex adjustable dumbbell is made out of 95% cast iron, making it very durable.
It features a one-hand turn, which allows you to quickly change weight in just one second, making it extremely easy to change weights between 5-80 pounds.
The compact size of this dumbbell makes it a great space-saving alternative instead of a whole dumbbell rack, giving you the ability to do a full-body workout in a compact space like your home gym or room.
Based on our first-hand experience, most people mistakenly think this is a set of 2 dumbbells, but it is just an individual dumbbell you will get.
Pros
Super easy to use
Cheaper than the competitors
Space saving dumbbells
Cons
Easily damaged during shipping
9. Bowflex SelectTech 552 Adjustable Dumbbells 
Rating
---
Durability: 4.7
Weight: 4.6
Price: 4.5
Features
---
– 1-year JRNY membership
– Maximum weight of 105 pounds
– Motion Tracking technology
The Bowflex SelectTech 552 adjustable dumbbells are an incredibly budget-friendly and flexible option since you don't need a full rack of weights to perform a workout.
These dumbbells have a weight range of 5 to 52.5 pounds which will be enough for beginners that are just starting.
Because they have weight increments of 2.5 pounds all the way to 25 pounds, you can safely change to the preferred weight and find the proper one for you at that moment.
Our research indicates that the thing you should be most aware of on this set is the cheap plastic from which the handle is made.
Read our in-depth Bowflex SelectTech 552 review before purchasing this excellent adjustable dumbbell set.
Pros
Easy to use right out of the box
Very versatile and convenient
The weight range is phenomenal
Cons
The grip is made from cheap plastic
10. BODYTECH x NUOBELL Collaboration Product 
Rating
---
Durability: 4.6
Weight: 4.6
Price: 4.5
Features
---
– One-hand weight change
– 9 levels of weight in 8.8-pound increments
– Stylish and compact design
As indicated by our tests, the standout feature of Bodytech Nuobell dumbbells is a one-hand design that makes adjusting the weight easy and as efficient as possible.
Nine different weight increments can be adjusted to 8.8 pounds, making them suitable for fitness levels, especially for newcomers.
Their compact design allows you to easily store these adjustable dumbbells and save much room in your home.
Our findings show that most people are disappointed since they are sold individually and not in a set.
Pros
The rotation action on the handle is excellent
Easy to increase on decrease weights
Shaped like the traditional dumbbell
Cons
It comes as an individual dumbbell
How We Tested the Best Adjustable Dumbbells?
We tested the best adjustable dumbbells based on specific criteria. The three main things that we have considered are price, durability, and weight range.
Adjustable dumbbell sets that are mentioned in our list were the best-performed products that we have tested.
Buyer's Guide
When it comes to choosing the right adjustable dumbbell, there are plenty of different factors that should be considered.
I will help you narrow down the option and pick the right one based on your needs.
Below are things to consider before determining which adjustable dumbbell you should purchase.
What to Look For in Budget Adjustable Dumbbells
After testing all sorts of dumbbells and countless hours spent doing tests, I made a list of essential things and those that weren't.
After trying each and every single one of them, I listed all of the most important things that need to be considered before you purchase any adjustable dumbbell.
Weight Range
Adjustable dumbbells give you a wide range of resistance to meet your own needs.
The best dumbbells will provide you with a wide range to choose from, so you can lift as heavy as you want to.
Some premium adjustable dumbbells will have a weight range of 90 pounds, but cheaper adjustable dumbbells may have a smaller range.
Lighter adjustable dumbbells can typically go up to 40 pounds, whereas the heavier ones can weigh all the way up to 90.
Adjustable dumbbells usually have 2.5, or 5-pound weight increments.
You will have to pay more if you want to have heavier weights.
Budget
The value of an adjustable dumbbell is very important before considering which one you will buy.
Usually, the best of the best will cost you anywhere from 400 all the way up to 800 dollars depending on the weight range and the size of their weight increments.
Cheaper adjustable weights are prone to damage because of the materials that they are made from.
Storage Space
Adjustable dumbbells don't take up much room, but still, you need to consider where you will store them.
Usually, the weights will come with a storage tray, but there are also other options where they can be stored.
It is totally up to you to decide which storing option works the best for you and if you need to buy any additional storage features.
Consider reading the following article:
Material
Quality dumbbells are usually made from steel, iron, or even aluminum alloy.
The material that is used for outside coating can vary from dumbbell to dumbbell.
They are painted, naked, and chrome-plated, which is not the best since they are prone to scratches and scuffs.
On the other side, the neoprene, rubber, and urethane coating is much more resistant to any damage but is also more expensive.
Warranty
Like every piece of gym equipment, adjustable dumbbells can also break over time.
The longer you have a warranty on your dumbbells, the better.
However, if a company is new on the market and will go bankrupt after a year, then its lifetime warranty doesn't serve you any good.
You should factor in the company's longevity and whether it is an established brand.
Durability
Almost every modern adjustable dumbbell has parts that are made from plastic.
This is nothing you should worry about because if the dumbbell is appropriately made, it should last and be durable.
Despite that, you shouldn't drop your dumbbells from a height of over 12 inches because you are risking that dumbbell will get damaged.
Weight Indicator Readout
Adjustable dumbbells need indicators to see how much you're lifting easier.
This can be done with a labeled dial, color-coded plates, or even numbering of the plates.
You can clearly see the weight you are lifting on the most adjustable dumbbells, but finding the best indicator for you is a nice addition.
Furthermore, this will help you prevent stops during a workout and won't make you lose intensity during an exercise.
Balance in Hand
Beginners who were a couple of times in the commercial gym probably had access to the standard dumbbells and will often feel the difference when they start using adjustable ones.
That is correct, but only for certain types, but the feeling will probably go away when you get used to it.
Balance of the hands is very important, so you don't have to focus on safety but only on proper lifting.
Unit Size
If you choose a more compact dumbbell, that will cost you more.
Regarding home fitness and workouts, you prioritize how much space the equipment needs.
You can find adjustable dumbbells with a huge weight capacity which will save you space since you won't have to buy multiple dumbbell sets.
Efficiency
If you want to do any kind of isolation or bodybuilding movements that will have you doing supersets, you must have a set of dumbbells with which you can quickly change the weights.
Buying a set where you can adjust the weights on the go is a massive benefit.
Adjustable Dumbbell Benefits
Adjustable dumbbells could be a great addition to your workout, depending on your needs.
One of the first things considered before any purchase is the price of a product.
Other than that, their durability, convenience, and others are also included.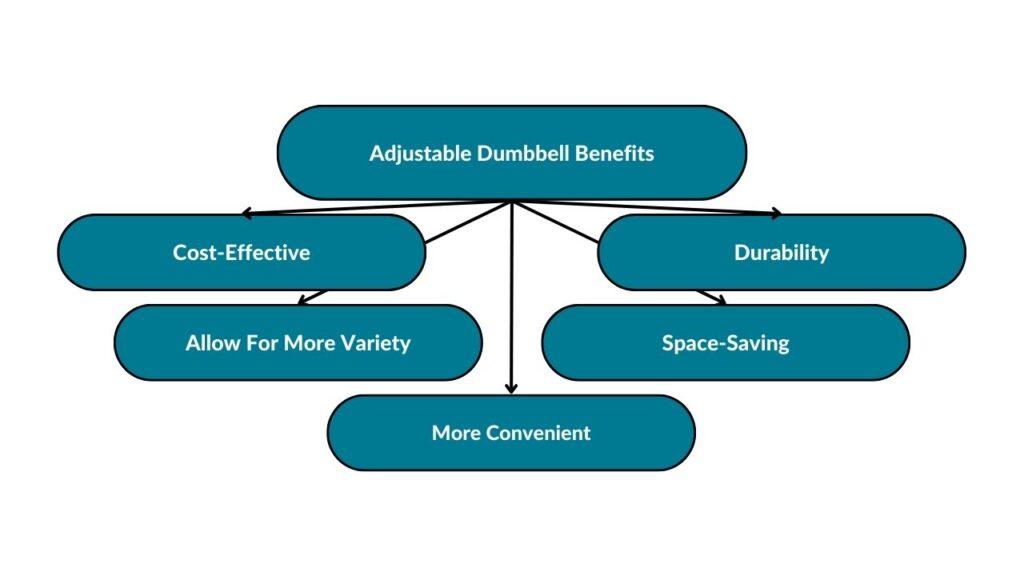 Cost-Effective
Cost-effectiveness is an excellent feature of adjustable dumbbells.
Before the adjustable weight, you had to buy standard dumbbells with fixed weights and spend large sums of money to get different weights.
But now, you can have the same 10 different weight sizes in only one adjustable dumbbell that is half the price.
Also worth noting is that adjustable dumbbells have weight increments of 2.5 or 5 pounds, so you can perfectly adjust the weight for your needs.
Allow For More Variety
Many adjustable dumbbells increase in smaller weight increments of 2.5 or 5 lbs.
This advantage is significant because it gives you more weight choices during weight training.
Small increases in weight increments are also a great method if you want to optimize muscle building and gain strength in the long run.
That is what you call a progressive overload, and an adjustable dumbbell makes it much easier to follow.
More Convenient
When it comes to convenience, adjustable dumbbells are superior to other dumbbells.
They can be easily stored and easily transported or carried wherever needed.
If you are a person that likes working out and you travel often, a set of adjustable dumbbells will be a great addition for you.
Space-Saving
One of the biggest benefits of buying any adjustable dumbbell is its space-saving design.
If you get multiple adjustable dumbbells, they usually come with a storage tray.
That basically means you can put them anywhere in the room without taking up much room.
On the other hand, traditional dumbbells require much more storage space and even a rack if you have a couple of them.
Durability
Most adjustable dumbbells are made so they can withstand wear and tear.
Especially if they are made from solid steel or iron, they will basically last you a lifetime.
Regular rubber hex dumbbells are more prone to damage because of the materials that they are built from.
Exercises You Can Do With Adjustable Dumbbells
If you have budget-adjustable dumbbells, you can do the same exercises as with the more expensive ones.
One of the best exercises that you can do with adjustable dumbbells are:
Squats
Barbell curls
Lunges
Alternated biceps curls
Dumbbell bench press
Shoulder presses
Lateral raises
Upright rows
Lateral raises
As you can see with the movements above, you can target almost your whole body with just a pair of adjustable dumbbells.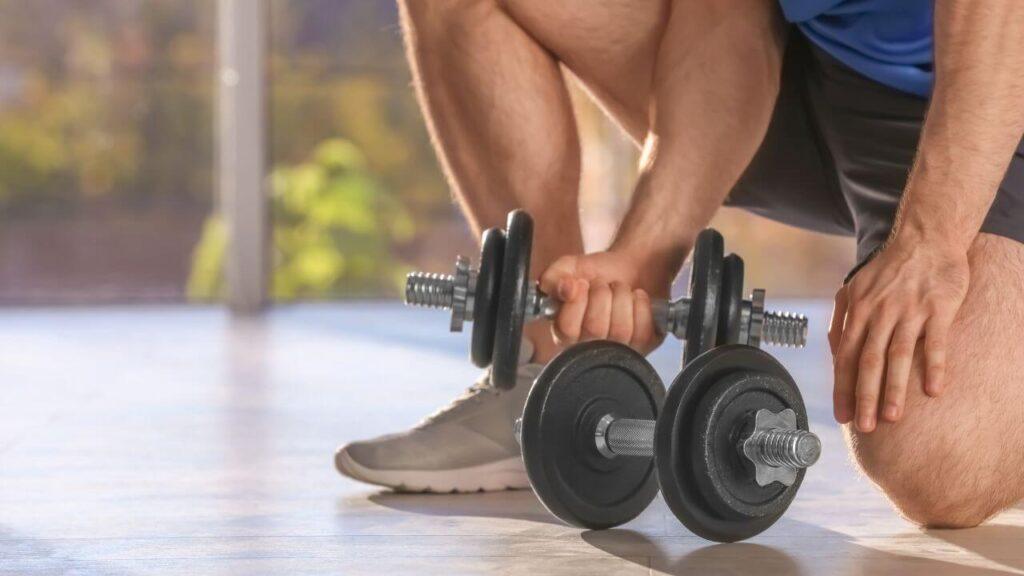 Chest
Compared to using a barbell, dumbbells are an excellent way to work on smaller muscle groups in your body.
A dumbbell bench press is one of the best ways to engage your chest and abdominal muscles.
You can alternate this exercise by tilting your bench downwards or upwards to target the lower and upper abdominal muscles.
Furthermore, because of the weight options in adjustable dumbbells, it is advised to start with heavier and then lower the weights when you can't lift them anymore.
Adjustable dumbbells make it extremely easy to do these drop sets, which are a great way to grow your muscles.
Related post:
Back
If you want to grow and get a wide back with adjustable dumbbells, rowing is perfect.
Other than that, you can also do reverse flys, but you need to pull the dumbbells out on the side.
Doing this exercise is more challenging, so adjustable weights come in handy and save you a lot of time with their weight adjustment features, unlike the trad dumbbells.
Triceps/Biceps
If you want big triceps and biceps, you must learn to use dumbbells effectively.
A dumbbell kickback is an excellent exercise to help you grow your triceps if you are just starting out.
However, doing biceps curls will benefit you greatly if you want to strengthen your biceps.
You may want to read:
Shoulders
A dumbbell shoulder press is one of the best exercises to build strong shoulders.
Shoulder muscles easily get tired when you are just starting to train them as a beginner, so decreasing the weights on the go will save you time.
After doing the movement regularly, you will improve your strength quickly and be able to increase the weight on your adjustable dumbbells.
Legs
You don't associate dumbbells with them when you think about leg exercises.
However, they can be used for deadlifts, squats, and lunges.
One of the strongest muscles on your body is usually your legs, so you need to choose heavier weights on your adjustable dumbbell to really feel the resistance throughout the movement.
The mix of all of these exercises will help you build leg muscles and also be extremely time efficient.
Read our guide on the 14 best functional leg exercises for strength and mobility to craft a perfect leg workout.
Related Articles:
FAQs
Are Cheap Adjustable Dumbbells Good?
Yes, cheap adjustable dumbbells are good. The main difference between the cheaper and more expensive ones is their weight range and built quality.
Are Adjustable Dumbbells Worth the Price?
Yes, adjustable dumbbells are worth the price. Adjustable dumbbells are more cost-effective and take up much less space than regular ones.
How Much Should You Pay For Adjustable Dumbbells?
You should pay for adjustable dumbbells 300-800 dollars. The average cost for a pair of adjustable dumbbells is around 400 dollars.
What Is the Disadvantage of Adjustable Dumbbells?
The disadvantage of adjustable dumbbells is that they are less durable than fixed dumbbells. Because of that, it is not recommended to drop adjustable dumbbells during weight training.
What Are the Best Budget Adjustable Dumbbells?
The best budget adjustable dumbbells are the Flybird adjustable dumbbell set.
With over 20 years of experience, Flybird made a compact, versatile, space-saving adjustable dumbbell set.
They feature a 1-second weight change, making switching between weights during training easy.
The handle has an anti-slip texture with an aluminum alloy which makes it safer and lasts longer.
Their weight range is perfect for people who want to start lifting and don't know which adjustable dumbbell to buy.
Let me know which out of these 10 adjustable dumbbells mentioned above you will buy next.
Rating
---
Durability: 5.0
Weight: 5.0
Price: 5.0
Features
---
– Rapid weight selector
– Fitted storage tray
– Free iFit membership trial