This is a review of the 10 best dumbbells for home gym.
It can be difficult and expensive to do workouts at your home since you need to buy a lot of equipment; however, with dumbbells suited for your training, you will need to spend a minimal amount for your home gym.
It took me more than 20 hours to research and test to find the best dumbbells for your home gym.
After I tried all of them, I chose the 10 best dumbbells for your home gym based on my specific ranking criteria.
Keep reading below if you want to discover the best dumbbells for your home gym and some other things to consider before buying them.
Let's begin!
Top 3 Dumbbells for a Home Gym
Editor's Choice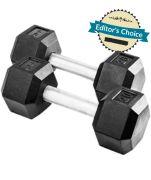 Rep Fitness Dumbbells
– Premium construction
– Improved grip
– Best-priced
#2nd Best Choice
Titan Fitness Dumbbells
– Incredibly versatile
– 500 pounds capacity
– Free shipping
#3rd Best Choice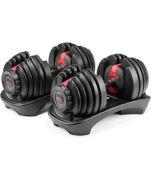 Bowflex Selecttech 552
– Easy setup
– Well-packed
– Highly durable
10 Best Dumbbells for Home Gym to Shop in 2023
After more than 20 hours of research, I finally came up with a list of the best dumbbells for a home gym in 2023.
Below are the 10 best dumbbells of 2023 according to our specific selection criteria.
Best Dumbbells for Home Gym in 2023
1. Rep Fitness Rubber Hex Dumbbells (Editor's Choice)
Rating
---
Functionality: 5.0
Price: 4.9
Portability: 4.9
Features
---
– Made from solid rubber material
– Fully knurled straight handle
– 34mm diameter handle
Rubber hex dumbbells have endured the test of time. There's a reason why you see them in just about every commercial gym or any fitness facility in general.
Rep has some of the best-priced rubber hex-head dumbbells that you can get on the market.
The price is comparable to other brands, although the shipping expenses can be a bit pricey.
The construction of these dumbbells is on a premium level.
These are my favorites when it comes to rubber dumbbells; the most significant difference between these and the Rogue ones is the grip.
Rep dumbbells feature a straight handle that resembles a barbell, with edge-to-edge knurling.
These features will improve your grip and decrease the possibility of your sweat affecting your workout. If you are a person that uses chalk, you will likely use it less than before.
Apart from that, these Rep dumbbells have pretty standard features like hex design, steelhead construction, rubber coating, and a chore-plated steel handle.
If there is one thing I want to improve on these dumbbells, that would be making the handle more compact. When lifting heavier, it can feel unwieldy because of the handle length.
When you consider that they come with free shipping, they aren't much more expensive than other options.
Rep rubber dumbbells come with a lifetime warranty for residential use.
These dumbbells are compact and durable, so you can safely drop them with minimal bounce, although it is not recommended to do that often.
Pros
Excellent quality dumbbells
Well packaged
There is no bad smell
Thick and fully knurled handle
Cons
You get only an individual dumbbell
2. Titan Fitness Dumbbells & Dumbbells Weight Sets 
Rating
---
Functionality: 5.0
Price: 4.8
Portability: 4.9
Features
---
– Made from alloy steel
– Embossed weight indications
– Ergonomic chrome finished steel handle
There are a lot of loadable dumbbells on the marketplace, but if you want to buy one of the best adjustable dumbbells, look no further than Titan Fitness.
They have a chrome-plated steel handle which makes them incredibly versatile to use. Plenty of these dumbbells are on the market, but one of the best is from Titan.
This adjustable dumbbell has some of the same specifications as the Olympic barbells.
The shaft is 28, and the sleeves are 50 millimeters in diameter, the same as a 20-kg barbell.
The Titan Fitness loadable dumbbells have a weight capacity of up to 500 pounds, yet the handles only weigh 12.1 pounds each.
That says a lot about the quality construction of the handles.
They have a bushing rotation system and a fully knurled, which all adds to the barbell element.
The last thing worth noting is that they come with free shipping.
Pros
Easy to handle grip
Doesn't smell like rubber
Made out of quality materials
Cons
Weak knurl can cause slips
3. Bowflex Selecttech 552 Adjustable Dumbbells 
Rating
---
Functionality: 4.9
Price: 4.8
Portability: 4.9
Features
---
– 105 pounds of weight
– Motion tracking technology
– JRNY Mobile-Only Membership
Bowflex SelectTech 552 adjustable dumbbells were one of the people's favorites when you think about home gym dumbbells.
Based on my experience, these adjustable dumbbells are very easy to set up and are well-packed when they arrive.
They were adequately secured, so there is no chance of any damage during shipping.
Bowflex gives you a chance to purchase a bench and a dumbbell stand individually, but buying them is unnecessary if you don't have a lot of space in your home gym.
The Bowflex has a good and slick black and red design.
They are round dumbbells made from nylon, steel, thermoplastic rubber, and ABS plastic, which are used in 3D printing.
Round dumbbells are generally more durable because of the materials from which they are made.
This one set can replace up to 15 weights ranging from 5 to 52.5 pounds.
If you want to change the weight to the desired one, twist the dials on the opposite sides of both dumbbells.
They made the process of adjusting the weights perfect and so doing it effortlessly.
Bowflex SelectTech adjustable dumbbells have a steel handle with a rubber grip, making them very comfortable for extended periods.
The most common thing that people complain about these dumbbells is the fact that they might be bulky for some.
Therefore, exercises like deadlifts and overhead presses are harder to perform. Almost every adjustable dumbbell has the same problem with the fact that they are oversized.
Dumbbells could feel weird and bulky for some exercises like those mentioned above, but these are excellent for others like squats and biceps curls.
For the people that want to get the most bang for their buck, a great addition to dumbbells is the 1-year long JRNY membership.
Bowflex SelectTech 552 adjustable dumbbells are one of the best adjustable dumbbells on the market.
Read our review of the Bowflex SelectTech 552 to get more thorough information about the product to make the right purchasing decision.
Pros
It can be used right out of the box
Phenomenal weight range
Great and comfortable handles
Cons
They are incredibly long dumbbells
4. Proform Weight Dumbbells 
Rating
---
Functionality: 4.9
Price: 4.8
Portability: 4.8
Features
---
– Made from neoprene material
– 5-pound increments
– Compact design
ProForm weight dumbbells are great for people who want to get in shape without spending a lot of money on gym equipment.
First of all, their design is unique. They have a sleek look which makes them look good.
If you don't want to waste any time during training, these dumbbells can allow you this because of their lock mechanism that will enable you to change weights fast.
A thing that is worth mentioning is the weight range that they possess.
They range from 2.5 to 12 pounds, which is the range you want if you are a beginner or intermediate lifter.
Adjusting weights is as easy as it gets. When the dumbbells are not used, they can be easily stored in their storage tray.
Their durability is one of the biggest benefits of ProForm weight dumbbells.
The materials they are made from are built to last long, and the grips are comfortable, ensuring you can have a secure hold during high-intensity workouts.
The ProForm weight dumbbells are one of the best adjustable dumbbells priced when compared to other adjustable dumbbells on the market.
When you consider all of their qualities, they give you a lot for their price.
The ProForm weight is one of the best dumbbells and is ideal for people who want to build their bodies and achieve their fitness goals from home.
Consider purchasing them if you want to stay in shape without the need to leave your home gym.
Pros
Easy to adjust weights
They are very reliable and sturdy
Great pound-to-pound value
Cons
Plates easily separate from the dumbbell
5. Nordictrack Dumbbells 
Rating
---
Functionality: 4.8
Price: 4.8
Portability: 4.7
Features
---
– 15 weight increments per dumbbell
– Smooth weight selection system
– Fitted storage trays included
The NordicTrack adjustable dumbbells are an excellent option for those looking for a high-quality dumbbell set that gives you a wide range of different weights to choose from.
With this set, you can seamlessly switch weight between the sets in seconds due to the fully adjustable design.
Weight on these dumbbells ranges from 10 to 55 pounds.
They come in 2.5, 5, and 10-pound weight increments, making changing and customizing your weight during a workout easy.
The base weight of a dumbbell starts at 10 pounds, and to select the bigger weight, use the sliding pin.
Inside each dumbbell, a rotating dial is used to adjust the smaller increments like 2.5 and 5-pound ones.
The NordicTrack adjustable dumbbell set doesn't have enough weight for powerlifters, but if you are just a regular lifter, that shouldn't be a problem.
The set comes with an iFit Family membership which can come in handy, giving you a wide range of classes to help you with the motivation and to achieve your next fitness goal.
Pros
Switching between weights is easy
The tray is thick and durable
The dumbbell outside is flat
6. Amazon Basics Neoprene Workout Dumbbell 
Rating
---
Functionality: 4.5
Price: 4.8
Portability: 4.7
Features
---
– No roll head
– Neoprene coating
– Nonslip grip
Amazon basics neoprene dumbbells are perfect for people who want to get into lifting weights.
They come in a weight range of 3-8 pounds, making this set accessible and easy if you start toning your muscles and building strength.
Neoprene coating ensures that your grip is secured during use. The design of these dumbbells is fun, with all sorts of different colors.
They are easy on the hands when using them because of the coating they have.
Their hexagonal shape prevents them from rolling away when stored, providing you with a safe workout.
They come with an entire rack to help you organize all the weights in one place to help you keep your gym clean.
The set comes with three pairs of dumbbells from 3-8 pounds, giving you plenty of options as you advance your fitness levels.
You can choose other options if this weight range doesn't suit you. Additional sets are available with weights from 2 to 5 pounds or 5 to 15 pounds.
You can buy dumbbells weighing 2 to 20 pounds if you still want something different.
When purchasing individual dumbbells, they come without a dumbbell rack.
At a very affordable price, this set gives you much more than what you paid for.
Pros
Made out of high-quality materials
Neoprene coating protects them from damage
The hexagonal shape of the dumbbell
7. Yes4all Adjustable Cast Iron Dumbbell Sets 
Rating
---
Functionality: 4.5
Price: 4.8
Portability: 4.6
Features
---
– Made from cast iron
– Non-Slip handles
– Rust resistant
Yes4All adjustable dumbbells are a great option if you don't mind more time between exercises.
They are traditional dumbbells that use weight plates, a threaded collar, and a bar, so everything stays in one place.
The main disadvantage with these dumbbells is the time you need to change the weights since you need to remove the collar first, then remove extra plates or put additional ones and re-screw the collar back to put everything in place.
Yes4All adjustable dumbbells have eight 5-pound plates, two 2.5 and two 1.25- pound plates, plus a 4- pound bar.
When I tried to change the weights, my fastest time was about 25 seconds. With that being said, you should expect about a minute rest in between exercises.
Since there is a considerable rest time, you will want to make the next move with the same weight and not change it.
If you do this, you can be stuck on exactly the same weight for a couple of reps and to challenge yourself enough.
The bar is 1.15 inches which is not the regular size for the standard ones.
Because of this, you cannot get the weight from other dumbbell sets since they are just 1 inch.
If you want a more conventional and relaxed workout and you don't mind the time you need to spend on adjusting the weights, these dumbbells are an excellent option.
Pros
The grip is great
A great option to obtain a huge weight range
Very versatile dumbbell set
Cons
Dumbbell bars are too short
8. Rubber Encased Hex Dumbbell 
Rating
---
Functionality: 4.5
Price: 4.8
Portability: 4.5
Features
---
– Made from cast iron
– Encased
– Solid metal chrome finish
If you are just like me, you are always looking for high-quality equipment to use in your home gym.
To do precisely that, Sporzon rubber-encased hex dumbbells could be what you are looking for.
If there is one thing that should get special attention, that is the rubber coating on these dumbbells.
It is excellent in stopping dumbbells from damaging themselves while making them comfortable to use and hold.
Unlike other dumbbells, the Sporzon rubber-encased hex dumbbells don't slip in your hands or leave your palms tired and sore.
Another feature why I love these dumbbells is their hexagonal shape.
It might not seem that important, but the flat sides on a dumbbell make it much more stable when you put them away during the rest in-between sets.
Overall, these dumbbells are comfortable, easy to use, and very effective, making them a set of dumbbells that you should consider buying.
They are a durable and high-quality set of dumbbells that will last.
Pros
They come well packed
Thicker handle than the average
Great quality dumbbells
Cons
They can have a rubber smell
9. Synergee Rubber Encased Hex Dumbbells 
Rating
---
Functionality: 4.5
Price: 4.6
Portability: 4.5
Features
---
– Made from alloy steel
– No roll head
– Compact design
Synergee rubber-encased hex dumbbells are worth considering if you want high-quality dumbbells that will give you durability.
They are made from cast iron, which is then encased in a durable rubber outer layer to protect both weights and your home gym floor.
One of the main features of this dumbbell is the chrome handle. With the chrome handle, you will get a secure and comfortable grip while using it.
The hexagonal shape is excellent since it prevents weights from rolling, making them safer to store in your home gym.
The rubber encasing is very useful for noise reduction when the dumbbell falls on the floor. This can be beneficial for people that live in apartments and have neighbors nearby.
Another great thing about these dumbbells is their versatility.
They come in a weight range from 2.5 to 50 pounds, making them one of the best dumbbells for beginners and even for more experienced gym enthusiasts.
These could be for you if you are serious about investing in your home gym.
Because of their build quality and the materials they are made from, these will last you a couple of years.
Pros
The chore handles had no signs of a rust
Solid overall construction
The company has a support that can be contacted
Cons
They are sold individually
10. Powergainz Contoured Handle Cast Iron Adjustable Dumbbell
Rating
---
Functionality: 4.5
Price: 4.4
Portability: 4.3
Features
---
– Powder coated
– 14.5" bars
– 4 collar locks
The Powergainz adjustable dumbbell weight set is a convenient and versatile option for people who want to do weight training.
With the weight range from 5 to 25 pounds which can be adjusted, this will allow you to do all sorts of exercises, and it is suitable for all different users.
One of the best features of this dumbbell is the contoured handle design, allowing you to have a safe and comfortable grip while in use.
The contoured handle also reduces hand tears and prevents slipping, making it usable even for longer workouts.
These are iron dumbbells, making them durable and able to withstand heavy use. This is why they are a good choice for people that want to invest in a solid set of dumbbells.
This dumbbell set has four 2.5-pound plates, four 5-pound plates, and two dumbbell bars allowing you to have a max weight of 25 pounds per dumbbell.
With this weight range, you can do various exercises and gradually increase strength over time.
If you have limited space, the adjustable features of these dumbbells become very useful.
You don't have to purchase multiple sets of dumbbells in different weight increments; you can adjust the weight as you want.
Their compact size makes them easy to store in a small home gym.
While these dumbbells are great for most people, they are not for you if you want to lift heavier weights.
Additionally, they are not as secure as traditional dumbbells, potentially leading to weights falling off during use.
Pros
They weigh the right amount.
Great basic cheap dumbbell set
Very cheap dumbbells
Buyer's Guide
When it comes down to buying dumbbells for your home gym, there are a lot of factors you should consider.
I will help you with choosing the right dumbbell for you. Below are things to consider before deciding to purchase a dumbbell.
What to Consider When Shopping for Dumbbells?
You should consider different dumbbell materials, shapes, and types available before shopping for a dumbbell. Not all dumbbells are made to be the same; some specific factors can affect the quality of your training.
These factors should be considered when choosing which dumbbell is best for you.
You choose different dumbbells based on your current fitness level, the level you want to achieve, or if you wish to be a bodybuilder or exercise regularly to be healthier.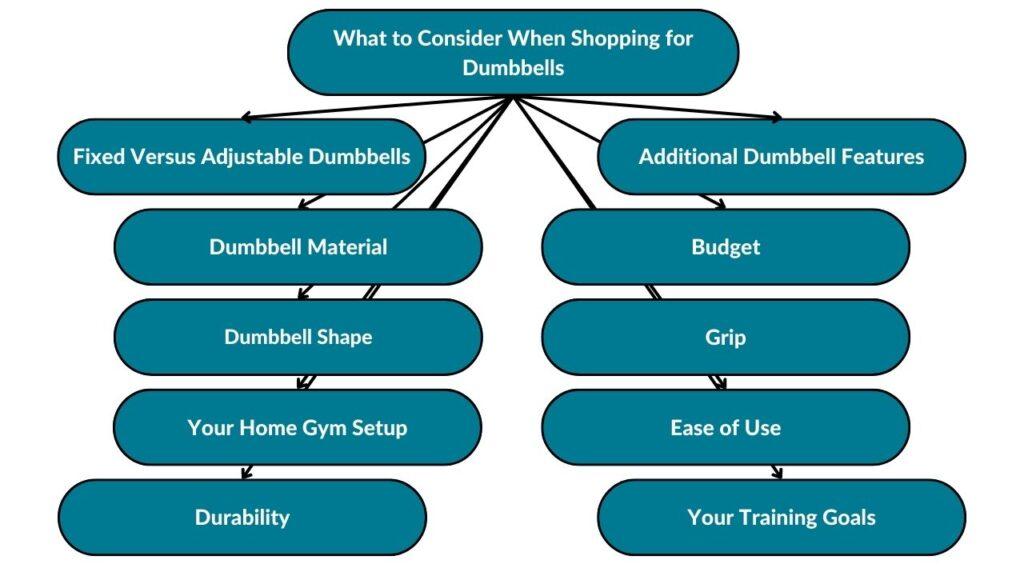 Fixed Versus Adjustable Dumbbells
Most dumbbells have fixed or adjustable weights. Depending on which one you need, each type has several different benefits.
Before purchasing any sort, you should consider your preferences and which kind of
workouts you perform to choose your desired dumbbell set.
Fixed dumbbells are usually sold individually or in a pair and give you only one weight per dumbbell.
That means when you buy a 25-pound dumbbell, you can't change its weight.
These dumbbells are recommended for people that are just getting started in their fitness journey. If you want to target specific muscle groups, think about purchasing them.
You need to consider how much space you have in your home gym for fixed dumbbells since you must buy a couple of different weights for your workouts.
If you already purchase multiple weights, an entire rack for storage is a must to keep all of your dumbbells together in one place.
As their name says, adjustable dumbbells offer multiple weight increments that can be adjusted with a removable pin or a rotating dial.
With them, you will get variety without the need to have a lot of space in your home gym, like for the fixed ones.
Adjustable dumbbells are great for people that are lifting heavier weights and invest in just one pair of dumbbells since weight increments tend to go higher than on the fixed.
In a perfect situation, fixed dumbbells are always better regarding convenience, durability, simplicity, and functionality, but the price between these two can be a major factor.
Buying an adjustable pair can ultimately be more affordable than investing in different weights with fixed dumbbells.
Dumbbell Material
Dumbbells are made out of all sorts of different materials, like metal, rubber, and neoprene.
Most common out of all these are cast iron dumbbells or steel heads encrusted with rubber or coated in neoprene.
Some are even made entirely out of cast iron or other types of metals. The material makes no difference when exercising, but it just comes down to which material you are comfortable with.
However, there are some features of each material that you should consider.
Rubber
Rubber-coated dumbbells are a popular choice because of their durability and the ability to give you a good grip. The rubber coating helps protect floors from damage and other surfaces.
Urethane
Urethane dumbbells are more expensive than other materials. It is a much harder and more resistant material than the others, which makes urethane dumbbells last longer.
Steel
Steel dumbbells are a standard choice when it comes down to working out. Because they are made out of steel, they are prone to rust if you don't use and store them correctly.
Cast Iron
Cast iron dumbbells are becoming increasingly popular because they are more durable than other materials. They don't have that comfortable grip in comparison to others.
Plastic
Plastic dumbbells are very affordable, so they are recommended for beginners or those who want to spend a lot.
Their main disadvantage is that they are made of plastic, making them not that durable and easily damaged.
Dumbbell Shape
Dumbbells come in all different shapes, like circular, hexagonal, or squared. Hexagonal dumbbells are more popular because they can be easily stored and won't roll away.
Round or contoured dumbbells are more comfortable to hold, while square dumbbells are not that common but can be a great choice if you have limited space.
You should probably check the following article for more information on dumbbell shapes, types, and materials:
Your Home Gym Setup
The critical thing to consider before buying dumbbells is how much storage space you have.
If you have a giant home gym with plenty of room for storage, you can purchase larger dumbbell sets.
However, you should probably consider buying a smaller set if you have limited space.
Durability
Depending on how much you train, the durability of a dumbbell can be a significant factor. It is advised to look for a dumbbell made of high-quality materials to last longer.
Urethra and steel are probably the two best options available for a dumbbell.
Your Training Goals
You should consider what types of exercises you will be doing with your dumbbells. Choosing heavier dumbbells might be for you if you want to do strength training exercises.
A lighter weight might be for you if you do more endurance exercises and cardio workouts.
Ease of Use
Look for dumbbells with easy-to-use features. Adjustable dumbbells are more convenient for those who want to change their weight quickly.
There are also some features that dumbbells can have, like textured surfaces or ergonomic grip, which are great features to have.
Grip
Depending on the material and the finish of a handle, there are different types of grips on a dumbbell.
Materials like neoprene and rubber can give you a more secure grip than metal dumbbells. There are also some dumbbells that have contoured or textured handles for a better grip.
Budget
Dumbbell prices can range depending on their weight, brand, and material. Before you purchase any dumbbell, determine your budget.
Additional Dumbbell Features
Some dumbbells have additional features like rubber coating, adjustable weights, rotating handles, etc. The main additional features you should look for in a dumbbell are knurling, a rotating handle, and a diameter.
Knurling
The knurling on dumbbell handles is minor diamond-shaped, creating the texture for a better grip. Check the knurling to ensure that it fits your preferences.
Dumbbells with more rough knurling can give you a better grip but cause discomfort for some people.
Rotating Handles
Rotating handles can be seen on some dumbbells, which is a great feature if an exercise requires twisting or turning movements.
A rotating handle can reduce strain on your forearms and wrists by allowing your hand to move through the workout.
Diameter
The diameter of the handle determines how comfortable it is to hold the dumbbell.
Smaller handles are more comfortable for people with smaller hands, while thicker handles are for ones with larger hands of stronger grips.
Choosing a comfortable diameter in your hands is essential, as a discomfiting grip will negatively impact your training.
Who Should Buy Dumbbells for Home Gym?
People that want to invest in one crucial item in their home gym should buy dumbbells. Dumbbells are a great investment because they give you the ability to do all kinds of exercises.
They should be added to your home gym if you are considering building muscle mass and increasing your fitness overall.
Who Shouldn't Buy Dumbbells for Home Gym?
People who don't have a lot of space in their home gym should not buy dumbbells. If you have insufficient space to store your dumbbell, look for other alternatives.
You should probably consider adjustable dumbbells if you don't have enough space to store a whole set of dumbbells.
What Are the Benefits of Dumbbells?
The benefits of dumbbells are lowering the risk of a stroke, heart attack, and cardiovascular disease. Doing dumbbell exercises can help reduce insomnia and get you better sleep.
Strength training with dumbbells promotes muscle growth, which is directly related to burning fat. Additionally, fat-burning and increasing lean muscle growth will help with losing weight.
One of the benefits of using dumbbells is that they increase functional strength by utilizing stabilizer muscles.
How to Safely Use Dumbbells During Your Workout?
To safely use dumbbells during your workout, you shouldn't throw them up and down or use momentum to swing the weights through their range of motion. Maintaining a correct form while lifting dumbbells is essential for injury prevention.
Always know your limits regarding the weight, so you know when to slow down or even stop if the weight becomes too heavy.
Related Articles:
FAQs
What Size Dumbbells Do I Need for Home Gym?
You need dumbbells size 5-50 pounds for your home gym. With this weight, you can target muscle groups for hypertrophy while allowing you to increase weight over time for different exercises.
Which Dumbbell Is Best for Beginners?
The best dumbbell for beginners is the Amazon basics neoprene dumbbell. These are great if you are just starting out because of their lightweight.
Are 15KG Dumbbells Enough to Build Muscle?
Yes, 15kg dumbbells are enough to build muscle. Using this weight, you can increase your muscle mass and tone your shoulders, arms, calves, chest, and others.
Should I Get Dumbbells or a Barbell for My Home Gym?
You should get a barbell for your home gym. Barbell is very efficient and tends to engage more muscles to move the weight.
What Type of Dumbbell Is the Most Durable?
The most durable type of dumbbell is the cast iron one. They last for eternity, which means that this is the type of dumbbell you can use for a long time.
What Is the Best Dumbbell for Home Gym?
The best dumbbell for the home gym is a Rep fitness rubber hex dumbbell. They have a premium build quality, rubber coating, and edge-to-edge knurling.
These features are essential because they improve dumbbells' grip and decrease their slipping chances when working out.
The handle could be more compact, but the lifetime warranty makes them durable and reliable for any home gym.
With the free shipping, in my opinion, Rep dumbbells are the best adjustable dumbbells of the best when it comes to fitness equipment.
Let me know which out of these 10 dumbbells you will consider buying next.
Rating
---
Functionality: 5.0
Price: 4.9
Portability: 4.9
Features
---
– Made from solid rubber material
– Fully knurled straight handle
– 34mm diameter handle