This is a review of the best gymnastic rings to build functional strength.
Gymnastic rings are the perfect piece of functional fitness equipment that allows freedom of movement at the level of shoulder joints.
Based on my experience as a functional training practitioner and 20 hours of extensive research, I singled out only the best gymnastic rings for ultimate bodyweight training.
We will cover the best gymnastics rings on the market, what to look for before purchasing, the types of gymnastic rings, and how to install them.
Editor's Choice
PACEARTH
– 1000lbs capacity
– 1.5 inches/3.8cm straps
– Birch wood
#2nd Best Choice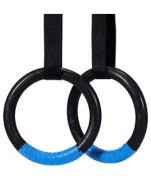 ZELUS
– High-density ABS
– Polycarbonate nylon straps
– 3 pounds total weight
#3rd Best Choice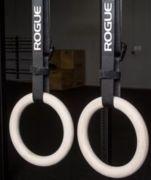 Rogue
– Made in USA
– Diameter: 1.25" standard
– Diameter: 1.11" optional
Rating
---
Durability: 5.0
Weight: 5.0
Price: 5.0
Features
---
– 1000lbs capacity
– 1.5 inches/3.8cm straps
– Birch wood
PACEARTH gymnastics rings take the cake as the best overall gymnastics rings available. Crafted from sturdy birch wood with a 1000 lbs capacity, these rings are a testament to durability and security.
The widened adjustable straps, wider than most competitors, coupled with stronger buckles featuring a serrated contact surface, ensure an elevated level of safety. Little touch fasteners are included to keep strap ends from becoming bothersome during workouts.
Their impressive feature set includes a non-slip & anti-sweat design and an extra-wide grip, ensuring comfort throughout your training.
The package also contains two rolls of blue hand tape for better grip and absorption of sweat.
Pros
Sturdy and durable with 1000 lbs capacity
Wider adjustable straps and stronger buckles for enhanced safety
Non-slip & anti-sweat design with extra-wide grip for comfort
Additional hand tapes for improved grip
Versatile usage catering to various fitness levels and exercises
Cons
The blue hand tapes are consumables and require regular replacement based on usage
Perfect for anyone from students to office workers, the elderly, and professional athletes, PACEARTH Gymnastics Rings are your gym buddies for full-body workouts and muscle building.
With their exemplary customer support and top-notch quality, these rings certainly live up to their reputation as the best overall in the market. Grab yours and start seeing the strength progress you've always wanted.
Rating
---
Durability: 4.9
Weight: 5.0
Price: 5.0
Features
---
– High-density ABS
– Polycarbonate nylon straps
– 3 pounds total weight
ZELUS gymnastic rings deliver remarkable quality at a budget-friendly price. These rings are made of high-density ABS construction, ensuring ultimate durability and security.
With a load capacity of up to 1,760 lb, they promise uncompromised safety, thanks to their grip-friendly surface and the robust adjustable buckles on the premium polycarbonate nylon straps.
Whether you want to perform pull-ups, push-ups, dips, rows, or improve flexibility, these gymnastic rings serve your fitness needs. Installation is a breeze, taking less than 5 minutes to set up.
Their portability allows you to workout at home, the park, your backyard, or even while traveling for work.
Pros
Durable construction with a high load capacity
Adjustable for different users and spaces with straps extendable up to 15 ft
Portable and easy to install, allowing workouts on-the-go
Versatile, facilitating various exercises to train the whole body
Excellent value for money
Cons
The provided hand tapes are flimsy and may require reinforcement for prolonged use
Despite their budget tag, the ZELUS gymnastic rings don't compromise on safety or comfort, making them an ideal choice for beginners and experienced athletes alike.
Get your hands on these budget-friendly yet efficient rings, and embark on a fitness journey that doesn't burn a hole in your pocket.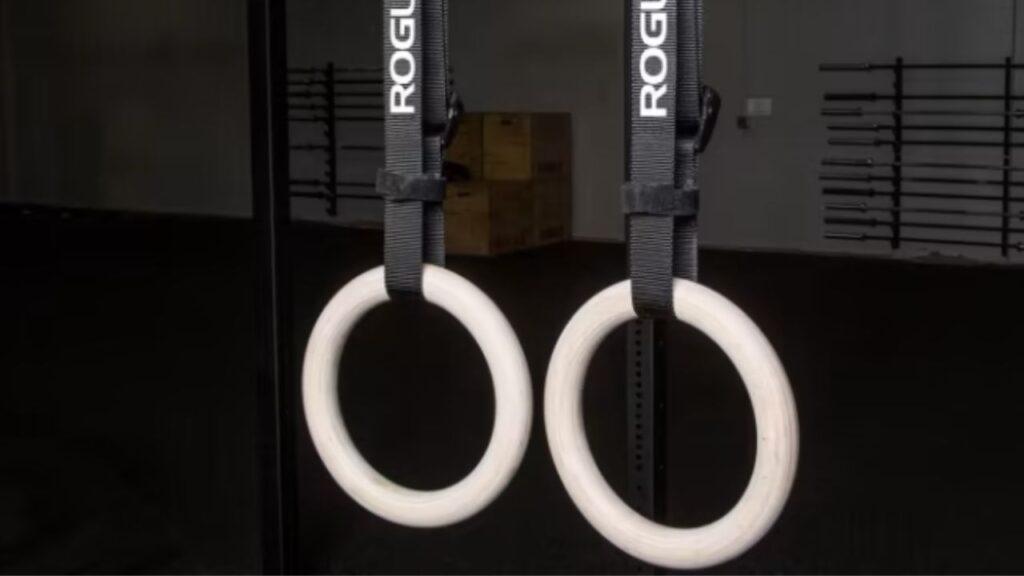 Rating
---
Durability: 4.9
Weight: 5.0
Price: 4.9
Features
---
– Sold in sets of 2
– Made in USA
– Diameter: 1.25" standard
– Diameter: 1.11" optional
Crafted with American quality and ingenuity, the Rogue gymnastic wood rings offer a premium strength-building and suspension training experience. They're perfect for anyone who values top-notch performance and long-lasting durability.
The Rogue wood rings are expertly crafted from quality Baltic birch, providing a gripping surface with a natural stick that's great for holding chalk or providing a firm grip without it.
They are available in two diameters, including a standard 1.25″ diameter and a 1.11″ diameter FIG spec ring for athletes with smaller hands, adding to their versatility and user-friendliness.
What sets these rings apart is the ability to handle an array of exercises such as ring dips, muscle-ups, back levers, front levers, pull-ups, dips, ring push-ups, ring rows, and more. Whether you're a beginner or a seasoned athlete, these rings cater to your fitness goals.
However, based on some customer reviews, it's crucial to note that there have been concerns about the straps' stability, which could lead to potential injuries.
Despite this, many customers praise Rogue's quality and durability, asserting that the brand remains their go-to for long-lasting equipment.
Pros
Superior American craftsmanship ensures lasting durability
They offer a firm grip, with or without chalk
The textured, natural feel of the wood rings is a favorite among athletes
Easy to adjust with 1.5″ Heavy Duty Nylon Straps and Buckle
Offers true gymnastic capabilities, improving the upper body and core strength, better joint alignment, and overall balance
Cons
Some users reported that the straps tend to slip, potentially posing a risk to safety
They are not suitable for outdoor use or storage, which might limit their utility for some customers
If you're looking for the best in class and ready to invest in a premium product, the Rogue gymnastic wood rings could be your ideal match, offering durability, versatility, and professional quality.
Just make sure to double-check the strap settings for a safe and effective workout.
Rating
---
Durability: 4.8
Weight: 4.9
Price: 4.9
Features
---
– 1.5" wide numbered straps
– Baltic birch wood
– 1 year warranty
Regarding cross-training, the Rep Fitness wood gymnastic rings stand out for their seamless blend of quality, practicality, and affordability.
They offer the right balance of versatility and durability needed to support a diverse range of exercises, making them a favorite for fitness enthusiasts.
Made from natural Baltic birch wood, the same material used in professional competitions, Rep Fitness rings offer an authentic experience in strength building and functional body movements.
Their rings are available in two diameters to cater to individuals with different hand sizes, adding an element of customization to your workout.
The heavy-duty, easy-to-feed cam buckles ensure safety and ease of adjustments, enhancing your training experience.
However, while many users appreciated the quality and versatility of these rings, some noted that the Velcro straps tore easily or did not function as expected.
Pros
Portable, lightweight, and super easy to set up anywhere
Fast and easy height adjustments due to the 1.5″ wide numbered straps
Natural Baltic birch wood gives a durable and comfortable grip
Two ring sizes and strap lengths provide versatility to fit everyone's needs
All components, including rings, straps, and buckles, are rated at 600 lbs, assuring you of their robustness
Cons
Some customers reported quality issues with the Velcro straps
A few users wished the straps were longer for added versatility
If you're in the market for a versatile and portable set of gymnastic rings designed to withstand the rigors of cross-training, the Rep Fitness wood gymnastic rings are a worthy choice.
Their natural feel, ease of use, and durability make them an excellent investment for those looking to upgrade their fitness routine.
Rating
---
Durability: 4.8
Weight: 4.9
Price: 4.7
Features
---
– Lifetime warranty
– Heavy-duty nylon straps
– Stainless steel buckles
As the top choice for Olympic gymnastic rings, Rubberbanditz wooden gymnastic rings have carved out a niche in the market with their versatile design and superior construction.
These rings offer unlimited bodyweight exercises, making them suitable for all, regardless of age or gender.
The sanded wood rings provide a smooth and comfortable grip, an upgrade from typical plastic or metal rings.
Durability is assured, as they are designed to support any weight and resist cracking under pressure. With accompanying heavy-duty nylon straps and stainless steel buckles, adjustments are easy and quick.
These rings excel in versatility, facilitating various suspended bodyweight exercises. The no-hassle money-back guarantee and lifetime warranty emphasize the manufacturer's commitment to customer satisfaction.
The only customer review we found highlights the long-lasting quality, indicating these rings might indeed be the "best accessory you can purchase." Rubberbanditz wooden gymnastic rings seem like an excellent investment for those pursuing Olympic-level training.
Pros
Suitable for a wide variety of exercises and training styles
The use of sanded wood offers a comfortable and secure grip
These rings are designed to withstand any weight and not crack under pressure
The inclusion of heavy-duty nylon straps and stainless steel buckles makes mounting and adjusting the rings quick and easy
Rubberbanditz offers a lifetime warranty and a no-hassle money-back guarantee, signaling their confidence in the product's quality
Cons
Only one customer review was available, providing limited insights into potential issues with long-term usage
Some competitors offer numbered straps or different ring sizes. Rubberbanditz seems to lack these additional features
Rating
---
Durability: 4.9
Weight: 4.6
Price: 4.7
Features
---
– High-quality ABS material
– 600kg/1322 lbs weight capacity
– 9.84ft long straps
For an exceptional home gym experience, look no further than Quolix gymnastic rings. These rings, engineered from premium ABS material and supported by double-layered nylon straps, are capable of withstanding a substantial 600kg/1322 lbs.
The integrated anti-slip silicone tape eliminates the need for additional grip, ensuring secure and comfortable workouts.
These versatile rings, accompanied by 9.84ft long straps, enable many exercises like pull-ups and push-ups.
The additional safety of a quick-install zinc alloy buckle and reinforced anchor slots guarantees a secure fitness experience. Despite their robustness, these rings require proper handling and technique to prevent potential injuries.
With ergonomic design at its core, Quolix offers a safe and comfortable exercise experience, making these rings a valuable addition to any home gym.
Pros
Anti-slip silicone tape provides a secure grip
The adjustable straps can accommodate different exercises
Durable materials support substantial weight
Cons
The rings require a proper technique to avoid potential injuries
Rating
---
Durability: 5.0
Weight: 4.5
Price: 4.8
Features
---
– 100% laminated birch
– Maximum load of 300kg
– 14.76ft (4.5m) long x 1.5inches (3.8cm) wide safety strap
Focusing on safety without sacrificing quality, Bemaxx gymnastic rings are ideal for an invigorating and secure workout.
These rings are crafted from high-quality laminated birch, ensuring comfort, excellent grip, load-bearing capacity, and longevity.
The high-strength, extra-wide safety straps come with clear length markings and quick-fasten buckles for effortless adjustments. Bemaxx sets itself apart by including a bonus door anchor, enabling whole-body training virtually anywhere.
They also provide a free training guide to maximize your workouts.
With premium 24/7 customer support, Bemaxx is ready to help with any concerns, solidifying it as the best option for safe in-home gymnastic rings.
Pros
High-quality birch construction provides excellent grip and durability
Extra-wide safety straps with clear length markings for easy adjustment
Bonus door anchor offers added flexibility for training
Cons
Due to the wooden nature, extra care may be required to maintain the rings if used outdoors
Rating
---
Durability: 4.6
Weight: 4.5
Price: 4.9
Features
---
– Heavy-duty APS plastic
– 1,000 lbs weight capacity
– 17-foot straps
Emphasizing a robust non-slip design, the URBNFit gymnastic rings emerge as the finest choice for those seeking to optimize their bodyweight workouts without worrying about losing their grip.
Crafted with textured, heavy-duty APS plastic, these rings are designed to resist slippage even during the most intense workouts.
A noteworthy feature of these rings is the comfortable grips that ensure a secure workout session, an essential for effective bodyweight training.
With easy installation and setup, you can transform your space into a fitness hub, pushing your training to the next level.
Pros
Textured, non-slip grips that maintain a secure hold even when palms sweat
Durable and sturdy construction, capable of holding up to 1,000 lbs
Easy installation and adjustable straps for workout versatility
Cons
The latch system, while functional, has been reported to show signs of wear after a period of use
Rating
---
Durability: 4.5
Weight: 4.5
Price: 4.9
Features
---
– Supporting up to 2,000 lbs
– PC Plastic
– 9.7 x 9.7 x 2.4 inches
The NAYOYA gymnastic rings assert their superiority in the plastic gymnastic rings market, promising an unparalleled home gym experience.
Made of textured, grippable PC Plastic, these rings showcase their strength by supporting up to a whopping 2,000 lbs.
They are deliberately designed to provide a slip-resistant grip to handle sweaty workout sessions.
These PC plastic rings, which are more durable and higher quality than ABS plastic rings, set a high standard in the fitness world.
Pros
The textured, grippable PC Plastic ensures a non-slip workout, which is crucial in sweaty situations
Robust construction that supports up to 2,000 lbs
Easy to set up and adjust, providing a hassle-free home gym experience
Cons
Attention is needed during the setup to ensure straps are installed correctly
Rating
---
Durability: 4.7
Weight: 4.6
Price: 4.9
Features
---
– 600 lbs weight capacity
– 1.25″ thick
– Total diameter of 9.25″
The Titan Fitness wooden gymnastics rings champion the market for the best wooden gymnastic rings, providing a robust and versatile platform for any home training regimen.
These rings are crafted from durable, solid wood that can confidently support up to 600 lbs, granting a safe and steady experience for athletes of all levels.
Titan Fitness wooden gymnastics rings stand out for their heavy-duty construction, versatility, and ease of setup.
Despite minor setbacks like the need for sanding and the absence of strap markings, these portable gymnastic rings provide a comprehensive workout tool that can significantly aid in achieving a lean and muscular physique.
With these rings, the path to the perfect gymnastic training session at home becomes much more accessible.
Pros
The rings are constructed from sturdy, solid wood that can bear considerable weight, adding a layer of reliability to your training routine
The package includes long, adjustable cam buckle straps, which facilitate quick and convenient setup
These rings allow a wide range of upper body exercises, effectively targeting deltoids, biceps, triceps, and abs for a comprehensive workout
Cons
Some users have reported that the rings needed sanding upon arrival, which might be a deterrent for those who prefer a ready-to-use product
The lack of marking on the straps can make height adjustments a bit challenging, especially for those who prefer varying the height of the rings regularly
Best Gymnastic Rings Compared
Image
Product
Features
Score
PACEARTH Gymnastics Rings
– 1000lbs capacity
– 1.5 inches/3.8cm straps
– Birch wood
5.0
ZELUS Gymnastic Rings
– High-density ABS
– Polycarbonate nylon straps
– 3 pounds total weight
4.97
Rogue Gymnastic Wood Rings
– Made in USA- Sold in sets of 2
– Diameter: 1.25" standard
– Diameter: 1.11" optional
4.93
Rep Fitness Wood Gymnastic Rings
– 1.5" wide numbered straps
– Baltic birch wood
– 1 year warranty
4.87
Rubberbanditz Wooden Gymnastic Rings
– Lifetime warranty
– Heavy-duty nylon straps
– Stainless steel buckles
4.8
Quolix Gymnastic Rings
– High-quality ABS material
– 600kg/1322 lbs weight capacity
– 9.84ft long straps
4.73
Bemaxx Gymnastic Rings
– 100% laminated birch
– Maximum load of 300kg
– 14.76ft (4.5m) long x 1.5inches (3.8cm) wide safety strap
4.77
URBNFit Gymnastic Rings
– Heavy-duty APS plastic
– 1,000 lbs weight capacity
– 17-foot straps
4.67
NAYOYA Gymnastic Rings
– Supporting up to 2,000 lbs
– PC Plastic
– 9.7 x 9.7 x 2.4 inches
4.63
Titan Fitness Wooden Gymnastics Rings
– 600 lbs weight capacity
– 1.25″ thick
– total diameter of 9.25″
4.73
What to Look For in Gymnastic Rings?
The things to look for in gymnastic rings are listed below.
Ring material
Adjustable straps
Weight capacity
Grip comfort
Durability
Ease of installation
Compatibility
Price/quality
Ring Material
This is a crucial factor that directly impacts the rings' grip, comfort, durability, and price. As mentioned earlier, rings can be made from wood, plastic, or steel. Wood offers the best grip and comfort but might not withstand outdoor conditions.
Plastic is more durable and budget-friendly but may not provide the same grip quality. Steel is incredibly durable and weather-resistant, but it can be slippery when wet and uncomfortable to hold for extended periods.
Adjustable Straps
Look for rings that come with adjustable straps.
This feature allows you to change the height of the rings to accommodate different exercises and users of varying heights.
It also makes the rings more versatile and user-friendly.
Weight Capacity
Check the weight capacity of the rings to ensure they can safely support your weight.
Most gymnastic rings can support a high amount of weight, but it's always important to confirm this before purchasing.
Grip Comfort
Your comfort while using the rings is crucial, especially if you plan on long workout sessions.
Wood usually offers the most comfort, but some plastic or steel rings may have textured surfaces or grip tape to increase comfort and reduce slippage.
Durability
You want your gymnastic rings to last, so consider their durability. This aspect largely depends on the rings' material and their construction quality.
If you plan to use your rings outdoors, you'll want a material that can withstand the elements.
Ease of Installation
Ideally, your rings should be easy to install and take down. This is particularly important if you plan to transport them regularly or use them in multiple locations.
Look for rings with straightforward installation instructions and user-friendly strap adjustment systems.
Compatibility
Ensure the gymnastic rings are compatible with your intended setup location.
The straps should be long enough to hang from your anchor point, and there should be enough space for you to perform exercises without hitting any obstructions.
Price/Quality
Finally, consider the price and quality ratio. More expensive rings often offer better quality, but that doesn't mean you can't find good-quality rings at a lower price.
Keep your budget in mind and remember that investing in quality equipment can often save you money in the long term as it could last longer and perform better.
Who Should Buy Gymnastic Rings?
Gymnasts, CrossFit Enthusiasts, bodyweight exercise practitioners, fitness enthusiasts, and rehabilitation patients should buy gymnastic rings. In addition, people looking for a portable workout option should also consider purchasing gymnastic rings.
All these sports and athletes from respective fields would benefit from using gymnastic rings since they will improve your strength, balance, coordination, and flexibility.
Who Shouldn't Buy Gymnastic Rings?
Beginners without supervision, people with certain medical conditions, individuals with limited mobility, and people with space constraints shouldn't buy gymnastic rings. In addition, individuals not committed to regular use should also avoid purchasing gymnastic rings.
If you are a beginner, exercising with gymnastic rings only under professional supervision is advisable first.
Types of Gymnastic Rings
The types of gymnastic rings are listed below.
Wooden gymnastic rings
Plastic gymnastic rings
Steel gymnastic rings
Wooden Gymnastic Rings
Wooden gymnastic rings offer a natural grip that's often superior to other materials. They're great for absorbing sweat, reducing slippage during workouts, and many users find them more comfortable and pleasant to use. Athletes and serious fitness enthusiasts often prefer them.
Wooden rings are not as durable when exposed to the elements, so they're not the best choice for outdoor use unless they're taken down and stored indoors after each use.
They can also be a bit more expensive than other options. They are ideal for indoor use, particularly for athletes or individuals focused on gymnastics, CrossFit, or other intensive workouts.
Plastic Gymnastic Rings
Plastic rings are typically more affordable and more durable for outdoor use, as they're resistant to weather and moisture.
They are lightweight and often come in various colors, making them attractive for casual users or children. The grip on plastic rings is not as good as on wooden rings, particularly when your hands are sweaty.
Plastic gym rings can also be less sturdy and less comfortable to use for extended periods. Plastic rings are good for outdoor use or those on a budget.
They can also be a good choice for beginners or as children's play equipment.
Steel Gymnastic Rings
Steel rings are extremely durable and can handle a lot of weight. Steel or metal rings are ideal for outdoor setups, just like outdoor pull-up bars or even free-standing pull-up bars, where they might be exposed to the elements and require very little maintenance. Metal rings provide a sturdy and reliable setup.
Like plastic rings, steel rings can become slippery when wet or sweaty. Metal gymnastic rings can also be uncomfortable gripping for extended periods and get hot or cold in extreme weather conditions.
Steel rings are generally heavier and less portable than wooden or plastic rings. Ideal for permanent outdoor setups or users needing to accommodate a higher weight capacity.
These might be preferred in commercial gym settings or by athletes needing the most durable option.
How to Install Gymnastic Rings?
Instructions to install gymnastic rings are provided below.
Select a Location – The first step is to select a suitable location for your rings. You need a high, sturdy anchor point such as a ceiling joist or a ceiling mounted pull-up bar, a strong tree branch, a pull-up bar, or a specially designed frame. Ensure there is enough clearance around and beneath the rings to perform your exercises without obstruction.
Inspect the Equipment – Before installation, inspect your rings and straps for any signs of wear and tear, and do not install them if you notice any damage.
Thread the Straps – If your rings and straps come separately, you'll need to thread the straps through the rings. The process can vary depending on the specific design of your rings and straps, so follow the manufacturer's instructions.
Secure the Straps – Throw the strap over your anchor point. Make sure the strap goes over the anchor point and comes back down. Pull on the strap to ensure it's secure.
Adjust the Rings – Once the straps are secure, adjust the height of the rings so they're at the right level for your exercises. This often involves threading the strap through a buckle or clamp and pulling it tight. Again, this will depend on the design of your straps, so follow the manufacturer's instructions.
Test the Setup – Before using your rings, test them out by applying some weight. Pull on them and do a few test exercises to ensure they're secure and at the right height.
Remember, safety should always be your top priority when installing and using gymnastic rings.
If unsure about any part of the process, consult a fitness professional or equipment manufacturer.
And always use the rings on a stable surface to prevent slipping or tipping over.
Related Articles:
FAQs
How Effective Are Gymnastic Rings?
Gymnastic rings are very effective. Gymnastic rings are excellent for bodyweight workouts, which will increase your overall endurance, strength, and power depending on the exercises you choose to perform.
Can You Get Ripped With Gymnastic Rings?
Yes, you can get ripped with gymnastic rings. However, getting ripped has to do more with your diet and macronutrient ratio, which is necessary to lower your body fat percentage.
Why Rings Are Better Than Bars?
The rings are better than the bars because they allow a greater range of motion and freedom of movement to the shoulders. This freedom of movement is excellent for preventing muscle strains and injuries and will help you develop strength through a whole range of motion.
Can Beginners Use Gymnastic Rings?
Yes, beginners can use gymnastic rings. However, practicing with a gymnastic ring set as a beginner isn't easy, and you will need sufficient strength and stability in your shoulders and core musculature to avoid injuries.
How Long Do Gymnastic Rings Last?
Gymnastic rings last more than a couple of years, depending on your regular maintenance and type of workouts. In addition, the environment, temperature, and some other factors also play a significant role in the lifespan of your gymnastic rings.
What Sports or Athletes Use Gymnastics Rings for Training?
Gymnasts primarily use gymnastics rings for training. However, rowing, climbing, and recreational sports athletes also use gymnastic rings to add another layer to their strength workout.
Is Trx Better Than Rings?
No, TRX isn't better than rings. TRX and rings are very similar in nature, and the deciding factor would be personal preference, which isn't objective, so it is left to be disputed.
What Are the Best Gymnastic Rings?
The best gymnastic rings are PACEARTH gymnastics rings.
These rings are everything you need to perform ring exercises safely and effectively, and they can handle up to 1000 lbs of weight without any issues.
In addition, they feature a non-slip and anti-sweat design with an extra-wide grip that ensures comfort during prolonged workouts.
You even get additional hand tapes to improve your grip and increase workout performance.
Let me know which gymnastic rings you would choose and why.
Rating
---
Durability: 5.0
Weight: 5.0
Price: 4.9
Features
---
– 1000 lbs capacity
– 1.5 inches/3.8cm straps
– Birch wood